NATO has said it is putting forces on standby and reinforcing eastern Europe with more ships and fighter jets as tensions over a possible Russian invasion of Ukraine escalate.
At a meeting of EU foreign ministers in Brussels, Minister for Foreign Affairs Simon Coveney said he had made it clear to the Russian ambassador that naval exercises off the southwest coast of Ireland were not welcome.
Amid a flurry of moves by Western governments to withdraw embassy staff from Kyiv, the Russian government, which has placed over 100,000 troops on Ukraine's border, has accused the West of hysteria.
Tensions over Ukraine are rising by the hour.
NATO has said it will take all necessary steps to defend allies in eastern Europe.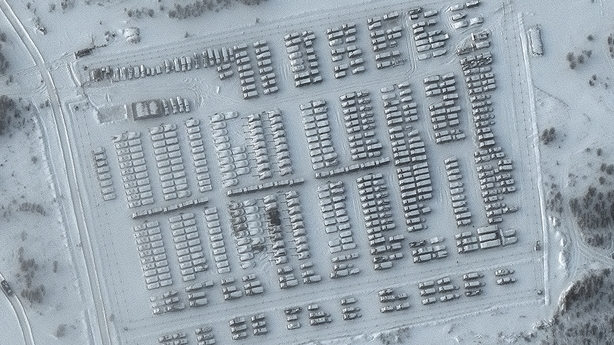 Moscow in turn accused the West of raising tensions.
The United States has said that a Russian invasion could come at any time and US diplomats in Kyiv are being allowed to evacuate voluntarily.
Britain has said it is withdrawing some staff and dependents.
We need your consent to load this rte-player contentWe use rte-player to manage extra content that can set cookies on your device and collect data about your activity. Please review their details and accept them to load the content.Manage Preferences
In Brussels, EU foreign ministers are discussing preparations for immediate sanctions against Russia should an invasion go ahead.
Ahead of the meeting, Minister Coveney said they would be severe and more comprehensive than anything seen in "many, many decades".
He said he had told the Russian ambassador to Ireland that naval exercises 240km off the southwest of Ireland were not welcome.
He said they were international waters but part of Ireland's exclusive economic zone.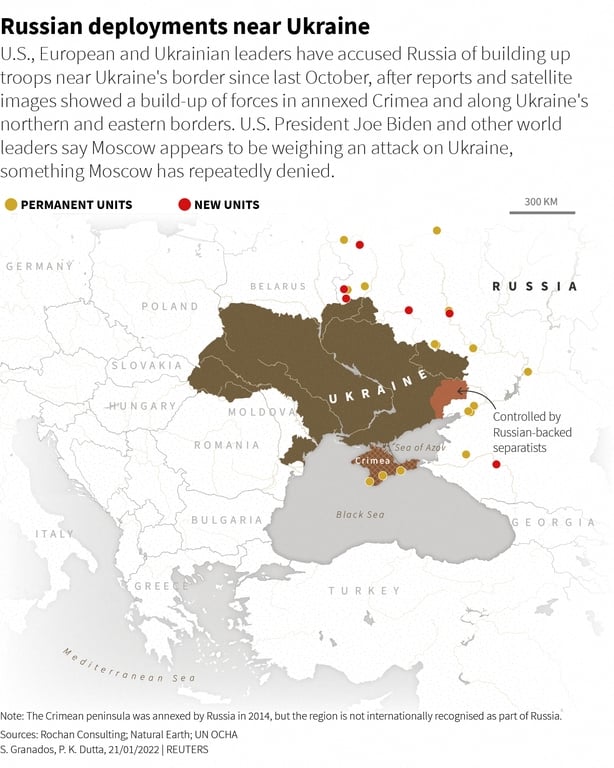 Germany, however, is under the spotlight for taking a more cautious approach to sanctions.
Berlin has already been criticised for not permitting the sale of German-built weaponry to Ukraine for defensive purposes.
European Commission President Ursula von der Leyen announced an aid package for Ukraine worth €1.2 billion.
Ukraine's President Volodymyr Zelenskiy thanked the European Union for what he said was a "timely" decision to provide macro-financial assistance to support Kyiv in its standoff with Russia.
"Strong Ukraine is key for European security," Mr Zelenskiy said in a tweet.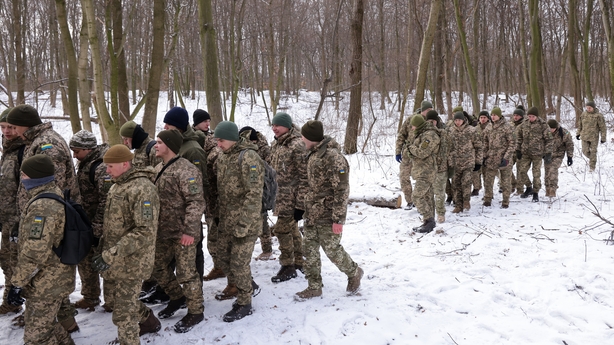 The West accuses Moscow of threatening a further incursion into its pro-Western neighbour by massing over 100,000 troops on its border. The Kremlin insists its forces are not there to invade.
British Prime Minister Boris Johnson said the intelligence around a Russian invasion of Ukraine was gloomy but not inevitable, as he warned President Vladimir Putin that any conflict could become "a new Chechnya".
"We need to make it very clear to the Kremlin, to Russia, that that would be a disastrous step," Mr Johnson said.
Asked whether he thought an invasion was now imminent, he said: "The intelligence is pretty gloomy on this point.
"I don't think it's by any means inevitable now, I think that sense can still prevail."
Mr Johnson said that he would be speaking with fellow leaders on the matter today.
"We also need to get over the message that invading Ukraine, from a Russian perspective, is going to be a painful, violent and bloody business and I think it's very important that people in Russia understand that this could be a new Chechnya."
Additional reporting AFP