The death has been announced of the poet Thomas Kinsella. He was 93.
Born in Inchicore in Dublin in 1928, he studied science at UCD and originally worked as a civil servant, before becoming a full-time academic and writer.
He was poet in residence at Illinois University in the US and later, Professor of English at Temple University, Philadelphia.
One his best known works was the Táin, his translation of the Irish prose epic Táin Bó Cúailnge, which was illustrated by a series of brush drawings by the artist Louis le Brocquy and published in 1969.
Another major work was Butcher's Dozen - written in the aftermath of Bloody Sunday.
Kinsella was also familiar to generations of Leaving Cert students for poems including Mirror in February.
The acclaimed poet was granted the Freedom of the City of Dublin in 2007 and received numerous other awards, including honorary doctorates from UCD and Trinity College.
In 2008, he was awarded the UCD Ulysses Medal in recognition of his poetic works.
---
Read more
Thomas Kinsella's visit to former school his 'last public engagement'
Tribute held to mark 90th birthday of Thomas Kinsella
Nightwalker By Thomas Kinsella 1976
'The Táin', A translation by Thomas Kinsella 1969
---
'Remarkable man with a special grace'
President Michael D Higgins has led tributes to Kinsella, describing him as "one of Ireland's finest poets".
He said: "His reputation at home and abroad was one of being of a school that sought an excellence that did not know borders.
"In addition to his rich contribution to the school syllabus for generations of students, where he once held a rare distinction as being a living poet on the syllabus, Thomas Kinsella's work retained a fierce urgency and relevance for readers throughout life.
"Not least his work tackling the gap between the aspirations of what Irish society should be and that which he saw before him. That ethical pursuit was attempted through rigorously honed lines.
"I had the great pleasure in being present for one of Thomas's last public engagements, when we visited his old primary school Model School Inchicore in 2019, a place like so many in his native Dublin 8 that he immortalised in his work.
"He remained to the end a truly remarkable man with a special grace that I recall from that occasion."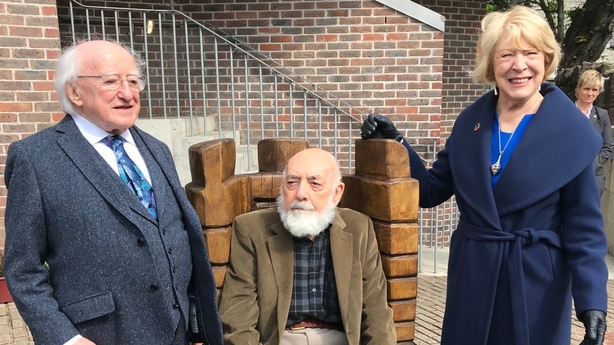 Deeply saddened at the passing of one of the greats of Irish poetry Thomas Kinsella.

Generations of students first discovered his work in 'Soundings'.

My own favourite is 'Mirror In February'

He work captured the spirit of an age, and a lifelong love affair with Dublin.

— Micheál Martin (@MichealMartinTD) December 22, 2021
Minister for the Arts Catherine Martin commented: "I am greatly saddened to learn of the passing of Thomas Kinsella, one of Ireland's most celebrated poets.
"Over the course of a long life, he offered a true poet's perspective on all aspects of the human condition. May he rest in peace."
Lord Mayor of Dublin Alison Gilliland also expressed her sadness at Kinsella's passing.
"His pride in his home city of Dublin shone through his work." She said the Dublin flags on the Mansion House and City Hall will fly at half-mast to mark his death.
Minister of State for European Affairs Thomas Byrne also paid tribute.
"One of our greatest poets has died. Kinsella was, if I remember, the only living poet we studied in English class at school. Rest in peace, Thomas Kinsella," he tweeted.
Thomas Kinsella was pre-deceased by his beloved wife Eleanor and is survived by his three children, grandchildren and great grandchildren.