The Department of Education has revised a controversial instruction issued to schools last week, which directed that older children should be refused entry to primary schools if they decline to wear a mask without medical reason.
In fresh guidance sent this morning, the department has told schools that "it is not intended that any child will be excluded from a school in the first instance".
There was outcry last week after primary schools were directed in a memo sent late on Tuesday to refuse entry to older pupils who presented without masks.
Schools were initially told the instruction applied from Wednesday morning. However later the department clarified that "flexibility" would be allowed during the first couple of days.
Many schools viewed the instruction to turn children away as highly inflammatory, and said they would not implement it.
While a spokesperson for the department said that last week's direction has not been rescinded, there is no mention in today's more detailed document of excluding a child.
We need your consent to load this rte-player contentWe use rte-player to manage extra content that can set cookies on your device and collect data about your activity. Please review their details and accept them to load the content.Manage Preferences
Today's document takes the form of Frequently Asked Questions. It states that where a child presents without a face mask or covering, "schools will engage pragmatically and sensitively with parents" and that where such engagement fails the Department of Education will provide further support.
It says "every effort should be made to clearly communicate the public health reasons behind the wearing of a face mask" and that "a solution focused engagement between the school and the child's parents or guardians should take place with a view to resolving issues".
It states that "the department will engage with schools to offer guidance and support to reassure parents", and that "where significant issues have not been resolved" contact should be made with the department, and an inspector will provide further support.
In another significant clarification the document confirms that no medical certification is needed where a school is aware that for medical reasons a child's needs are such that mask-wearing is not appropriate.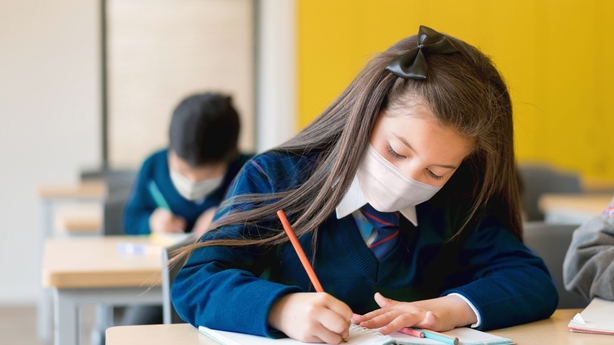 The document provides a number of other clarifications that schools had sought.
Some schools had expressed concern for children with hearing impediments who rely on lipreading to understand their classmates and teachers.
Today's document states that in such a case, visors should be considered, and that schools should use their own judgement.
The document confirms that masks need not be worn during PE or outdoors, and need not be worn when children are eating lunch at their desks or taking a drink during class.
It says that children should be given regular breaks from mask wearing, "outdoors where possible". It also states that PE should be outdoors if the weather permits, or in a well-ventilated indoor space.
The document states that the measure is a response to the very high case numbers currently among older primary school-age children "and was considered by NPHET as proportionate to the current level of risk posed by Covid-19".
---
---
It also clarifies that masks need not be worn when children are singing or playing a musical instrument. However, it says that in such cases "pupils should remain in their pods and be socially distant" and the space should be well ventilated.
The clarity provided by today's document is likely to be welcomed by school principals, as will the much more conciliatory tone.
Louise Tobin, Deputy President of the Irish Primary Principals Network, said the IPPN "greatly welcomes" this morning's guidance and the "answers to the many questions our members had".
Speaking on RTÉ's Today with Claire Byrne, Ms Tobin said refusing entry to children who were not wearing masks without a medical reason was "something that we didn't feel comfortable with" and needed further explanation on as they "would never want to exclude a child from their education".
Ms Tobin, who is also principal of St Joseph's Primary School in Co Tipperary, said there is "a much softer approach" in the fresh guidance and "more sensitive language" was used.
Anger is likely to remain at last week's handling of the issue, which schools said had the potential to damage the important bond of trust that exists between primary schools and parents in their communities.
Minister should 'apologise' to schools
The Social Democrats have called on Minister for Education Norma Foley to apologise to schools communities.
Social Democrats education spokesperson Gary Gannon said the implementation of the policy had been a "shambles".
"While this updated advice is welcome, it is bizarre that it took the department so long to issue it – and that the minister implemented the policy before this essential guidance was ready," he said.
"The minister owes school communities an apology for this shambles," he added.
Mr Gannon said the minister had also "performed a screeching u-turn" on HEPA filters.
Sinn Féin spokesperson on education Donnchadh Ó Laoghaire said the department needed to "move urgently" on contact tracing and filtration.
"There never should have been talk of excluding any child from their education and the language of confrontation didn't make sense," he said.
GPs 'very busy' due to children presenting with respiratory symptoms
The Covid-19 adviser to the Irish College of General Practitioners and member of NPHET, Dr Mary Favier, said there is no single answer to preventing and stopping the spread of Covid-19, but facemasks are "definitely part of it".
Speaking on RTÉ's Morning Ireland, Dr Favier said general practitioners see that young people are "very capable" of wearing masks and the extension of the masking policy in schools would have been "generally welcomed".
"So if it helps at all, in terms of preventing the spread of Covid and allowing our young people become disproportionately affected with Covid, it's entirely appropriate," she said.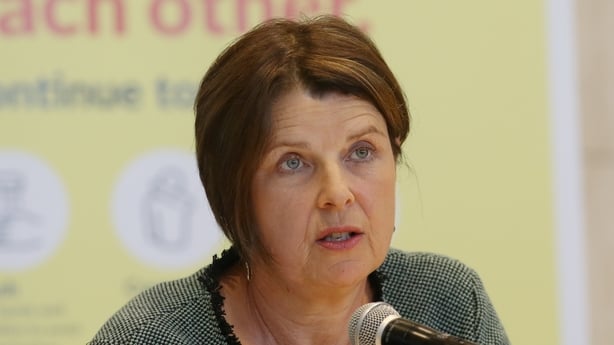 "GPs earlier in the week were very busy with requests for exemptions to masks, but that's largely died down and is appropriately now being dealt with entirely in the schools," she added.
Dr Favier said GPs are "almost always" enthusiastic about vaccinations and would have a lot of experience around encouraging younger age groups to be vaccinated.
She said that if the evidence is there to vaccinate the five to 11 age group, they would be supportive of the fact that it could be "another layer that makes a difference".
"And all of these things do add up," she said. "To protect the children themselves, to protect their families, their wider communities.
"This is likely to be rolled out in the next number of weeks, but no dates or arrangements have been set yet."
When asked if the number of children testing positive could rise, Dr Favier said it could "potentially" increase because there is more testing being done.
She said they know that there is "significant infection" in younger age groups because they are not vaccinated, which is "entirely predictable".
They do not get "substantially unwell" she said, but is still "always a concern".
She said GPs have been "very busy" with children presenting with viral and respiratory infection type symptoms, which is "entirely appropriate" because they need to work out if it is Covid or something else.
"An increased number have been sent for testing since September, October", she added.