Dublin Airport has said many people have forgotten the basic rules around travelling and, as a result, there is a significant increase in items being surrendered at security.
Meat cleavers, knuckle dusters, hunting knives and power tools are among the hundreds of items being removed from passengers hand luggage on a daily basis.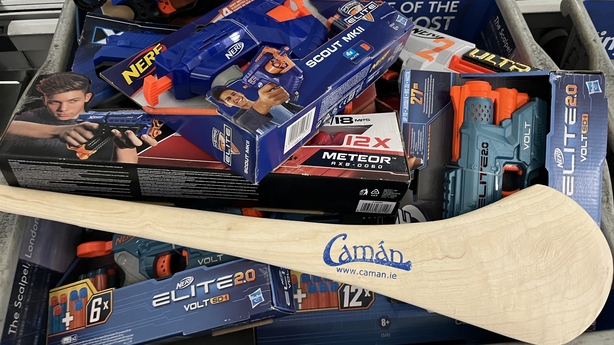 They are concerned that as the festive period approaches, passengers who are out of practice travelling could end up disappointed, as they have to surrender valuable items like Christmas gifts in order to complete their journey.
Toy guns, imitation swords, hurleys, snow globes, spanners and gift sets are among the other items being forfeited by travellers daily since the return to travel in late July.
Security personnel are also seeing a significant increase in the number of liquids being left at security gates in order for passengers to continue their journey, including bottles of whiskey and oversized containers of cosmetics.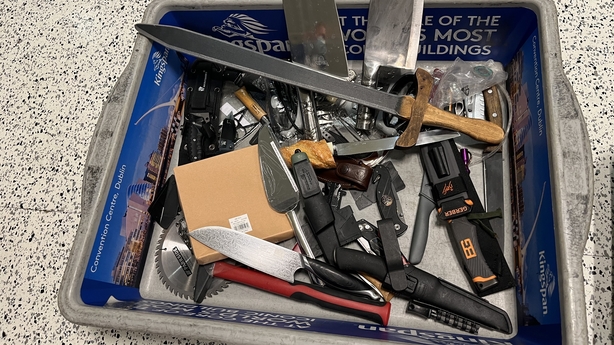 They say around 15 wheelie bins are being filled at the airport every day in surrendered liquids alone.
Last year, just under 300,000 people travelled through Dublin Airport in the month of December, but this year that figure is expected to rise to around 1.25 million.
Although significantly lower than the 2.3 million passengers that travelled for Christmas 2019, the airport says if people do not prepare properly for their journey, it could cause delays for them and other passengers.
Sarah Kelly of the Dublin Airport Search Unit picked carefully through a container of sharp metal objects to show RTÉ News some of the more unusual items that have turned up in passengers hand luggage over the past four months.
She produced two claw-shaped objects in each hand, which have long metal fingers.
"People are coming through who haven't been home at all in a long time so they think they're going to bring home things like these meat shredders, but obviously these would be classed as be prohibited articles," she said.
We then stand back as she wields two large matching meat cleavers with decorated handles.
"They're going home thinking they're going to make meals for their families. Not with those they're not. Not this time."
Next are what Ms Kelly described as the more innocent looking items. Metal keyrings that come in various colours and shapes, including that of cartoon animals, but that actually double as knuckle dusters.
There are also blades concealed inside credit cards, ornate hunting knives and an astonishing amount of hammers, spanners, screwdrivers and other day-to-day tools have also been given up by passengers in order to board their flights.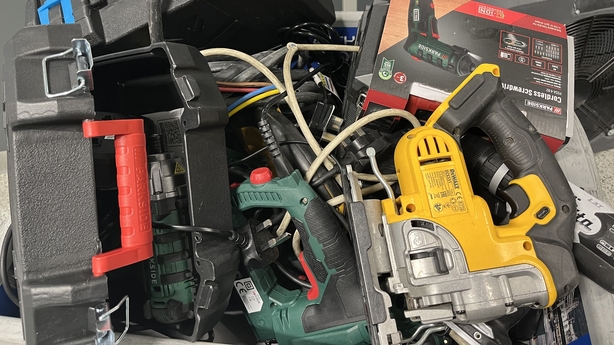 Another container is overflowing with power tools, such as drills, jigsaws and some higher end construction equipment.
The next is completely full of scissors, with everything from small nail cutters to professional ones used by those in the hairdressing business.
The least menacing container has a hurley and several toy NERF guns still in their packaging, but although they appear more innocent and are likely to be gifts for children, these items cannot be carried on board an airplane and can only be taken in checked baggage.
But it is not just potential weapons that are being taken from passengers.
Around 15 wheelie bins are being filled every day with surrendered liquids alone.
Brian Callanan, Head of Terminal Security at Dublin Airport, said he puts all this down to people being out of practice when it comes to international travel.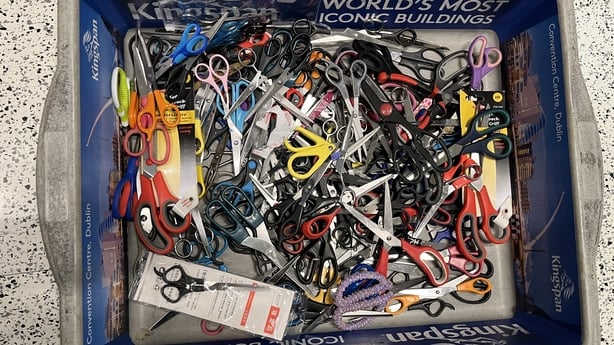 "People have genuinely forgotten how to travel. We see it day in, day out, people completely unsure," he said.
"'Oh, I'm supposed to take the liquids out, I've forgotten this part, I can't remember this'. What we're definitely seeing is passengers are less prepared, and I think a lot of that's been driven by a bit of anxiety.
"It's their first time travelling in two years and they're just so anxious of being in a crowded space with a lot of other people and they're forgetting they have to go through another process in order to get there.
"Even the stuff they have in their bags. Over the last year-and-a-half, two years, they've used these bags to go camping or go and staycations and so they may have any number of liquids in them and there wasn't any problem with them and they've genuinely forgotten that they're in their bags.
"But, unfortunately, each and every one of them we have to stop and search and advise the passenger of their options in terms of not being able to bring them."
Mr Callinan said the issue with oversized liquids is particularly acute, with hundreds of cosmetics and bottles of alcohol being surrendered on a daily basis. He believes that may be due in part by the fact that more people are travelling with just hand luggage.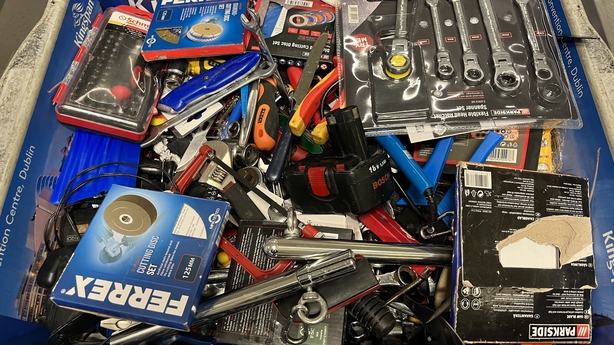 "The same restrictions still apply since 2006, that all liquids have to be under 100mls and in a clear plastic resealable bag. What we're finding is people aren't doing that. They're leaving all the liquids in their bags," he said.
"We get people presenting with liquids that are 300 ml bottles, but they say there's only a little bit left. And particularly at the moment, the carry-on baggage that they're bringing through has an awful lot of stuff in them. So every time there's any liquids left in the bag, we'll do a full search of that bag and if that bag is very full, this takes time and impacts on them and passengers coming after them.
"Our advice is still the same, to allow at least two hours prior to the flight. We are definitely seeing it's taking some people a little bit longer to come through the security process and that really is down to how they prepare themselves for it."
Dublin Airport is concerned if passengers do not remind themselves of the rules that those who are out of the habit of travelling could end up having to surrender valuable items, such as Christmas presents.
Frances Smith, the airport's Security Duty Manager, said people should bring any gifts in their hand luggage unwrapped and ensure that they meet the requirements.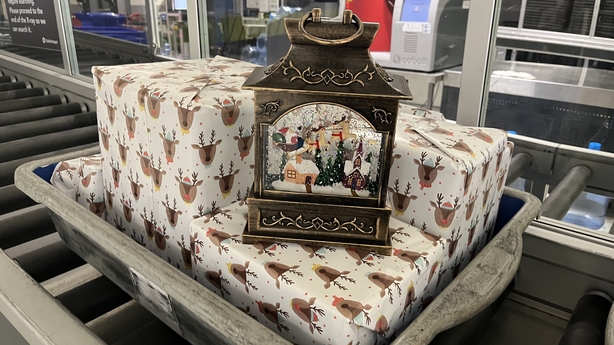 "We're asking people when they do come to the airport not to wrap their presents, because we need to be able to see what's in them," she said.
"The other thing we'd ask is that if you are buying presents, bear in mind that items like toy guns and hurling sticks can't go in in your hand luggage, but you can bring these items in your checked luggage."
While some of the surrendered items can be put in a charity bin, Dublin Airport said the vast majority of the thousands of items given up each week go to landfill.
So Ms Smyth and the other security staff hope that for the sake of sustainability and for everyone's safety this Christmas, that passengers remind themselves of the rules before they travel.
"We don't want to upset people, especially after not having passengers for such a long time. We want to welcome them back and get them through security as smoothly as possible."