Five hundred members of Ireland's Muslim community have celebrated Eid al-Adha at Croke Park.
It is the biggest gathering of Muslims in Ireland since the pandemic began and an increase on the attendance of 200 last year, when Croke Park also hosted the All Ireland Eid al-Adha celebrations.
Shaykh Dr Umar Al-Qadri from Blanchardstown mosque led the Eid prayers.
In his sermon he said marginalised communities should not be blamed for societal problems such as the housing crisis.
Muslims around the world are celebrating Eid al-Adha.

Eid prayers are being held at Croke Park, led by Shaykh Dr Umar Al-Qadri. https://t.co/L5tmqbMapz

— RTÉ News (@rtenews) July 20, 2021
Quoting the great hurler Christy Ring, who said "let no one say the best hurlers belong to the past, they are with us now, and better yet to come," Dr Al-Qadri said as in hurling and so in life, even better days are to come for Ireland's Muslim community.
He thanked the GAA for once again hosting the event.
GAA President Larry McCarthy said the organisation was happy to once again welcome the Muslim community to Croke Park in celebration of the spirit of togetherness.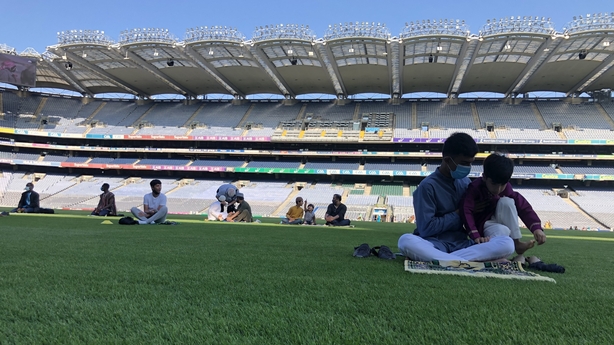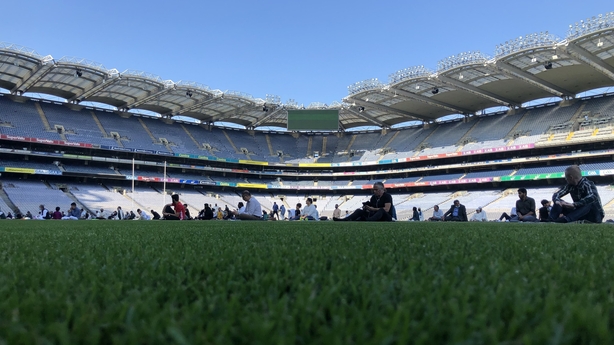 Government Chief Whip Jack Chambers said Ireland has come a long way in becoming a more open and accepting society, but added there is always more to be done.
Sinn Féin leader Mary Lou McDonald paid tribute to the Muslim Sisters of Eire and the inspiring example they set with their soup kitchen in Dublin city centre every Friday.
Addressing the event's theme of togetherness, Rosemarie Maughan of the Irish Traveller Movement said that only when all come together in love can Ireland become the country that everyone wants it to be.
Ms Maughan said that as marginalised communities, Travellers and Muslims have more in common than they might realise.
The event was also addressed by the Church of Ireland Archbishop of Dublin, the Most Reverend Dr Michael Jackson, Catholic Archbishop of Dublin Dermot Farrell and Chief Rabbi Zalman Lent.
Christianity, Judaism, and Islam all trace back to Abraham and Eid al-Adha commemorates the story of how Abraham offered his son to God in sacrifice.