A painting by Jack B Yeats, which was once stolen from Dunsany Castle in Co Meath, has been bought for the national collection.
'Bachelors Walk, In Memory' has been purchased for the National Gallery of Ireland with support from the Government and a number of donors.
The artwork depicts an incident in Dublin city centre in 1914 in which a detachment of the King's Own Scottish Borderers opened fire on a crowd of demonstrators.
Three people were killed, a fourth later died, and over 35 others were injured.
In January 1990 a criminal gang broke into Dunsany Castle and stole five paintings - two by Jack B Yeats, including 'Bachelors Walk, In Memory'.
The artwork was later given to the National Gallery on long-term loan but has now been purchased for the people of Ireland.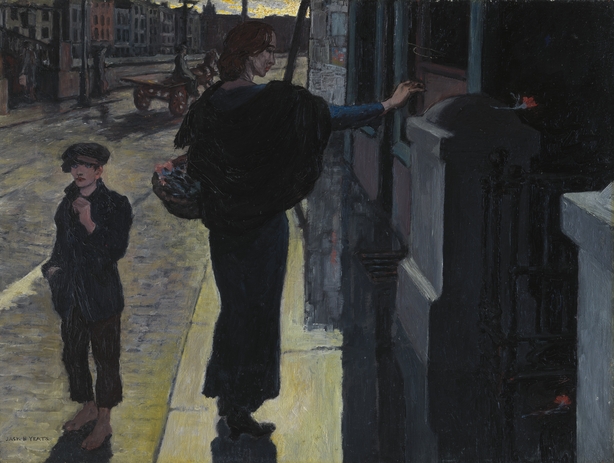 In a statement, Minister for Tourism, Culture, Arts, Gaeltacht, Sport and Media Catherine Martin said: "The National Gallery of Ireland and the people of Ireland were very fortunate to have the extraordinary work by Jack B Yeats 'Bachelor's Walk, In Memory' on loan for public display.
"I am delighted that this remarkable and beautiful painting has now been acquired by the Gallery to be forever in the national collection and that we and the generations to come will always be able to enjoy this work.
"I was pleased to provide support on behalf of the Government for this acquisition and I offer my congratulations and thanks to the Board and staff at the National Gallery who, along with their supporters, made this important acquisition possible," she added.
---
RTÉ Archives: Art Theft Yeats Painting For Sale 2007
---
Director of the National Gallery Sean Rainbird said: "This extraordinary painting by Jack B Yeats is a work of national importance.
"The National Gallery of Ireland is extremely grateful to the Government of Ireland for recognising the significance of securing this painting for the nation, and supporting the acquisition of 'Bachelor's Walk, In Memory'.
"The purchase would not have been possible without this commitment, alongside the generous support of a number of private donors.
"Donations such as these support the future of the National Gallery of Ireland, and the growth of our national collection," his statement added.
The painting is on display in the National Gallery's Millennium Wing.