A Partial Solar Eclipse, where almost half of the Sun's diameter was covered, was visible for around two-and-a-half hours this morning.
It is the deepest partial eclipse since 20 March 2015, and according to Astronomy Ireland, there will not be a deeper partial solar eclipse from Ireland until 29 March 2025.
A Partial Solar Eclipse, where almost half of the Sun's diameter is covered is visible in Ireland this morning. (Don't look up whatever you do) #rtenews #SolarEclipse pic.twitter.com/lCemCxs55T

— Colm Hand (@ColmHand) June 10, 2021
Eclipses happen once or twice every year around the world, but are often only visible in very inaccessible remote places.
The eclipse began just before 10am, with the "first bite" being taken out of the Sun, and it ended around 12.30pm.
Astronomy Ireland viewing in Dublin of the partial solar eclipse where is it visible @rtenews pic.twitter.com/mDKjHv30ET

— Samantha Libreri (@SamanthaLibreri) June 10, 2021
Several people gathered at the Astronomy Ireland headquarters in Blanchardstown in Dublin to try and catch a glimpse of this rare phenomenon.
Over the two hours, the scattered clouds cleared for long spells to give clear visibility of the partial eclipse.
It was a momentous day for Tony Gannon, who is originally from Mayo but now lives in Dunboyne in Co Meath. He has been trying to view a partial eclipse for the best part of three decades without success until today.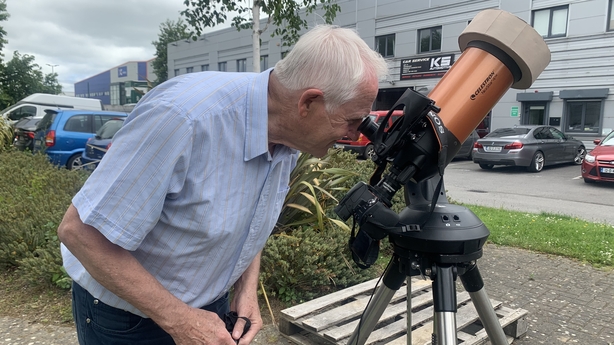 "I think this is the third one I've tried to see in the last 25-30 odd years and this is the first time I've seen it. Every other time it's been cloudy, that's the problem with living in Ireland.
"It's like a piece taken out of a cake. It's hard to describe without seeing it."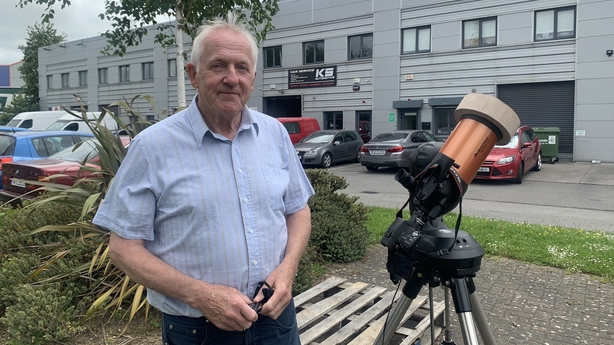 Gary Brady from Dublin who came along with his greyhound to watch the celestial event described what he saw through his special eclipse shades.
"So I'm seeing the sun and slowly there's a little bite or disc of the moon is starting to cover it from the top. And it's just slowly coming over the moon and you can see a little bit of very high cloud flying over as well so it's really amazing."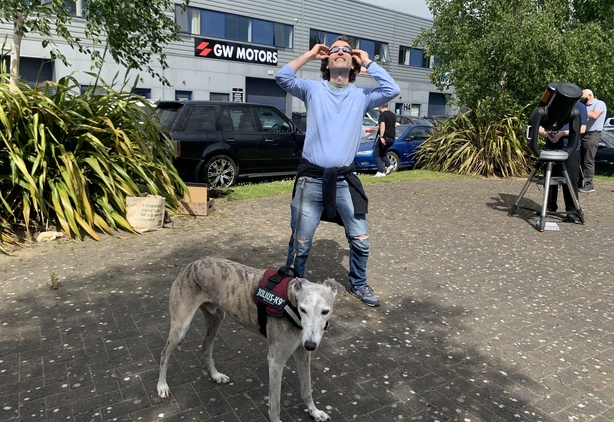 "It's lovely to be able to see it because I've seen it so many times on TV so to see it for real happen here in Dublin is amazing."
Amalia Martin Barrera who lives in Dublin but is originally from the Canary Islands was taking pictures with a special filter in front of the camera.
She told RTÉ News that photographing the eclipse without the right protection on the camera can damage the sensor.
"Back in Spain I watched one there but this is amazing because I have my glasses to protect my eyes so I can watch it properly. It's a great experience, I've always liked universe and these things so being able to watch it is really really nice."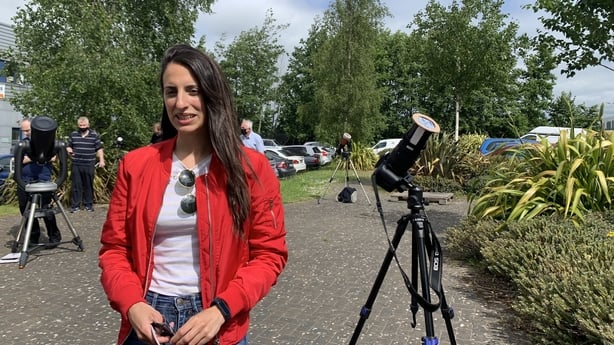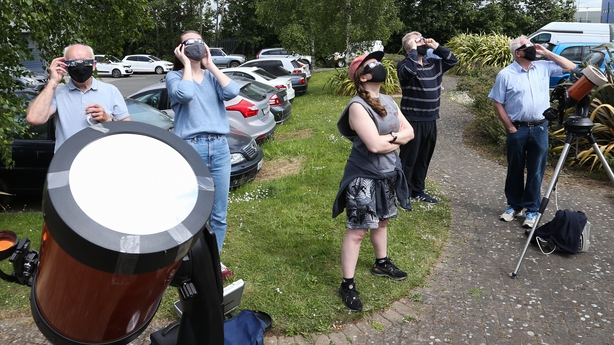 David Moore from Astronomy Ireland describe how special the occurrence is.
"For the moon, the Earth and the sun to line up, you see diagrams in books and magazines that make them look very big and close but in fact, the moon is 30 times the Earth's width away from us. So it's really a tiny target and to get it to pass directly in front of the sun is extremely difficult.
"It only clipped the top edge of the sun today. The last time it went completely in front of the sun was 1724, from Ireland, and it won't happen again 'til 2090."
Ireland's last Total Solar Eclipse was in 1724, with the next one not due until 23 September 2090.
We need your consent to load this rte-player contentWe use rte-player to manage extra content that can set cookies on your device and collect data about your activity. Please review their details and accept them to load the content.Manage Preferences
---
All you need to know about today's solar eclipse
---
Finally some visibility! Partial Solar #Eclipse2021 in #Dublin pic.twitter.com/2ETOkYbUQY

— Paul Cunningham (@RTENewsPaulC) June 10, 2021
The eclipse was also partly visible to observers in North America, other parts of Europe including France and the UK, and some of northern Asia.
In London, where the moon covered 20% of the sun as the eclipse reached totality, sky-gazers glimpsed the event through cloud cover.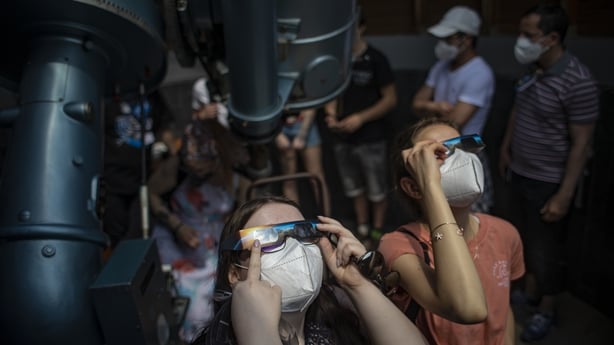 Observers on the east coast of the United States were treated to a rare eclipsed sunrise.
In northern Canada, northern Russia, northwest Greenland and the North Pole, the sun was 88% obscured by the moon.
Many live stream views from various locations broadcast on YouTube were also subject to cloud cover.
However, those with maximum visibility - and the necessary protective eyewear - would have seen the moon's silhouette ringed by the sun for a few minutes of the two-hour event.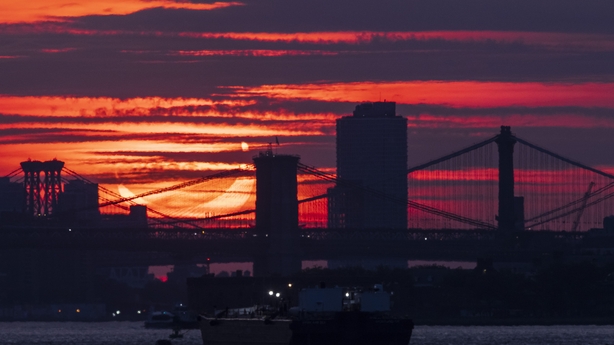 Ahead of the eclipse, experts warned people not to try and look at the sun directly, even through the clouds.
The eclipse was the first annular - meaning "ring-like" - eclipse of 2021 and the 16th this century.
Annular eclipses occur when the diameter of the moon visible from earth is less than that of the sun, leaving a "ring of fire" visible around its silhouette.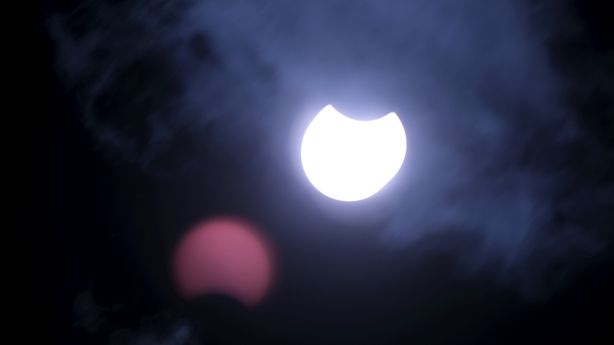 A total solar eclipse occurs when the moon completely blocks the sun's disk, momentarily plunging a portion of the Earth into complete darkness.
The next total solar eclipse will occur on 4 December, but will only be visible from Antarctica.