EU leaders have announced a ban on all Belarusian flights into EU airspace and a ban on the country's state carrier Belavia from landing at EU airports.
During an EU summit in Brussels, leaders also agreed a ban on EU carriers overflying Belarusian airspace.
Leaders have also agreed to deepen sanctions against companies and individuals associated with the Lukashenko regime, as well as broader economic sanctions.
Following the forced grounding of Ryanair flight 4978, EU leaders have also demanded the immediate release of the opposition journalist Roman Protasevich and his girlfriend Sofia Sapega.
The new measures are contained in a statement issued on social media by the European Council press service.
As she arrived at the summit, European Commission chief Ursula von der Leyen said leaders would produce a "strong answer" to Belarus.
She said President Lukashenko "and his regime have to understand that this will have severe consequences".
"So tonight we will discuss options, different options of sanctions."
The Ryanair plane was on its way from Greece to Lithuania when the pilot was ordered to make an emergency landing in Minsk.
Mr Protasevich, who has spoken out against President Alexander Lukashenko and his government, was taken from the aircraft after it landed.
Taoiseach Micheál Martin earlier said that the forced landing of the Ryanair plane was a "state-sponsored coercive act" and was "absolutely unacceptable".
Speaking on RTÉ's Today with Claire Byrne, he said the European Council must respond "very strongly".
Mr Martin described a statement from the Belarusian authorities insisting that they acted legally as "nonsense".
The Taoiseach said: "We all know what happened here ... don't be hiding behind excuses.
"You forced the plane down to arrest a journalist whose views you don't agree with.
"You arrested that individual and that is contrary to any sense of human decency or democratic values."
'Appalling, reckless and unacceptable' activity by the Belarusian government in forcing a Ryanair plane to land in Minsk is the immediate issue before leaders at the European Council meeting, Taoiseach @MichealMartinTD says. | https://t.co/hQs3rtSUOh pic.twitter.com/km6Ho5JhoE

— RTÉ News (@rtenews) May 24, 2021
The plane's pilots and crew were told that a bomb was on board. They were ordered to land while a Belarusian warplane escorted them down.
Officials in Belarus claimed that the bomb warning came from Hamas, but this has been dismissed by the international community.
---
Read more:
EU summons Belarusian ambassador over forced plane landing
Ryanair flight sent '20 departure delay messages'
---
EU Commissioner for Financial Services, Financial Stability and Capital Markets Union Mairead McGuinness said the EU would do everything it could to respond to the grounding of a Ryanair flight.
Speaking on RTÉ's Drivetime, Commissioner McGuinness said: "We cannot allow a dictator to kidnap a journalist off a flight and remain silent, and we will not remain silent, we will be taking action."
She said the EU has called for the immediate release of this journalist and said "it's an extremely serious situation from a human rights perspective".
Commissioner McGuinness said "this is a very defining moment" for the EU, because of the audacious and illegal nature of what happened which she said was "quite shocking".
Earlier, Minister for Foreign Affairs Simon Coveney also described the incident as "state-sponsored aviation piracy".
Speaking on RTÉ's Morning Ireland, Mr Coveney said the EU must give a "very clear response" to the incident.
Minister for Foreign Affairs @simoncoveney has described the forced landing of a Ryanair plane in the Belarus capital, Minsk, as 'state-sponsored' 'aviation piracy'.

He told @morningireland that the EU has to give 'a very clear response' | Read more: https://t.co/sYKLZATgeL pic.twitter.com/FC0VECZjID

— RTÉ News (@rtenews) May 24, 2021
Mr Coveney said he does not know for certain if reports that Belarusian KGB officials were on the Ryanair plane are true.
He said that when the plane landed, five or six people did not reboard the plane when it took off again.
"But only one or two people were actually arrested," he said.
"So that certainly would suggest that a number of other people who left the plane were secret service. We don't know from what country, but clearly linked to the Belarusian regime."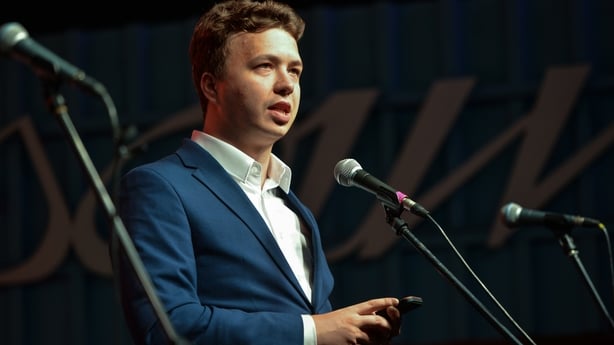 'State-sponsored hijacking' - O'Leary
Ryanair group chief executive Michael O'Leary also described the incident as "state-sponsored hijacking".
Speaking to Newstalk, Mr O'Leary said: "It appears the intent of the authorities was to remove a journalist and his travelling companion.
"We believe there were some KGB agents offloaded at the airport as well."