Ryanair Flight 4978 sent 20 departure delay messages while it was on the ground in Minsk.
That is according to an internal report by the European air traffic management organisation, seen by RTÉ News.
The messages indicate that it was "not ready or allowed" to leave the Belarusian capital after it was forced into an emergency landing yesterday.
The report by Eurocontrol shows that the Boeing 737-800, en route from Athens to Vilnius, was forced to land in Minsk at 10.30am UTC and was not able to depart until 18.26pm.
The original departure time of the Ryanair flight in resuming its journey towards Vilnius was filed by the aircraft at 11.16am, with an estimated departure time of 11.30am.
However, the report states: "20 departure delay messages [were] received for the flight indicating that the flight was not ready or allowed to depart from Minsk."
Eurocontrol confirms that there were 117 passengers on board and five "did not continue to Vilnius".
One of the five, the Belarusian opposition blogger Roman Protasevich, was extracted from the flight and arrested.
The Eurocontrol report suggests that Belarus could be in contravention of Articles 3 and 4 of the Chicago Convention.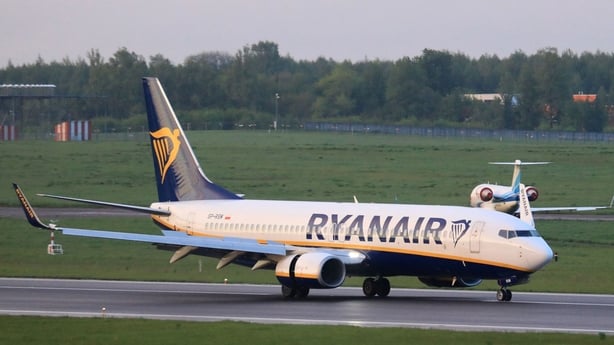 ---
Read more
Forced Ryanair landing a 'state-sponsored coercive act' - Taoiseach
EU summons Belarusian ambassador over forced plane landing
---
Article 3.2 states that contracting parties recognise that "every State must refrain from resorting to the use of weapons against civil aircraft in flight and that, in case of interception, the lives of persons on board and the safety of aircraft must not be endangered".
Article 4 obliges signatories "not to use civil aviation for any purpose inconsistent with the aims of this Convention".
The Eurocontrol report says there were 20 arrivals and departures expected to and from EU airports to Belarus today.
These include flights to and from Helsinki, Charleroi, Amsterdam, Riga, Tallinn, Amsterdam, Milan, Warsaw and Vilnius.
This would amount to between 40 and 60 flights through EU airspace to and from Belarus, depending on the routes used.
The report estimates that some 64 flights by the state carrier Belavia were expected in Eurocontrol airspace.
Belavia also operates scheduled flights to Frankfurt, Berlin, Munich, Hannover, Paris, Budapest, Prague, Rome, Larnaca, Stockholm, Barcelona and Vienna.
In all, Lufthansa operates five flights a week from Frankfurt. Polish airline LOT has seven flights per week from Warsaw, while Air Baltic operates two flights per week from Riga.
The Eurocontrol report said that a number of EU airlines en route to Asia overfly Belarusian airspace due to the closure of the eastern part of Ukraine.
Over a seven-day period, there were 2,500 flights overflying Belarusian airspace to, from, or through EU airspace, the report shows.
Of those, 350 have been operated by EU carriers and 419 by the Belarus national carrier.
We need your consent to load this rte-player contentWe use rte-player to manage extra content that can set cookies on your device and collect data about your activity. Please review their details and accept them to load the content.Manage Preferences