Arrested Belarussian opposition blogger Roman Protasevich has said he is cooperating and admitting to charges of organising protests in a video circulated by state TV channels.
Mr Protasevich was detained on Sunday after he was taken off a Ryanair flight that was diverted while flying through Belarussian airspace.
The passenger flight from Athens to Vilnius was diverted over a supposed bomb threat, prompting a global outcry to Minsk's forced landing of the aircraft.
"I am in Detention Centre no 1 in Minsk. I can say that I have no health problems, including with my heart or any other organs," Mr Protasevich said in the clip that appears to have been filmed on a phone camera.
The 26-year-old is wearing a black hoodie and sits behind a table in a non-descript room with a pack of cigarettes by his side.
He fidgets with his hands as he makes the statement and some dark markings are visible on his forehead.
We need your consent to load this rte-player contentWe use rte-player to manage extra content that can set cookies on your device and collect data about your activity. Please review their details and accept them to load the content.Manage Preferences
"The attitude of employees towards me is as correct as possible and according to the law.
"I continue cooperating with investigators and am confessing to having organised mass unrest in the city of Minsk," he said.
#Belarus Breaking. Pro-government channels published Raman #Pratasevich video address. He was forced to say he is confessing that he was "plotting riots" pic.twitter.com/vhyIs6FmWC

— Hanna Liubakova (@HannaLiubakova) May 24, 2021
Meanwhile, European Union leaders have agreed to ban Belarus' airlines from EU airspace and have urged EU-based carriers not to fly over its airspace in response to the incident.
The leaders of the 27-nation bloc also called for the "immediate release" of journalist Mr Protasevich and his girlfriend Sofia Sapega.
Earlier, the Belarus Interior Ministry said Mr Protasevich was being held in Minsk and dismissed unconfirmed reports he was hospitalised with a heart condition.
"The administration of the institution has not received any complaints about his health," the ministry said on its Telegram channel.
Together with co-founder Stepan Putilo, Mr Protasevich until recently ran the Nexta telegram channels that helped mobilise protesters during the demonstrations that gripped Belarus for months after a disputed election last August.
Protesters demanded the resignation of president Alexander Lukashenko, who has ruled Belarus for over two decades and secured a landslide victory in an election his opponents say was rigged.
The authorities unleashed a violent crackdown on protesters, detaining thousands, many of whom reported torture and abuse in custody. Several people died in the unrest.
Earlier, a senior Belarus transport official said that the country had received a bomb threat claiming to be from Hamas ahead of the diversion of the Ryanair passenger flight.
Artem Sikorsky, the head of the aviation department at the transport and communications ministry, read out a letter to journalists that said: "We, the soldiers of Hamas, demand that Israel ceasefire in the Gaza Strip."
He said the group demanded that the "European Union renounces its support for Israel in this war" and if it did not fulfill their demands: "The bomb will explode over Vilnius on May 23".
Speaking at a press briefing, the Belarusian air force chief Igor Golub said the captain of the flight independently made the decision to land in Minsk.
"The decision was made by the captain without outside interference," Mr Golub said.
He added that the aircraft could have also chosen to go to Ukraine or Poland.
However, German Chancellor Angela Merkel described those claims as "completely implausible".
Speaking at the EU summit in Brussels, she said: "We have seen a forced landing that led to the arrest.
"All other explanations for the landing of this Ryanair flight are completely implausible."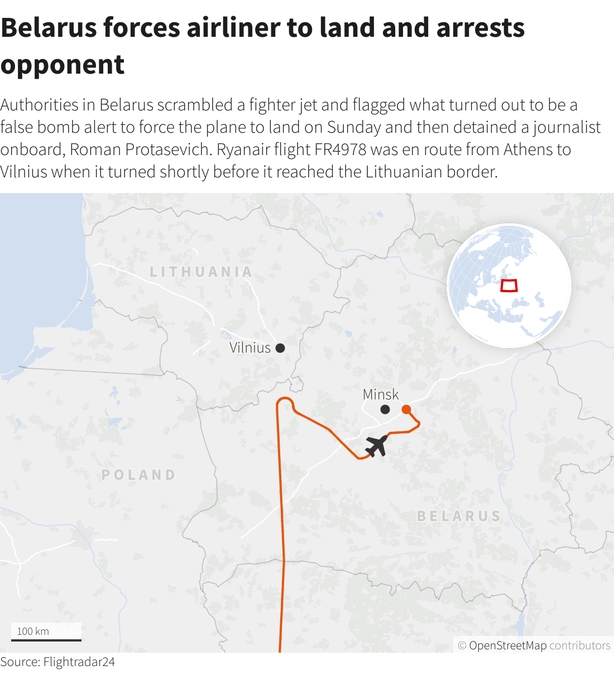 UN Secretary General Antonio Guterres has backed calls for an independent investigation into the matter, declaring himself to be "deeply concerned" by the incident.
"The secretary general supports calls for a full, transparent and independent investigation into this disturbing incident and urges all relevant actors to cooperate with such an inquiry," said his spokesman in a statement.
EU leaders met in Brussels with the situation in Minsk high on the agenda.
European Commission President Ursula von der Leyen said leaders would discuss sanctions and produce a "strong answer" to Belarus.
The EU also summoned the Belarusian ambassador to condemn the "inadmissible" forced landing and detention of Mr Protasevich.
An EU statement said: "Ambassador (Aleksandr) Mikhnevich was informed of the firm condemnation by the EU institutions and EU Member States of the coercive act by which the Belarusian authorities have jeopardised the safety of passengers and crew."
Officials "conveyed the EU's position that the outrageous action by Belarusian authorities constitute another blatant attempt to silence all opposition voices in the country and demanded the immediate release" of Mr Protasevich, the statement said.
The EU called for an international investigation into the forced landing of the plane.
"In carrying out this coercive act, the Belarusian authorities have jeopardised the safety of passengers and crew," the EU's foreign policy chief Josep Borrell said in a statement this morning.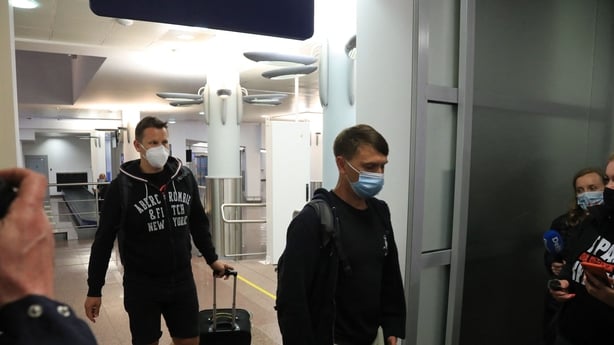 The chairman of the British parliament's foreign affairs committee has called for all civilian airlines to cease flying over Belarus after what he said was an act of air piracy by President Alexander Lukashenko.
"We need to stop any aircraft overflying Belarus," Foreign Affairs Committee Chairman Tom Tugendhat told Times Radio.
"This is an act of air-piracy, combined with hijacking, and eventually linked to kidnapping."
Russia has said it was shocked by the Western outcry.
"We are shocked that the West calls the incident in Belarusian air space 'shocking'," Russian foreign ministry spokeswoman Maria Zakharova said on Facebook.
She accused Western nations of "kidnappings, forced landings and illegal arrests".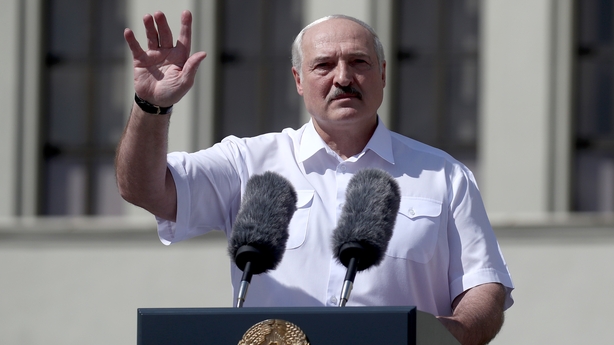 ---
Read more:
EU outrage as Belarus diverts Ryanair flight, arrests opposition activist
Forced Ryanair landing 'state-sponsored aviation piracy'
---
The leader of the Belarus opposition, who has been exiled in Lithuania since last year's vote, told RTÉ's Morning Ireland programme the forced landing was a "threat to worldwide security".
Svetlana Tikhanovskaya said the incident was a "real shock" and endangered the lives of dozens of passengers "just to kidnap one person".
She said that while it is not currently clear what is happening to Mr Protasevich, he is certainly "not in safeness".
"The escalation of violence in Belarus is the result of impunity", Ms Tikhanovskaya said. "So we have to put much more pressure on the regime."
She urged European unity on imposing more sanctions and raising awareness about the situation in Belarus.