Police have been attacked with missiles and a car was set on fire as small pockets of unrest flared again in Northern Ireland.
PSNI officers have attended the scene at Tiger Bay, a loyalist area in north Belfast with riot vans and police dogs in tow.
Some officers have come under attack, with missiles such as stones and bottles thrown at them, and reports of petrol bombs being used.
There is a heavy police presence in the area, with reports that stones were also thrown at police in the nearby, nationalist area New Lodge.
Chief Superintendent Muir Clark said: "We would appeal for calm in the area and ask anyone who has any influence in communities please, use that influence to ensure young people do not get caught up in criminality and that they are kept safe and away from harm tonight."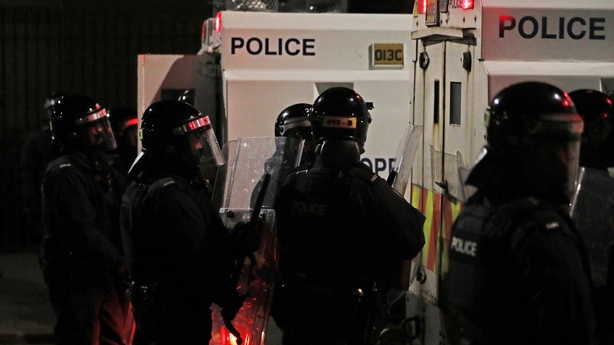 Two men have been charged in connection with disorder which took place in west Belfast last night.
The men, aged 24 and 32, are charged with rioting and will appear before Belfast Magistrates' Court tomorrow.
The 32-year man has also been charged with possession of a petrol bomb in suspicious circumstances.
The PSNI has said all charged will be reviewed by the Public Prosecution Service.
Separately, PSNI Assistant Chief Constable Jonathan Roberts has said the force does not believe the recent violence in Northern Ireland has been "sanctioned and organised" by loyalist paramilitaries.
It follows a statement from the Loyalist Communities Council, an umbrella group which represents the UVF, UDA and Red Hand Commando paramilitary organisation, that said none of its groups were involved in rioting "either directly or indirectly".
The LCC also said that whole the 2right to peaceful protest is a fundamental human right... any actions taken by the loyalist community should be entirely peaceful".
Yesterday Assistant Chief Constable Roberts said it was "clear there was a degree of organisation" to the violence. Although the PSNI did not confirm paramilitary involvement, it said it was a "likely situation".
Responding to the LCC statement today, Mr Roberts appeared to backtrack on that position, saying: "It's our overall assessment that the violence that has taken place over the last few nights is not orchestrated by a group, in the name of that group.
"There are certainly people who have been engaged in violence who are nothing to do with any illegal organisation," he said. "There are young people who have gotten involved and for whatever reason that they've decided to do so."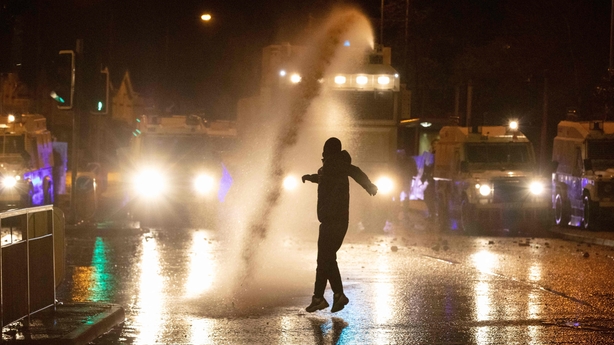 He added that police feel there "may be some people, who could have connection to prescribed organisations, who have been present on the scenes of violence.
"But we don't believe it's been sanctioned and organised by prescribed organisations for peaceful protests."
Also today, clergy from across Northern Ireland's traditional dividing lines put on a demonstration of unity to urge an end to the recent violence.
After a week of disorder across the region which has left 74 police officers injured, a Catholic and a Church of Ireland bishop were among those who came together for an ecumenical service before walking together to the peace wall gate at the centre of the latest clashes.
The Rev Colin Duncan, of Shankill and Woodvale Methodist Church, welcomed those gathered as coming from different denominations but with a "common heart" and "common concern" at recent events.
"Here we are together and we're here to give a show of unity that together we are making a stand and a voice against the violence that we're seeing on the streets, a violence that serves no practical function or purpose at all," he said.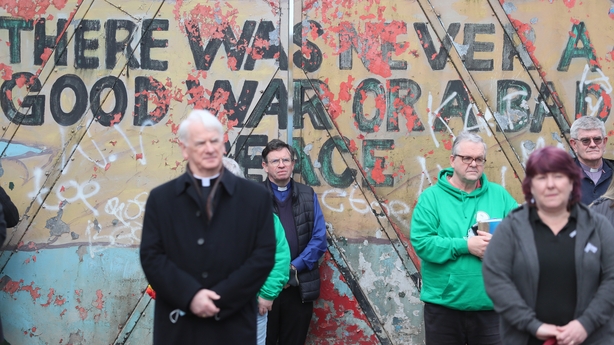 The clergy walked together from Forthspring Inter Community Group on the Springfield Road just hours after chaotic scenes in a Republican area of youths throwing petrol bombs, fireworks and missiles at police.
They strolled the short distance to the peace wall gates at Lanark Way where Wednesday night saw violence from loyalists, including setting the gates on fire.
Catholic Bishop Noel Treanor described the act as "a contribution on the part of us as church leaders to the local clergy who have been on the streets during these events".
Taoiseach Micheál Martin, British Prime Minister Boris Johnson and the White House have this week called for a calming of tensions.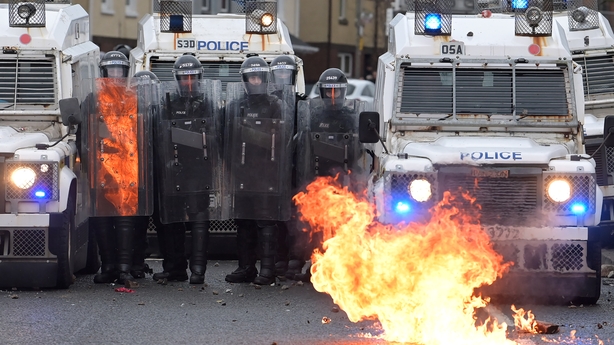 Sinn Féin leader Mary Lou McDonald has also called for calm following another night of disorder.
She said loyalist violence has been deliberately planned to stoke up maximum tensions and called on unionist politicians to show "enlightened leadership" and to call off protests planned for this weekend.
Speaking at Leinster House, Ms McDonald said it is "unacceptable" that unionist leaders in the North have not yet called for further protests planned for this weekend to be cancelled.
"That message needs to come from all of us, but it particularly needs to be heard loud and clear from the leadership of the DUP, from all the unionist political parties and from all of the loyalist organisations," she said.
"Now is your moment to step forward and in a very unequivocal and very clear and firm way, to say to those who have orchestrated this violence to stop and to call off all of the protests."
We need your consent to load this rte-player contentWe use rte-player to manage extra content that can set cookies on your device and collect data about your activity. Please review their details and accept them to load the content.Manage Preferences
Earlier on RTÉ's Morning Ireland, she said that "now is a time for leadership among unionists and loyalism... violence is not the answer for anyone, this is disastrous for communities and young people".
Police used water cannon for the first time in six years to drive back rioters during trouble for a second consecutive evening on both sides of a security gate that divides loyalist and nationalist areas in west Belfast.
Ms McDonald said "words and sentiments and common cause" among political leaders across the board is "absolutely essential now".
She said that more engaged leadership is needed from London, from both the Northern Ireland Secretary and British Prime Minister Boris Johnson.
Ms McDonald said nationalists and republicans have a role to play too, but that now is a moment for unionists and loyalists to call out those involved in the orchestrated scenes of violence.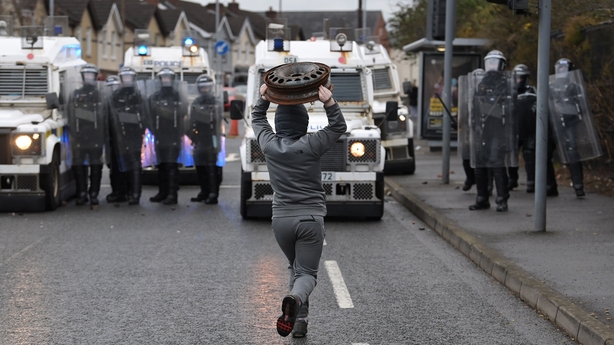 Former President Dr Mary McAleese described the violence as "heartbreaking".
"It is heart-breaking. It is Groundhog Day. It is exactly what we hoped we had moved away from but we clearly haven't."
Dr McAleese said the scenes on the streets of Belfast in recent days "shows that there is still a huge amount of work to be done in investing in young people, particularly those most estranged from mainstream life."
She explained that a friend of hers has had to leave his home to seek refuge from the violence. "He is a Catholic man living in a Protestant area with his Protestant wife."
Dr McAleese called on all those who can, to "hold hands no matter what their faith, their politics or their ambition".
"Everyone of goodwill must hold hands and gather together and form a phalanx against this developing anymore than it already has."
Yesterday, Northern Ireland Secretary Brandon Lewis encouraged politicians to "think very carefully" about the language they use.
He said: "Not just unionists, but if you look at the tweets and messages from politicians from all parties - they have put out messages that can be interpreted in a particular way as having a bit of spite to them."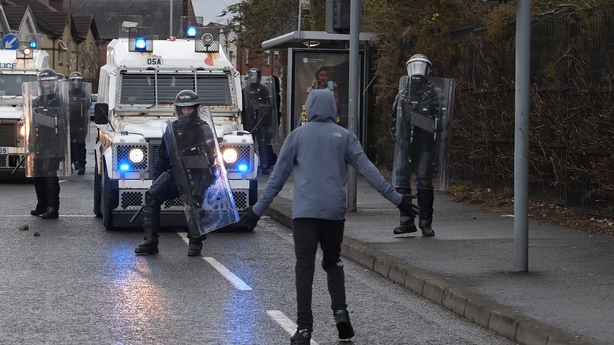 US Congressman Brendan Boyle said the Friends of Ireland group of the US Congress, who are concerned by the latest unrest, will meet today to discuss it.
Speaking on RTÉ's Morning Ireland Mr Boyle, a Democratic member of the House of Representatives, said he believes the US can play a positive role in what is going on in Northern Ireland.
Mr Boyle also said more involvement from the British government would be welcome.
"The UK has responsibility over the six counties so ultimately it is the responsibility of the British Prime Minister to stand up and speak out and make clear that this is wrong."
Stormont MLAs unanimously passed a motion yesterday calling for an end to the disorder.
In a joint statement, the five-party Executive said: "While our political positions are very different on many issues, we are all united in our support for law and order and we collectively state our support for policing and for the police officers who have been putting themselves in harm's way to protect others.
"We, and our departments, will continue to work together to maximise the support we can give to communities and the PSNI to prevent further violence and unrest."
Additional reporting Vincent Kearney, Mary Regan, PA