The Covid-19 pandemic was at first a boost for bike shops as some people bought bikes as an alternative to public transport or dragged out their old bike for a service as they sought to get some exercise.
Many families have taken to their bikes as way to get out and get some exercise while keeping physically distant from others.
For those who still have to travel to work, cycling can be a way of avoiding public transport and the risk of encountering coronavirus. 
But now bike shops have had to close their doors because of the restrictions on non-essential retail. Many are still active though helping people who need their bikes to get to work.
The current rules do not include bike shops in the list of outlets allowed to stay open. But they do allow them to do emergency call-outs for repairs and deliveries.
Some shops are operating mobile repair services and taking orders online or on the phone.
In the Penny Farthing on Dublin's Camden Street, Ryan Hanratty is going out in his van to customers who need their bikes to get to work, often in a hospital.
He says he does smaller repairs on site but brings the bikes that need more major repairs back to his workshop. He says most of his customers so far are emergency workers who want to avoid public transport.
In GreenAer, also in Dublin City Centre, which specialises in electric bikes, general manager Richard Greene says they are getting queries and sales online.
Some customers who would never have considered cycling are looking at it now as they try to avoid public transport and E-bikes take some of the pain out of the longer commutes.
One query came from a health care worker living in Greystones and working at St James's Hospital in Dublin, a distance of almost 30km each way.
While some people are taking up cycling for the first time because of Covid 19, the number of people commuting by bike like any other mode has fallen as the restrictions bite.
Bike Sharing schemes have seen a dramatic fall in trips made as city streets have fallen quiet.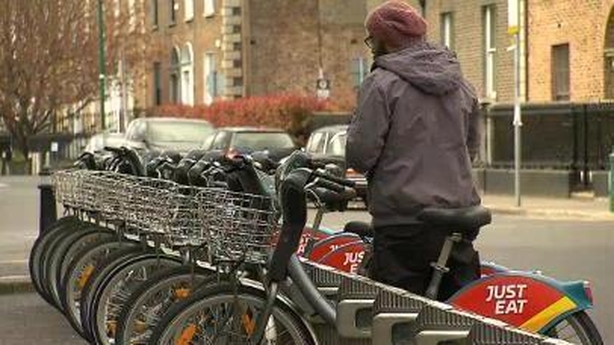 In the capital, Dublin Bikes has seen a 70% decline because of the Covid crisis and stationless bike sharing company Bleeperbike says it is down more than 50% on normal volumes.
It is cleaning its bikes to help keep customers safe, but adds that as they are left on the public street it is impossible to guarantee cleanliness. It advises people to wear gloves.
JC Decaux has also stepped up its cleaning programme for Dublin Bikes
The Government has recognised that some people are still relying on bike sharing for their commute and is allowing the schemes to continue operating.