Marian Finucane has been remembered as an icon of Irish broadcasting who will always be known for her outstanding journalistic abilities, her keen intellect, warmth, wit, thoughtfulness, compassion and kindness.
Speaking at the funeral, Ms Finucane's husband John Clarke said she was a woman he loved for 40 years, who "made colours brighter" and made "the world easier to live in".
Mr Clarke said she had recently made a decision retire so they could spend more time together.
"My Marian, a woman who I have loved for 40 years. A woman, who for me, made the colours brighter, the world a bit easier to live in," he said.
"Last December, she decided to retire. We were so excited. We would have more time, more space, more books to read, more places to see.
"Sadly, that is not going to happen. Someone said, I don't know who, that we were two 15-year-old adolescents who were addicted to each other and forgot to grow up. I don't deny that.
"I find myself so powerless. I don't know what to do, I truly don't know what to do.
"Some weeks ago we were in a township in Africa and a very old black woman said to us 'the only thing I can give you are my tears'. And that's the only thing I can do today."
Ms Finucane, who died last Thursday aged 69, worked for RTÉ for over 40 years, most recently as the presenter of The Marian Finucane Show, a popular weekend current affairs radio programme.
She had previously presented programmes including Women Today and Liveline.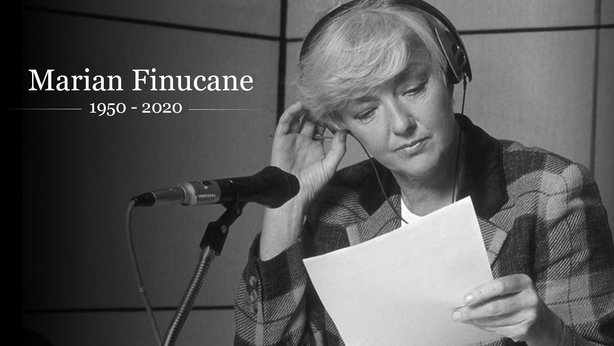 The Bright Lady, played on the uilleann pipes by Peter Browne, echoed through St Brigid's Church in Kill as hundreds of mourners attended her funeral mass.
Among those in attendance were President Michael D Higgins' aide-de-camp Commandant Dorothy Donnelly and Taoiseach Leo Varadkar.
Many of her friends and colleagues from RTÉ over the years were there to pay their respects, including broadcasters Joe Duffy, Claire Byrne, Miriam O'Callaghan and Ryan Tubridy.
---
Read more:
Veteran RTÉ broadcaster Marian Finucane dies suddenly
Late Late guests share fond memories of Marian Finucane
In pictures: Life and career of Marian Finucane
---
Marian's son Jack said there were "many versions" of his mother, but the woman he knew was a "shy lady" who was as happy reading a book as laughing, joking and singing, debating the politics of the day or solving the world's problems at a dinner party.
He told the congregation that his mother was a "classy lady with soul", who had a "razor sharp mind", who was patient and compassionate, and great company.
Jack Clarke said his mother's legacy to him was to travel, learn and live a life full of love.
At the beginning of his eulogy, he joked if people "could hear him at the back".
He said: "We were at a wedding last week, and Mam was sending me smoke signals from the back because she couldn't hear me."
He thanked family and friends for their support in the last few days. He said: "Mam would've been so proud and grateful to see the family muck in."
In his homily, Monsignor Ciarán O'Carroll paid tribute to Marian, whose influence, he said, had been significant.
He said she contributed to "advancing and shaping our nation and its peoples through her professional work as a courageous broadcaster."
He said she had outstanding journalistic abilities, as well as warmth, wit and kindness.
Monsignor O'Carroll said that through her work as a broadcaster, Marian contributed to shaping the nation, by facilitating conversations "without fear or favour".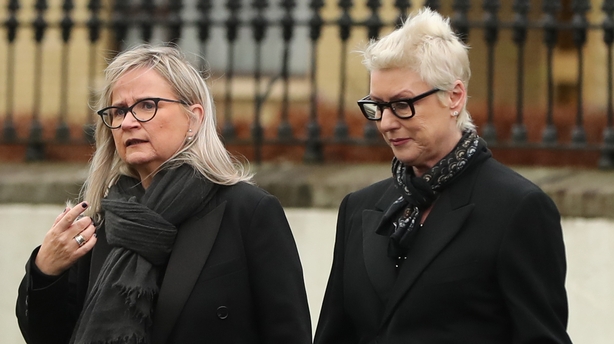 He said Marian had a great empathy and sense of fairness and had treated everyone with courtesy and respect.
Monsignor O'Carroll described her as a generous and determined woman and a thoughtful and kind friend whose keen sense of humour enriched the lives of many while her charity work at home and abroad was simply outstanding.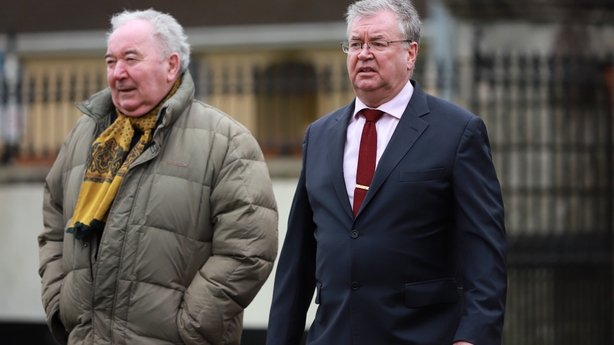 Thousands, he said, had enjoyed her programmes and she will be missed publicly as the nation has lost a skilled broadcaster; while privately her husband, John, has lost a soul partner, Jack a loving mother and Jenny a cherished mother-in-law.
Monsignor O'Carroll said Marian had to "carry the cross of bereavement with the death of her beloved daughter Sinead".
He told the congregation that after Sinead's death, "Marian mobilised all of her formidable strengths and skills by dedicating a whole chapter of her life to supporting the hospice movement at home and establish a hospice charity in South Africa.
"Indeed, many were the recipients of her quiet generosity and abundant charity."
Following her death last week, Marian was described by President Michael D Higgins as a deeply respected, trusted and much loved broadcaster and many tributes were paid to her by her broadcasting colleagues as well as listeners in Ireland and further afield.