US President Donald Trump has said he was not involved in the decision by his Vice President to stay at the Trump International Golf Links and Hotel in Doonbeg, Co Clare.
Yesterday, Mike Pence's Chief of Staff Marc Short said that Mr Trump had suggested staying at the hotel but this evening, the president said this was not the case.
Mr Trump was asked about the matter by reporters at the White House.
"I had no involvement, other than it's a great place," he said.
He described Doonbeg as beautiful and wonderful, and made reference to the fact that Mr Pence has family connections to the area.
"It wasn't my idea for Mike to go there, Mike went there because his family is there," he told reporters.
"People like my product, what can I tell you. I can't help it."
Mr Trump denied that he suggested staying at his hotel adding: "We never spoke about it."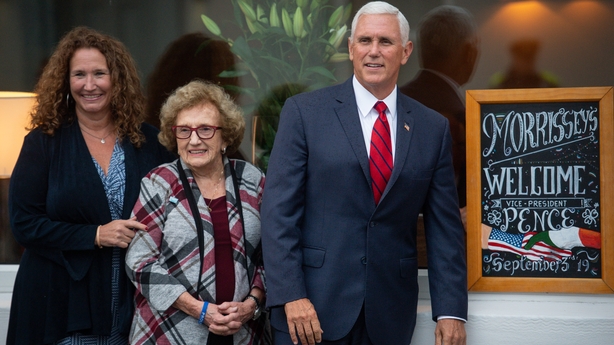 Earlier, a spokesperson for the Vice President issued a statement saying it was "solely a decision by the Office of the Vice President and was based on the requirement to find accommodations near the Vice President's ancestral hometown that could satisfy official meetings on both coasts of the Emerald Isle." 
The statement added that at "no time did the President direct our office to stay at his Doonbeg resort and any reporting to the contrary is false".
Mr Pence was criticised for staying at a Trump property during his Irish visit, with some Democrats accusing him of funneling American taxpayers' money into the US president's business. 
Yesterday, Mr Pence said it was important for him to stay there due to family connections.
"It was important for me, before our original trip [was] planned, to at least spend one night in Doonbeg. And I understand political attacks by Democrats, but if you have a chance to get to Doonbeg, you'll find it's a fairly small place.
"The opportunity to stay at the Trump National in Doonbeg, to accommodate the unique footprint that comes with our security detail and other personnel, made it logical.
"We checked it with the State Department. They approved us staying there," he added.
---
Read more
US Vice President Pence defends staying at Trump's Doonbeg property
Pence calls for EU and UK to 'negotiate in good faith' on Brexit
What are Mike Pence's Irish roots?
---
Mr Pence left Ireland today following his two-day visit.
Air Force Two, carrying the Vice President, along with his wife Karen, his mother Nancy and sister Anne departed Shannon Airport at around 11.30am.
He also visited Iceland today and is due to travel onto the UK later tonight.
Mr Pence did a walkabout in the village of Doonbeg, Co Clare last night at the end of a day of engagements in Dublin where he met President Michael D Higgins and Taoiseach Leo Varadkar.
He shook hands and spoke to locals in Doonbeg village and showed people the cottage on the main street where his great grandmother Mary Ann Downes was from.
His great grandfather Michael Maloney was also from lands outside Doonbeg.
He also met distant cousins of both families at a dinner in Morrissey's bar owned by Hugh McNally, who is also a relation.
.@VP Mike Pence & @SecondLady Karen Pence are bid farewell by Shannon Group Chairman Rose Hynes, @PatBreen1 @DanMulhall  as he takes off in Air Force 2 from #ShannonAirport following his visit to Ireland.  ☘️✈️🇺🇸🇮🇪@USEmbassyDublin pic.twitter.com/x4TuUWkq3c

— Shannon Airport (@ShannonAirport) September 4, 2019
He spoke of his emotion at being back in Doonbeg with his family, for the first time with his mother Nancy.
He had visited the village in 1981 where he worked in the bar at Morrissey's and cut turf on the family bog.
He said he felt a huge debt of gratitude to his ancestral emigrant family who had left the west Clare village in the late 1800s.
Additional reporting Cathy Halloran