Hundreds of farmers have protested in Dublin to highlight their concerns about farm incomes and the economic health of rural Ireland.
They also outlined their opposition to the proposed Mercosur trade agreement between the European Union and South American countries which they said would threaten Irish beef exports.
The demonstration at Leinster House was organised by the Beef Plan Movement.
Organiser David Whelan described the protest as a show of unity.
He said it sent a message to Government that farmers are no longer prepared to stand back and watch the closure of rural Ireland.
The protesters handed in a letter to the Government demanding greater transparency in the beef industry about how much retailers and meat factories are making out of beef while farmers' incomes are on the floor.
Another organiser, farmer Hugh Doyle, said the Beef Plan Movement intends to make its presence felt at the next general election and rural politicians who do not support its goals will lose support.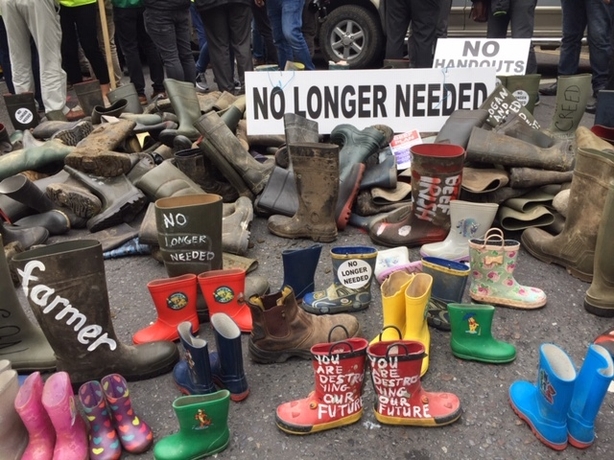 Meanwhile, the Taoiseach has said that concerns over the proposed Mercosur deal would "pale into insignificance" for farmers if there is a no-deal Brexit.
Leo Varadkar was responding to Sinn Féin's Mary Lou McDonald during Leaders' Questions in the Dáil.
She called on the Government to support her party's motion against the proposed agreement, saying it would be a "sell-out" for Irish farmers and their families.
"This deal needs to be stopped," she said.
However, Mr Varadkar said the rural economy would suffer more if there was a no-deal Brexit.
"The concerns that arise from Mercosur will pale into insignificance if we end up in a no-deal on October 31st," he said.
Mr Varadkar added that the trade deal had not been yet agreed, and he repeated a commitment to oppose Mercosur if it was not in Ireland's interests.
"If it is the case that this trade deal is not in Ireland's interests, then we will not hesitate to vote against it. But we will actually need to see the deal, the full legal agreement.
"We will also need to do a full economic and environmental assessment," he said, adding that there could also be upsides to the agreement.
However, Ms McDonald said that allowing Ireland's market to be flooded by South American beef was not protecting Irish farmers' interests.
She also said it sounded like the Taoiseach was prepared to "throw Ireland's farming families under the bus" if it suited the interests of "bigger corporate interests" who might wish to export to large South American markets.
'We're getting left behind' Michael Kelly was among the beef farmers protesting at Leinster House this afternoon @rtenews @rtepolitics pic.twitter.com/aLGDqhNAb8

— Aisling Kenny (@KennyAKE) July 10, 2019
Additional reporting Edel McAllister