Although electric bikes or E-bikes are still very much a minority of the bicycles sold in Ireland they are becoming increasingly popular and could be a big part of bringing down Ireland's transport emissions.
Some retailers say sales of have increased by 20% every year over the last few years. They make cycling more accessible to people who have long commutes or who because of age or health reasons might find traditional bikes too much of a challenge.
They are also more attractive for those who do not want to have to shower at the end of their cycle and prefer to dress for their destination rather than the journey.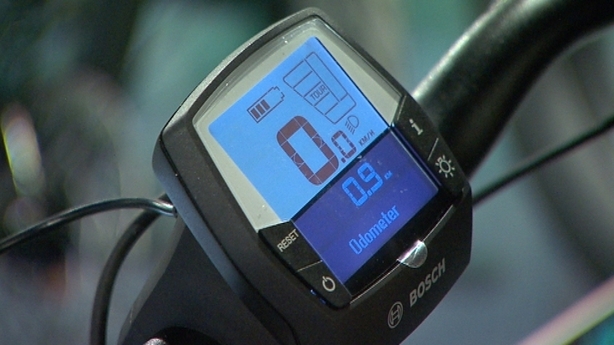 You still have to pedal on an E-bike, the electric motor assists you, taking some of the strain, but only up to 25km per hour. This is for legal reasons. If the motor moves the bike without you pedalling or helps at speeds over 25kph then Irish law classifies the bike as a vehicle which must be taxed and insured. 
Green Aer is one of the biggest retailers of E-bikes in Ireland, it has stores in Dublin city centre and in Mullingar.
Co-founder Olivier Vander Elst says their sales are going up every year and in the Dublin store most of the customers are commuters. He says many are families who are getting rid of their second car and replacing it with an E-bike.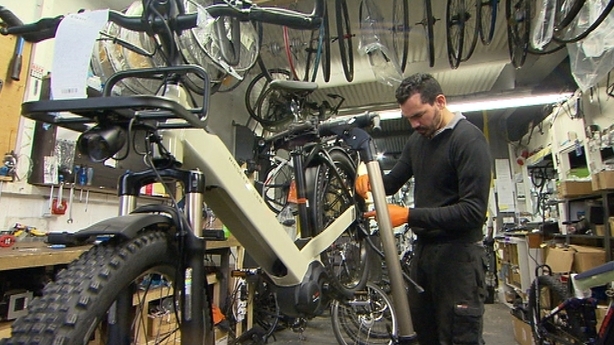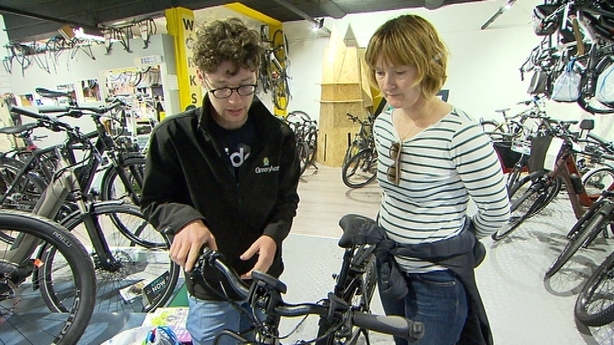 Electric bikes are much cheaper to buy and to run than a car but often cost quite a bit more than a traditional push bike.
Models are available for a little over €500 in some shops but Mr Vander Elst says his customers are those who accept the entry level price for a quality bike which will last is around €2,000.
E-bikes also have maintenance costs, the batteries need to be replaced after a few years and as E-bike owners tend to cover more kilometres, the bikes can need to be serviced more often.
For people in Dublin it will soon to be possible to access E-bikes without owning one. Two electric bike sharing schemes are planned for the city before the end of 2019.
One will be operated by Bleeperbike which already operates a stationless bike sharing scheme with traditional push bikes.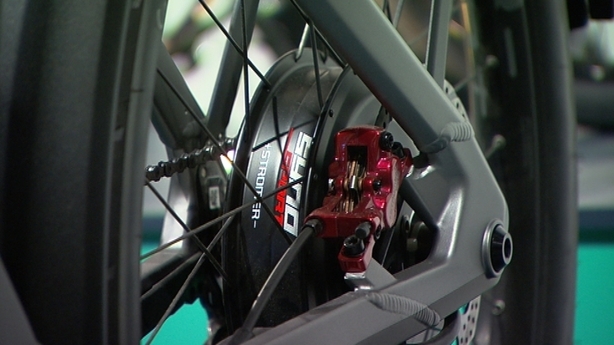 Bleeperbike founder Hugh Cooney says customer feedback indicates there is demand. He says the fee will be more expensive than the current 80 cents per trip.
Customers who choose an E-bike will pay that plus 8% per minute so a 20-minute trip would cost €2.40 but he says you can cover a lot of ground on an E-bike in that time.
E-bikes are eligible for the Bike to Work Scheme but that covers only the first €1,000, which falls short of the price of most electric models.
Retailers would like to see that ceiling raised and Mr Vander Elst points to his native Belgium where people who commute by bike are paid 23 cents per kilometre by the government and says such schemes help people to invest in what is a sustainable mode of transport.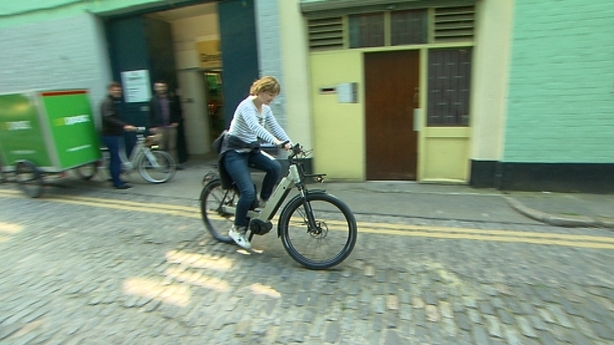 However, he says what he would really like the Government to do is to invest in proper infrastructure which would allow people to feel safe when cycling.
While much has been made of the government's ambitious targets for electric cars, Minister for Transport Shane Ross has also said the Climate Action Plan will work only if the Government can convince people to get out of their cars.  
E-bikes could be a big part of that and would reduce traffic congestion as well carbon emissions.
We need your consent to load this rte-player contentWe use rte-player to manage extra content that can set cookies on your device and collect data about your activity. Please review their details and accept them to load the content.Manage Preferences