There was a 46% increase in the number of drivers detected speeding on the roads in the first three months of this year, compared to the same period last year.
Figures showing that more than 36,000 people have been caught speeding between January and March have been released as part of National Slow Down Day, which is currently under way
Between 7am today and 7am tomorrow gardaí will be using speed guns, marked and unmarked vehicles and Go Safe vans to enforce speed limits in some of the more than 1,000 speed enforcement zones throughout the country.
Between 7am and 7pm today gardaí detected 261 vehicles travelling in excess of the speed limit.
They include a vehicle travelling at 154km/h in a 100km/h zone on the N20 Kilmona Grenagh Cork and another vehicle travelling at 115km/h in a 80km/h zone on the N55 Auburn Glasson Westmeath.
Gardaí have also published details of some of the worst speeding offences detected so far this year.
They include a driver travelling 132km an hour in a 50km/h zone in Newbridge in Co Kildare and a motorist travelling 208km/h in a 100km/h zone in Swinford, Co Mayo.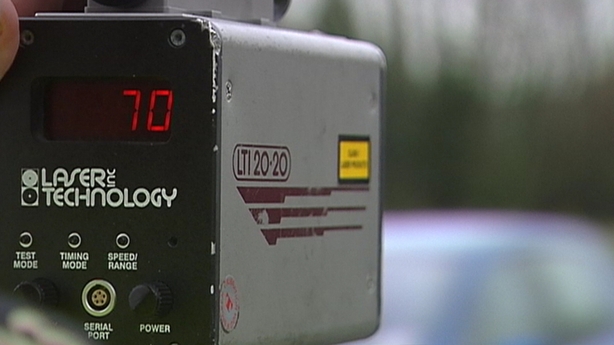 Gardaí say the objective of 'Slow Down Day' is to remind motorists about the dangers of speeding.
Chief Superintendent Paul Cleary of the Roads Policing Bureau said that a 1% reduction in average speed brings about a 4% reduction in fatal collisions.
Road Safety Authority's Chief Executive Moya Murdoch said that only one in ten pedestrians struck by a vehicle travelling at 60km/h will survive but that nine out of 10 of those hit at 30km/h survive the collision.
Fifty-eight people have lost their lives on the roads so far this year. The figure is up two on the same period last year.
Last year 146 people died on the country's roads, the lowest number ever recorded.