The Ombudsman for Children is calling for an independent evaluation of family hubs, which are premises used to provide emergency accommodation for homeless families as an alternative to hotels and B&Bs.
Dr Niall Muldoon published a report based on the views and experiences of children living in family hubs.
Up to 900 children are living in 26 family hubs, most of them in Dublin.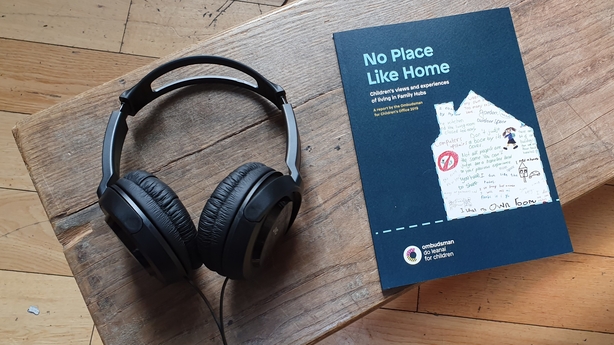 Publishing the report, Mr Muldoon said the Government was spending more than €100 million on the hubs. He said the scheme was never piloted and should be evaluated.
The report, the first of its kind, was made up of contributions from children aged between five and 17, and from the parents of children under five.
A lack of space and privacy, excess noise, and experiencing feelings of shame, guilt and anger were among the issues raised by the children.
Parents of the very young said they were concerned about the long-term mental health impact for their children.
The Ombudsman said the Government must address these concerns in order to ensure a high standard of accommodation for the homeless.
Mr Muldoon said there was an urgent need to introduce national standards, an independent inspection mechanism and a full-scale formal evaluation system.
The Ombudsman also said there was a lack of transparency when it came to data on homelessness, and in particular, on the exact number of children living in family hubs nationally. 
He also said it was time to begin a conversation about including an "express right to housing" in the Constitution.
The Ombudsman also wants to see current legislation strengthened to oblige housing authorities to provide accommodation and other supports to the homeless. 
We need your consent to load this rte-player contentWe use rte-player to manage extra content that can set cookies on your device and collect data about your activity. Please review their details and accept them to load the content.Manage Preferences
Speaking on RTÉ's Morning Ireland, Dr Muldoon described one ten-year-old girl who was worried about her five-year-old brother, who would try to escape the room at every opportunity.
He said the girl had to watch her younger brother whenever their mother went to the bathroom to prevent the boy from running away.
Dr Muldoon said most families seem to be in hubs for about nine months and some leave within three months.
But he said the only opportunity to leave is through the Housing Assistance Payment scheme (HAP), which is not accepted by many landlords.
He said there were concerns about the long-term plan for family hubs.
"What is the plan for them, how are they going to be used?" he asked.
"We set them up hoping we'd be finished fairly quickly, but anyone looking into the future can see a three to five-year term at least on this.
"We need to evaluate it, we need to have standards, we need to have consistency, and we need to know what the final product is coming out of this. Even one year in there is a huge chunk of a child's life, and we need to know that it's going to be done the right way."
Minister for Housing Eoghan Murphy has faced a barrage of criticism from Opposition TDs in the Dáil following the publication of the report.
Meanwhile, the CEO of the Peter McVerry Trust has said that none of the ten Peter McVerry hubs were included in the Ombudsman's report and it was based on a limited sample.
Speaking on RTÉ's Today with Sean O'Rourke, Pat Doyle said that some children have blossomed in the hubs and parents have reported that they have a better quality of life now that they are no longer living in hotels.
Mr Doyle said that family hubs are meant to give families a better and more positive experience.
He said that more houses needed to be built and until that happened, hubs needed to be made as homely and warm as possible and "the furthest thing away from the word prison".