England's World Cup-winning goalkeeper Gordon Banks, who died at the age of 81 today, may not have had any ties to Ireland, but his death has particular resonance with one Irishman, noted author and human rights campaigner Don Mullan.
Derry-born Mullan is probably best known for his book 'Eyewitness Bloody Sunday', which many believe was major contributor to the establishment of the Bloody Sunday Inquiry that opened in 2000.
However, there was another unlikely passion in Mullan's life - Gordon Banks, who will probably be best remembered for his heroics in Mexico in 1970.
Four years after lifting the World Cup with England at Wembley, Banks made the logic-defying save which was to define his career when he somehow managed to turn Brazil star Pele's header over the crossbar.
Once a champion, always a champion 🦁🏆

We are deeply sorry to hear of the death of @England World Cup winner @thegordonbanks.

He was one of the game's greatest goalkeepers, a provider of stunning World Cup memories & a gentleman.

Our thoughts are with his family & friends. pic.twitter.com/tsD4c71Ixt

— FIFA World Cup (@FIFAWorldCup) February 12, 2019
In 2004, Mullan published a memoir entitled 'Gordon Banks – A Hero Who Could Fly', in which he outlines the extraordinary influence he had on his life.
Banks even travelled to Ireland to launch the book, which was the beginning of a relationship which saw the two men become close friends.
Mullan was at the forefront of a campaign to have a monument erected to celebrate Banks' career, which was unveiled outside Stoke City's stadium in 2008 by Brazilian goalscoring legend Pele and another good friend of Mullan's, South African Archbishop Desmond Tutu.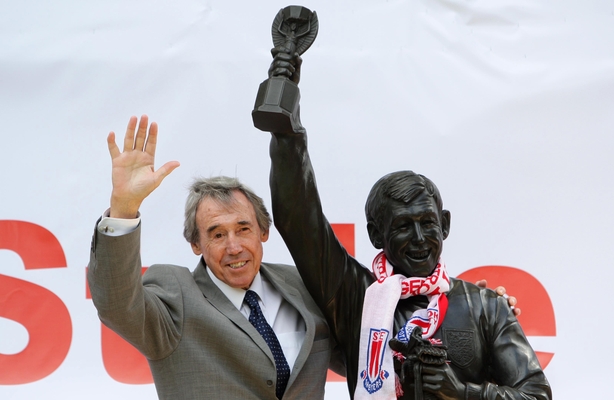 As Banks' life neared its end battling kidney cancer, Mullan's close relationship was acknowledged by his family, who invited him over to England last week to say his goodbyes.
"It was a privileged two hours we shared. During my visit I helped him to the intimacy of the bathroom. My boyhood Superman now relying on my strength to hold him. So sad yet so beautiful," Mullan told RTÉ News.
"I'm not sure if, in the vexed history between Ireland and England a statue has ever been erected by an Irishman to an Englishman. Perhaps I have added a little bit of peace in doing so. I hope."
Even today, as the Banks family mourn, Gordon's eldest daughter Wendy texted Don:
"Hi Don thank you for your kind words, I will be forever in your debt for the statue as I have somewhere that I can go and sit to be with dad ... Love and god bless Wendy x"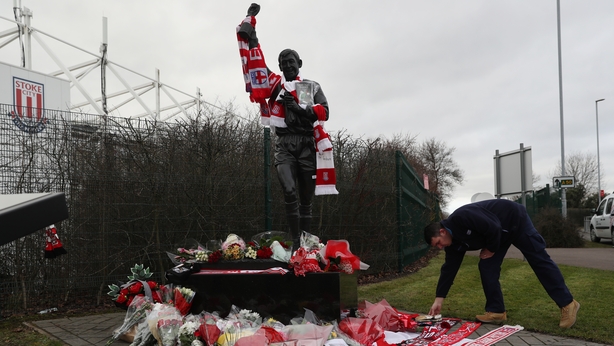 Mullan's first sight of Banks was on television, the 1966 World Cup Final England vs West Germany. "That day he became my hero. I was ten years old," says Mullan.
"I turned a 500-page wallpaper book into a Gordon Banks scrapbook."
Four years later Mullan got to meet his hero in the flesh for the first time. He recalls it was just six weeks after "that save from Pele" in the 1970 World Cup in Mexico.
"I met Gordon Banks in Donegal before a pre-season friendly, Finn Harps vs Stoke City FC.
"Unknown to me, my father hid my scrapbook in the boot of the car and drove into Jackson's Hotel. He told me to wait with my mother and a few minutes later emerged excitedly calling, 'Don, come here. Come here!'
"I followed my father into the foyer of the hotel and saw a tall man with his back to me leafing through my scrapbook at the reception desk. Then my father spoke the magic words: 'Here he is Mr Banks.'
"The man turned around and it was him. I was speechless."
Mullan continues: "It was, without exaggeration, like an audience with God. This moment remains the most cherished memory I have of my father. I was 14 years old."
He says what moved him most about the meeting was Banks' "courtesy and kindness towards my mother and father. He saw in them his own parents from the same working class background".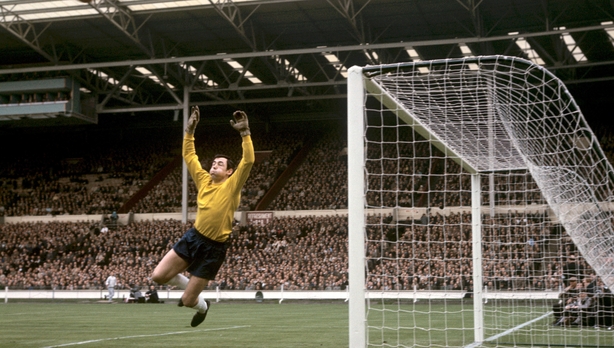 "That encounter, especially after the events of Bloody Sunday in January 1972, was a calming influence on my growing anger. I figured in my adolescent innocence that not all English people were bad."
Mullan never lost his enthusiasm for his boyhood hero. As an adult, he met Banks again in 2004.
He says prior to that meeting a fellow Derry man, the musician and songwriter Phil Coulter, warned Mullan to be careful as boyhood heroes can often be a far cry from reality.
"Yet, for me it was the opposite. I found the same caring, kind and generous man who, on this occasion, showed the same courtesy to my 14-year-old son, Carl, as he had shown to me."
Mullan, fittingly, sums up his feelings for the now departed Gordon Banks by sharing his "eternal eulogy to a hero who welcomed me into his family and who became a genuine friend".
"We lived in an era when sporting heroes were ordinary and unassuming people whose very modesty was the oxygen of dreams.
"And across the water, on a neighbouring island with whom we Irish had been in conflict for centuries, I had a hero who could fly. His name is Gordon Banks. From being a timid, fearful young boy, he taught me that impossible doesn't exist.
"Unknown to him, he helped save a young fan from making choices that had brought too much sorrow and sadness to Irish and British alike.
"Who knows? Perhaps it was his best save ever."