Pope Francis' former adviser, Marie Collins, has called on the Pontiff to use next month's Vatican child protection summit to seek agreement for zero tolerance and full transparency on clerical sex abuse throughout the church.
Ms Collins said that Pope Francis told her he had abandoned the establishment of a Vatican tribunal for bishops who conceal abuse because allowances had to be made for the cultural differences between national churches.
She also said he emphasised that he was already holding bishops accountable and had removed them when he was convinced of their guilt.
Ms Collins, who was a former member of the Pontifical Commission for the Protection of Minors (PCPM), was speaking to a meeting in Dublin organised by We Are Church Ireland, a group of Catholic reformers.
We need your consent to load this rte-player contentWe use rte-player to manage extra content that can set cookies on your device and collect data about your activity. Please review their details and accept them to load the content.Manage Preferences
She also underlined that most of the global church has not seen improvements because prelates in authority have acted reactively rather than proactively.
"The experience from those countries where the abuse crisis has been faced is not being used to bring universal policies into place for the countries where it has yet to occur," she told the gathering.
Citing the example of Poland "where the crisis is just now breaking", she said that country's bishops are blaming "enemies of the church" and an "aggressive media with an anti-church agenda" for the crisis.
She said this was "all very familiar and an absolutely disgraceful attitude in 2019".  
"You can be sure there is abuse of minors in every country where the Church has a presence, as it is in every society," Ms Collins said.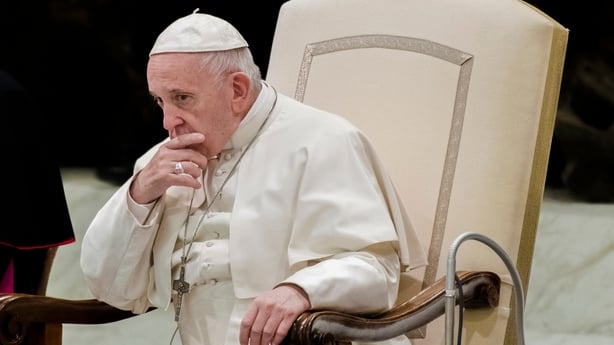 "Yet the sleeping mandarins in leadership in our Church seem to feel if they turn a blind eye it will stay hidden and they will not have to deal with it. While they look away children are being hurt."
She said that children everywhere in the Church must be safeguarded from abuse and that the "strongest possible penalties" must be imposed on perpetrators and leaders who would protect them.  
But, "this is not happening," Ms Collins lamented.
She recalled that Pope Francis, on his return journey to Rome after his Irish visit last August, told journalists that his Irish adviser who resigned from the Council was "fixed" on his failure to establish a tribunal to make bishops accountable when they failed to protect children.
She recalled that he had told the Vatican media corps that he had tried to explain to her that he was using other more appropriate means instead to hold guilty bishops accountable.  
"He said I did not understand and he would explain it to me when I was next in Rome. I have been in Rome since but not surprisingly this has not happened."
Elaborating on the accountability tribunal, she recalled that in 2015 the PCPM , of which she was still a member, recommended to Pope Francis the establishment of a "tribunal in the Vatican to judge bishops who were accused of negligence, cover-up etc in respect to abuse of minors".
On 10 June 2015, the Council of Cardinals (C9) which advises Pope Francis announced this recommendation had been approved by the Pontiff and that he had promised to provide all support be it financial or personnel necessary for it to be established. 
But she recalled, "three months later the Commission learned that the tribunal was not going to happen".  
She explained that the Vatican's second most important department, the Congregation for the Doctrine of the Faith, which was to have developed the tribunal had refused to do so.
"In March 2017 shortly after my resignation from the Commission, its Prefect Cardinal Muller said they had decided it was not necessary."
Last August, in Dublin Ms Collins and five other survivors of abuse met Pope Francis on the first day of his visit here.
Ms Collins recalled: "I had one question to ask him and that was why he had allowed this to happen? Why did he approve the tribunal, announce it then allow it to be dropped.  
"His answer to me was that it was not the way it should be done," she continued. "He told me that bishops could not all be held to the same standard. Allowances had to be made for their cultural difference and their different understandings. This meant he said that they needed to be judged in their own area not centrally in the Vatican.
She said she challenged Pope Francis on this statement, saying the Church should have a standard of safeguarding to which every leader must be held.
"Children should be as well protected in the Church in Africa or India as in America or Ireland," she says she told the Pontiff. "Canon law is universal, Catholic doctrine is universal, safeguarding should be universal," she recalled telling him.
She says the Pope responded that he was holding bishops accountable under the system in place and when he was convinced of their guilt he had removed them.  
"As I had only about ten minutes for this conversation I could not pursue it any further but I now know from his later comment that the Pope was of the opinion that I had not understood what he was saying. 
"I did understand I just did not agree with his conclusions. What I did not understand was what had brought him to change his mind after approving the central tribunal recommendation.
"It does appear the Pope can change his mind on things depending on the advisers he is listening to at a particular time. We see this here as we saw it in Chile," she said referring to his decision to fire bishops in that country after accusing the victims who exposed abusive priests and the bishops who protected them of "calumny", a remark for which he subsequently apologised in person to the survivors concerned.
Ms Collins continued: "On his words in respect to local culture, it is my view that if there are things acceptable in local culture that would not be acceptable in other areas of the world then it is up to the Church to raise the standard and educate not to lower their standards.  
Conceding that people's cultures must be respected, she underlined that the same applies to the rights of the child.
"If the Church is having a difficulty which should take precedence they could take their guidance from the United Nations Convention on the Rights of the Child.
"Article 3 "In all actions concerning children, whether undertaken by public or private social welfare institutions, courts of law, administrative authorities or legislative bodies, the best interests of the child shall be a primary consideration." (Ms Collins' emphasis.)
"The Holy See has signed the UN declaration on the Rights of the Child - it is about time they recognised its provision universally and not see it as only referring to the tiny Vatican City. (Though even there as we know the Church have no safeguarding policy in place)."
She said the Catholic Church as a global institution, can be a force for good, raising the level of safety for all children by their example but that it needs to make a firm decision to bring this about.  
On a more local aspect of the scandals, she lamented that she sees a complacency gaining ground in Ireland, an attitude that the crisis is behind us; everything is fine now we have good safeguarding in the Church "we see more abuse in society anyway why concentrate on the Church".