The Catholic bishop of Raphoe has offered "every possible co-operation" to a garda investigation he requested following the latest allegations that the diocese concealed widespread child sexual abuse by a priest and a national teacher convicted some 20 years ago.
The move follows Wednesday's screening of a television documentary which alleged that a victim's mother in the Co Donegal diocese was told by her parish priest that she would have to leave the area if a scandal broke about abuse by a teacher in a parochial school.
An Garda Síochána have said they would encourage anyone with information on the issues raised in the documentary to report it to them.
They added "it will be dealt with sensitively and professionally, and any victims reporting to us will be provided with support".
TG4's programme "Finné" interviewed retired Garda Detective Martin Ridge who investigated the crimes of the late Fr Eugene Greene who ministered for some years in Gortahork, Co Donegal and of Denis McGinley, a former primary school teacher in the locality.
A victim of Greene's, Martin Gallagher, described how when he was a 13-year-old altar server in Gortahork, Greene started grooming him and other altar boys paying them for errands and giving them lifts in his car, eventually allowing them to drive it. Soon the priest was sexually abusing him.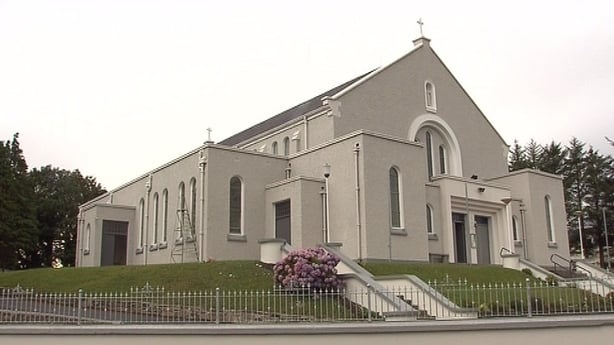 Following weeks of investigations, Mr Ridge and a colleague met more victims who confirmed that Greene was a serial abuser.
The diocesan had responded by sending him to a clinic in Stroud, England where paedophile priests and clerics with other addiction problems were assessed.
Greene, who was both a heavy drinker and a child abuser, was soon returned to ministry where he continued to abuse.
In 1999, statements to the gardaí from 26 victims about abuse in 17 parishes secured his conviction and a sentence to 12 years in prison.
He had pleaded guilty to 40 sample charges of indecent assault, buggery and gross indecency out of a total of 108 charges relating to Co Donegal in the years 1965 until 1982. Most of his victims were altar boys.
Despite the convictions, Greene was publicly supported by many former parishioners who collected money in anticipation of his release in 2008. He died last March.
He was one of four men who had served as priests in the Co Donegal diocese to be convicted of child sexual abuse. The others were Fr John Doherty, his brother Daniel and former priest Paul McDaid.
In the case of teacher Denis McGinley, the programme recalled how a victim's mother was told by the then parish priest of Gortahork that she'd have to leave the area if her complaint led to a scandal breaking about McGinley'a abuse in a parochial primary school.
In 2002, McGinley, 62, of Magheraroarty, Gortahork, Co Donegal pleaded guilty to 21 sample counts out of 115 of indecent and sexual assault against 11 victims between 1978 and 1995, during his time as a teacher at Derryconnor National School in Gortahork.
Most victims in the Gaeltacht school were aged between eight and ten and in third, fourth or fifth class when the abuse occurred.
McGinley was sent to prison for two years for sexually abusing pupils over three decades. Before the sentence was handed down, the district court received glowing character references from two priests of the diocese.
This morning, two days after the TG4 broadcast, the Bishop of Raphoe, Alan McGuckian, published a statement on the diocesan website. In a break with normal church practice on abuse allegations, the statement was not issued to the national media.
The statement said that immediately after the documentary broadcast allegations of collusion and cover-up involving members of the diocese, both living and dead, the bishop had asked the gardaí to investigate the matter.
He added he would meet gardaí "in the near future and offer them every possible co-operation in any investigation to ascertain the truth".
Citing the documentary's reference to a possible 'Forensic Cold Case Investigation', Dr McGuckian said he supported it and would "give full co-operation to any effort to cast as much light as possible on this sad and tragic part of our history as a diocese and county".
He said the form of any investigation would be a matter for the statutory authorities.
He added that any information which the diocese holds in relation to child abuse "is completely available to the Gardaí and the Diocese is ready at all times to cooperate fully with any enquiries".
Dr McGuckian said the TG4 documentary "revisited the pain and tragedy of child sexual abuse … by clergy and others in the diocese…."
"It has led me to recognise once again the horrific impact that abuse by clergy has had on so many innocent children and their families.
"What happened is a source of revulsion and shame for all associated with the Diocese.
"It reminded me that the betrayal of trust felt, especially by the victims, but also by many others is so serious as to be almost irreparable.
"I have a sense that many people in the Diocese suffer in silence with the burden of what happened to them or to people they love.
"I know also that many people want nothing to do with the Church or the Diocese.
"However, if it would be a support to anyone to contact us I invite anyone who carries the pain of abuse to come forward and speak either to myself or the Designated Liaison Person.
He said the number for the Designated Liaison Person, Margaret Northage is: 0862183011.