The German Foreign Minister has said his country will not support any Brexit agreement that results in a hard border on the island of Ireland.
Heiko Maas was addressing a conference of Irish ambassadors and diplomatic mission chiefs in Dublin Castle.
In remarks to reporters afterwards he played down suggestions that the Article 50 process might be extended if the House of Commons does not vote in favour of the Withdrawal Agreement next week.
Mr Maas said: "I don't want to have a discussion about what my government might do in the event of the agreement being voted down next week.
"Those who want the agreement to fall in order to get a better negotiating position are taking a very big risk.
"I do not want to focus on extending the Article 50 negotiating time, and those who do run great risk."
He said he would not signal to Labour leader Jeremy Corbyn that he should support the Withdrawal Agreement because it would be counterproductive.
"For me to call on him to support the agreement would have the opposite effect - it is for the British to decide these matters," Mr Maas said.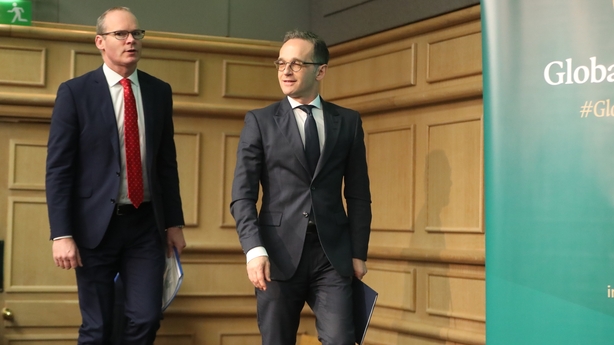 Tánaiste and Minister for Foreign Affairs Simon Coveney said the Withdrawal Agreement was the result of carefully negotiated compromises between the UK and 27 EU member states, compromises that he said can work for everybody.
He said the agreement on the border was "an EU position not an Irish Government position", adding "the Irish border with the UK is also the EU border with the UK".
Mr Coveney also spelled out again the Government's preferred outcome.
"A future EU-UK relationship that is so close that the backstop is never used, along with protecting the peace, this remains our overriding objective," he said.
In a speech to Irish ambassadors, Mr Maas said: "We urge our British friends to act responsibly and get behind the agreement we have spent so much time and effort negotiating."
He said Germany and the other EU states were determined to support the Irish position on the border issue.
We need your consent to load this rte-player contentWe use rte-player to manage extra content that can set cookies on your device and collect data about your activity. Please review their details and accept them to load the content.Manage Preferences
"We are strong when we stand together. All 27 agreed a common position and stuck to it.
"This includes full solidarity with Ireland. Avoiding a hard border on Ireland is a matter of principle, an EU principle to build and maintain peace.
"As Germans we understand how wars and borders can threaten peace. A belief we hare with you Irish."
German support for Irish UN bid
Germany is starting a two-year period as a non-permanent member of the UN Security Council and Mr Maas said Germany would support Ireland in its bid for a security council seat in 2022.
Both minsters strongly defended the multilateral, rules-based international system.
Mr Coveney said: "We cannot defend a logic that views multinational engagement as an abdication of national leadership or a loss of influence on the international stage."
We need your consent to load this rte-player contentWe use rte-player to manage extra content that can set cookies on your device and collect data about your activity. Please review their details and accept them to load the content.Manage Preferences
In what could be seen as a sideswipe at current US policy, he said: "We don't believe that international disputes or protracted conflicts are best resolved by injecting uncertainty, cutting off funding to established aid agencies, or by querying multilateral structures that have preserved a relatively stable global peace for 70 years".
Discussing a possible reform of EU working methods, Mr Maas said Germany would ask other EU states to consider switching from unanimity to majority voting on issues of EU common foreign and security policy.
He said a "strong majority is often better than a weak unanimity" in dealing with foreign policy challenges.
Germany says won't support any Brexit deal that results in hard border pic.twitter.com/Kuj3wo41YR

— RTÉ Business (@RTEbusiness) January 8, 2019
---
Read more:
Latest Brexit stories
UK not looking to extend Article 50 process, Brexit secretary says
---
Separately, Taoiseach Leo Varadkar has said the EU is willing to give written assurances about the Withdrawal Agreement ahead of next week's crucial vote at Westminster.
Speaking to reporters during a trip to Mali, he said: "The summit conclusions at our last meeting in December provided written assurances, but what's happening at the moment is there is close contact between the UK and EU institutions as to whether a further set of written guarantees, explanations and assurances could make a difference.
"Our intent, once the Withdrawal Agreement has been ratified by Westminster and the European Parliament, is to get into talks on the future relationship on the new economic and trade treaty with Britain, on the new security partnership with Britain.
"We don't want to trap the UK into anything - we want to get onto the talks about the future relationship right away. I think it's those kind of assurances we are happy to give."
Mr Varadkar also said he cannot satisfy the DUP or Brexiteers.