More than 1,000 people have attended the funeral mass of Emma Mhic Mhathúna at the Pro Cathedral in Dublin.
The 37-year-old mother-of-five, who died on Sunday, was one of the most high-profile figures of the CervicalCheck controversy.
Following her requiem mass, her funeral cortège passed by the Dáil, where members of the public and politicians from across the political divide applauded.
The hearse also paused outside Government Buildings and the new Department of Health.
Emma Mhic Mhathúna's family said she requested that her cortège pass by the three landmarks as a gesture of solidarity with the other women affected by the cervical cancer screening controversy and to urge the people inside to do more to help the women.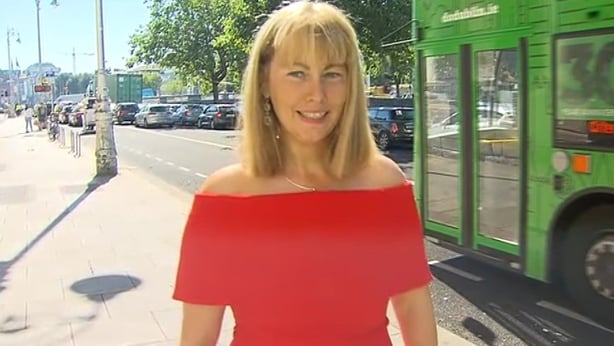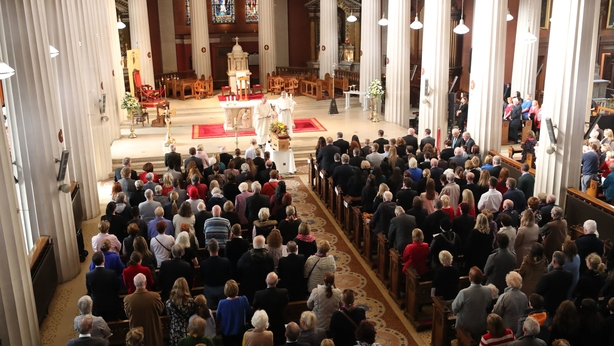 Members of the public and politicians from across the political divide gathered on Kildare Street to pay their respects this afternoon.
Mourners at the Pro-Cathedral were told Ms Mhic Mhathúna did not see her illness as part of God's plan, but rather as a result of human error.
But the chief celebrant at her funeral mass in Dublin, Fr Paddy Moran, said that the letters of apology from those who made errors meant a huge amount to her, not for herself but her five children.
During his homily, Fr Moran said Emma spoke with no malice, anger or bitterness about those apologies.
He said she had a "ferocious" love for her children and that "giving up" were not words in her vocabulary.
He said Emma had a deep faith which led her to study Theology at Maynooth University, join the Legion of Mary and go on pilgrimages and that her recent meeting with Pope Francis had given her and her family great joy.
Fr Moran said she had suffered and she endured that suffering with great dignity, courage and humour and that she had held on to her life as long as she could.
He said Emma had been writing a children's book and read the opening chapters of the unfinished story.
He said it was up to her family and friends to write the next chapter by ensuring Emma was kept alive in the memories of people.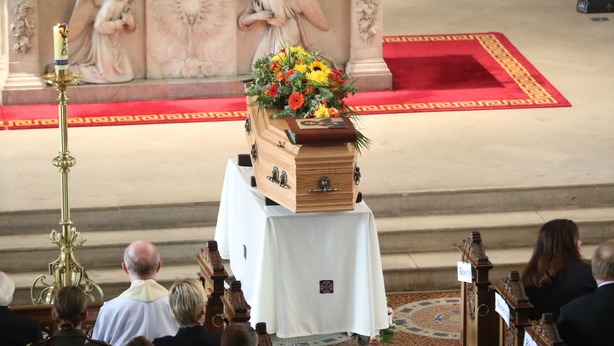 He said Emma was a powerful force of nature, a wonderful force for good and had touched the hearts of so many by telling her story.
The homily was briefly interrupted by a woman sitting several rows behind President Michael D Higgins.
She made some comments which were mostly inaudible from the back of the church but received a small round of applause when she finished.
Fr Moran thanked her and resumed his homily which was met with a loud round of applause at the end.
Earlier, Fr Moran told the congregation that Emma had made her communion in the Pro Cathedral and lit many candles here.
At the end of the service, Ms Mhic Mhathúna's daughter Natasha read a message from RTÉ presenter Ryan Tubridy who said Emma should not be part of the past because she feels so present.
He described her as a "fighter and a woman in a ballgown taking on the people".
He said her truth survives to fight another day.
The Taoiseach's Aide de Camp and Vicky Phelan were also among the mourners attending the mass.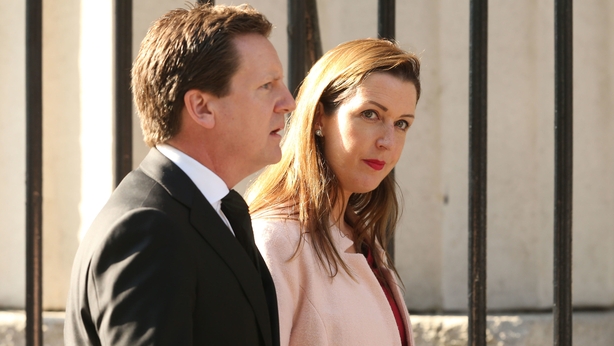 Taoiseach Leo Varadkar requested that the flag over Government Buildings be lowered to half-mast as a mark of respect to her and all the women and their families who have been affected by the Cervical Check crisis.
The funeral cortege also passed Áras an Uachtaráin. Ms Mhic Mhathúna was later buried in Co Kildare.
At Ms Mhic Mhathúna's funeral mass in Co Kerry yesterday, her family thanked the people of Ireland for taking Emma to their hearts.
Speaking afterwards, her uncle, John Moran, described his niece as a fantastic mother and friend.
He said the family loved her and would miss her, but their job now was to ensure that her five children would grow into the lovely young adults that she would have wished for.
Additional reporting Fergal O'Brien