Four of the six presidential candidates have taken part in the first debate of the election campaign.
Today is the first full day of campaigning in the Presidential Election after nominations closed yesterday.
Six candidates will contest the election, which takes place on Friday 26 October.
Sinn Féin's Liadh Ní Riada, Senator Joan Freeman, and businessmen Gavin Duffy and Peter Casey took part in a live radio debate on RTÉ's News at One programme earlier today.
What we learned from the first presidential debate
The remaining two candidates, President Michael D Higgins and businessman Seán Gallagher, did not appear in the debate, which was hosted by Áine Lawlor.
Mr Higgins is undertaking presidential duties today and Mr Gallagher stated that he will only take part in debates that involve all the candidates.

Mr Casey said it was a total disgrace that they had not taken part in the debate.
He claimed Mr Gallagher had been missing in action for seven years and had missed an opportunity to take part.
During a wide-ranging debate, candidates discussed the presidential salary, US President Donald Trump, the HPV vaccine and a border poll.
Ms Freeman stated that she has received a €120,000 loan to fund her campaign.
She said the loan was given to her by businessman Des Walsh, whom she described as a personal friend of 40 years from Los Angeles.
---
Read more:
Who's in the race for the presidency?
The Presidential Election: It's David vs Goliath
Gallagher will not take part in debates without all candidates included
---
She has also received €10,000 from another benefactor and is paying interest of 9%.
Ms Freeman defended the move saying she is an ordinary Independent and would be paying it back. She said she had no campaign buses or helicopters. She added she lives in a semi-detached house and has a mortgage.
She said if elected, she would give a proportion of her salary to initiatives in the community and stressed the importance of volunteers.
The Sinn Féin candidate, Liadh Ní Riada, denied she was ever opposed to the HPV vaccine and said she had raised concerns about the lack of information about it.
She said she would be fully in favour of the vaccine. She would not reveal whether her children had got the vaccine and added that journalists were hounding her children's private records.
When asked about Mr Trump coming to Ireland, she said she would ask him about his ridiculous hair, adding that she was joking.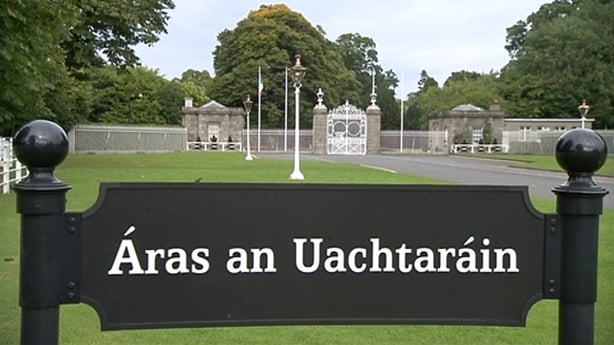 She said she would concentrate on having a positive influence and holding him to account. Responding to questions about her comments about Mr Trump, she said she is diplomatic and it is good to have a sense of humour.
Separately she stated that she believed alleged sex abuse victim Máiría Cahill.
Mr Casey, a former Dragon's Den investor, said it would be a clean campaign.
He also restated that he would waive the presidential salary. He said that Mr Higgins' appearances have gone down and if they go down significantly further it would mean he will be taking a walk or a stroll in the park once a week.
He said Mr Higgins needs to explain why his appearances had gone down.
He also said Mr Trump is a disgrace but added he would welcome him to Ireland.
During the debate he reiterated that he did not think Irish neutrality was relevant.
Mr Duffy, also a former investor on Dragon's Den, said if elected he would take a presidential salary at a level of which the Government of the day agrees to.

He said the presidency should not be an exclusive club and confined to rich people like Mr Casey, who would waive the salary.
He continued to stress the need for transparency in terms of the presidential expenses.
After the debate he said he welcomes any questions about his business dealings but there may be client confidentiality issues if he was to publish his invoices.
He reiterated the need for a youth corps for volunteering abroad.