The Taoiseach has said that the focus of the Government must be on Brexit and not on elections.
He said he is not planning a pre-Christmas election but it is not entirely in his hands.
He also stated that Fine Gael has not set a deadline for the completion of the Confidence and Supply review talks, but he said he is interested in getting into "deliverables" very soon.
Minister Regina Doherty, who is part of the Fine Gael delegation in the review talks, said it is time to move on to more substantive talks and they will come to a head in a few weeks' time.
The Taoiseach reiterated that the Fianna Fáil leader Micheál Martin has committed to passing key legislation relating to the budget.
We need your consent to load this rte-player contentWe use rte-player to manage extra content that can set cookies on your device and collect data about your activity. Please review their details and accept them to load the content.Manage Preferences
Mr Varadkar said he would also like the abortion legislation to get through the Oireachtas and also pointed to the uncertainty about Brexit.
He said he would not go into hypotheticals in relation to the draft treaty not being passed at Westminister.
He said in relation to a 'no deal' scenario, the UK would try to join the World Trade Organisation, but they would still have to come to a deal if there was no deal.
He added: "We could end up where we are now."
He said he wanted to focus on ratifying what is agreed and also focus on the future relationship with Britain, which may not involve the backstop being invoked.
Taoiseach Leo Varadkar plays down speculation of a General Election. He says the Government's focus is on the uncertainty caused by Brexit pic.twitter.com/tkKr3zbTgy

— RTÉ News (@rtenews) November 17, 2018
However, this afternoon the Minister for Health Simon Harris warned that the Confidence and Supply agreement "will be no more" within a number of days unless a new deal can be reached and Fianna Fáil stop "sniping and criticising" the Government. 
Health Minister Simon Harris warns that the Confidence and Supply agreement with Fianna Fáil 'will be no more' within days unless a new deal can be reached pic.twitter.com/Ax5YHFQqnV

— RTÉ News (@rtenews) November 17, 2018
Speaking reporters at the Fine Gael Ard Fheis, Mr Harris was pointedly critical of Fianna Fáil's Brexit spokesperson Lisa Chambers for showing "less solidarity with the Irish Government than every other Government across the EU".
As the Finance Bill is due to pass within the coming weeks, the legislative requirements to pass Budget 2019 will have been met and the original commitment of passing three budgets will have been met.
Martin says Taoiseach responsible for 'aura of instability'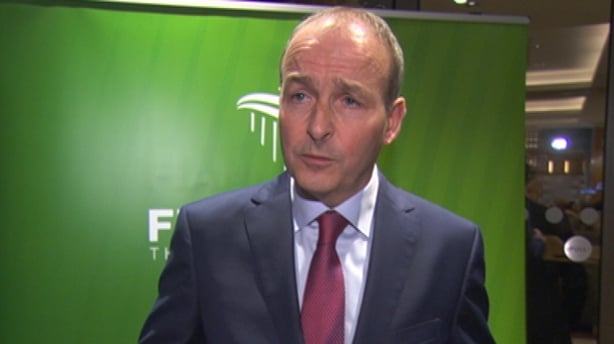 Speaking at the Fianna Fáil presidential dinner tonight Micheál Martin said he was flattered at all the attention given to his party at the Fine Gael Ard Fheis.
He said the only people bringing an aura of instability since the spring is the Taoiseach and the Government.
Mr Martin said he can not explain the juvenile behaviour of some Fine Gael ministers today and they should stand back and acknowledge the stability and coherence across the Seanad and the Dáil on the Brexit issue.
On Confidence and Supply, he said there are issues that need to be interrogated such as housing, health, rural broadband that merit substantial review as they consider the pathway to the future.
Mr Martin told journalists that last Wednesday, Government ministers were discussing pulling "an electoral stroke and causing a general election", he said it tells its own story about who is causing instability. 
On the Taoiseach's promise to raise the level at which workers begin to pay income tax at the higher rate to €50,000, Mr Martin said he is not into matching pledges.
He said that an element of the speech was electioneering.
Earlier, Tánaiste Simon Coveney said Fine Gael will not stay in Government unless it can get clarity on the future of the Confidence and Supply arrangement with Fianna Fáil.
Mr Coveney said the message from this weekend's Ard Fheis is that Fine Gael "is election ready" and not taking the outcome to the current negotiations with Fianna Fáil for granted.
"We would like a situation where it can provide certainty for the next 18 months or so. The Taoiseach has said over the summer that he would like to agree a date for the next election," Mr Coveney said.
"We would like to set a date in June 2020 if we can do that. But of course that is something that has to happen between Fine Gael and Fianna Fáil. We don't take the Confidence and Supply for granted.
"We also will not stay in Government without clarity in terms of the Confidence and Supply agreement.
"You cannot run a Government working week to week and month to month not knowing whether you have stability in the context of crucial votes in the Dáil. So that's why these negotiations are serious in terms of trying to provide stability for another relatively short period of time.
"But it is a period of time that is very important for Ireland where big decisions have to be made, particularly in the context of Brexit."
Asked if the election posters are printed, the Minister for Justice Charlie Flanagan said the party's election posters "are not printed but the printers are oiled". 
Around 2,500 delegates at the gathering in Dublin will examine a proposal that a special delegate conference would have to be held to approve future participation in coalition or confidence and supply governments.
The proposal calls for members to have a final say on the party entering any such arrangement.
Mr Varadkar will deliver his leader's address later this afternoon.
In order to avoid a clash with the Ireland-New Zealand rugby game, the speech will be televised on RTÉ One television from 5.20pm this evening.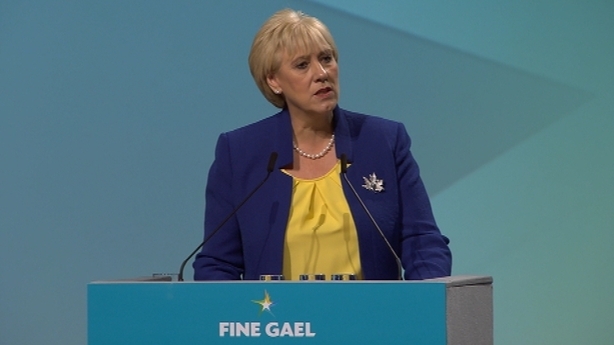 Earlier, Minister for Business, Enterprise and Innovation Heather Humphreys said she wanted to assure the Unionist community that they should not feel threatened or fear a hidden agenda from the Irish Government.
She said she understands and appreciates why they might be feeling vulnerable and isolated at this time. 
Ms Humphreys also stated that she understands why Unionists want to ensure that whatever is done to avoid a hard border will not affect the constitutional position of Northern Ireland within the UK.  
She said the Irish Government respects the territorial integrity of Northern Ireland and the integrity of Unionists as UK citizens. 
The minister said the Government's only ambition in the negotiations has been to ensure that all communities can continue to live in harmony and can go about their normal lives and business as usual.
She added that she believes that the draft Withdrawal Agreement is in the best interests of everybody on this island.
Additional reporting Conor McMorrow
---
Read more:
Brexit dominates first day of Fine Gael Ard Fheis
---