PSNI Deputy Chief Constable Drew Harris has been appointed as the new Garda Commissioner following an international selection process.
The appointment is for a five-year period.
Minister for Justice Charlie Flanagan said Mr Harris takes up office at a time of major reform and investment that will redefine An Garda Síochána as an organisation.
Acting Commissioner Dónall Ó Cualáin will continue in his role until Mr Harris' appointment takes effect, after which he will retire.
Minister Flanagan said Mr Ó Cualáin has been a "steady hand at the tiller in difficult times for the organisation ably supported by Deputy Commissioner John Twomey".
Nóirín O'Sullivan resigned as commissioner last year.
---
Analysis: Drew Harris embarks on new phase of history
---
Mr Harris has said his priorities were to protect society and the vulnerable and keep people safe. He said it was a great privilege to be appointed Garda Commissioner.
At a news conference, Taoiseach Leo Varadkar said it was a robust selection process and the Government's priority was to get the best person and it had.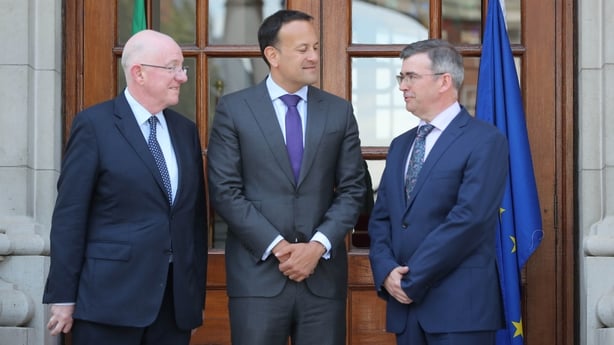 He said the gardaí would maintain control of intelligence services and he was confident Mr Harris would be loyal to the police and the State.
The Taoiseach also pointed to Mr Harris's experience in reforming the police service in Northern Ireland and said it was an historic appointment.
'Comprehensive selection process'
Chairperson of the Policing Authority Josephine Feehily described the selection process as comprehensive and thorough and it was "heartening for the authority that very many candidates, both internal and external, presented themselves for consideration for such an important role".
It was the first time this model for the appointment process has been used.
Mr Harris has been PSNI Deputy Chief Constable since 2014 and is an expert in high-risk covert policing operations and critical incidents.
The married father-of-four has been a police officer for 35 years and has a degree in politics and economics, as well as a Masters in Criminology.
His father Alwyn Harris, an RUC officer, was killed in an IRA car bomb in 1989. His mother was also in the car at the time but survived the blast.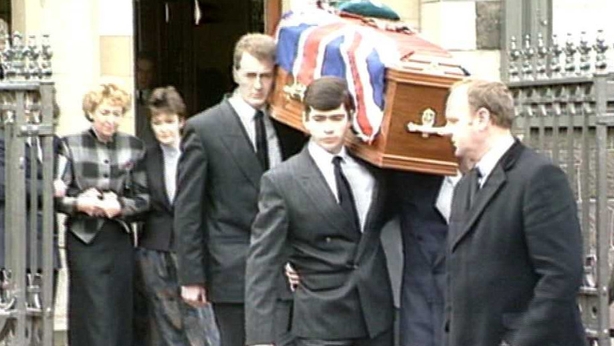 It emerged last month that he had been shortlisted for the position after an international selection process.
The salary was increased from €180,000 a year to €250,000 in order to attract interest in the position.
Mr Harris will be the third commissioner since 2014 and will take up his new role in September.
PSNI chief constable George Hamilton said: "Drew Harris has been driven by a commitment to protect the most vulnerable in our community.
"I have no doubt that this will continue to be his ambition as Garda Commissioner.
"He is a man of unfathomable strength, humility and grace and I have been privileged to have him serve as my Deputy Chief Constable for almost four years."
Political reaction
Responding to the appointment, Sinn Féin's Justice Spokesperson Donnchadh Ó Laoghaire said his party would work constructively with the new commissioner, but he would be held to account just like previous commissioners.
He said: "We look forward to hearing from him how he intends to ensure that he and An Garda Síochána are fully accountable, and how it can be reoriented back towards Policing with the Community, and we look forward to meeting him in relation to that."
Labour leader Brendan Howlin said the recruitment of an external person into the role was an opportunity to inject new thinking into the force and to drive organisational change.
He said: "Mr Harris will have a series of important tasks ahead of him, but none more important than driving real reform within the ranks of the gardaí in order to change the culture of policing in Ireland."
The Social Democrats cautioned that an entirely new senior management team must be recruited to lead the reforms that could address deep-rooted cultural problems within the force.
The party's co-leader Róisín Shortall TD said: "It needs to be stressed that the crisis of confidence facing An Garda Síochána cannot be tackled simply by recruiting a new Commissioner and then continuing on with business as usual."
Additional Reporting PA