One certainty about the appointment of Drew Harris as the first 'outsider' Garda Commissioner is that he takes up his appointment with eyes open wide.
Because police officers start young, they can often retire earlier than most. In the PSNI, the possibility of finishing work relatively early into middle age is even further incentivised. 
To continue with the practice of replacing former RUC officers from a Protestant background, with younger Catholics, as set out in the reforms initiated by Chris Patten, the encouragement to go early has been there.
But rather than coast towards the pension and supplement a softer life with occasional private sector projects, Drew Harris opted for promotion to a swamp that delivered a messy premature departure for its two most recent commissioners. During my 17 years as RTE's Northern Editor I've had lots of dealings with him.
By any standards this is an extraordinary appointment. The PSNI I've dealt with during almost two decades has consistently been more impressive than the gardaí. Part of that was due to the lesson emphasised time and time during The Troubles - to achieve cross-community it had no choice but to radically change.
There was the very practical consideration that if officers were not professional in their day-to-day work, they faced a real threat of injury or death. Another key reason for the process of inbuilt, ongoing reform within the PSNI is the level of structured scrutiny and oversight it faces - from the Policing Board, to the Policing Ombudsman to political and societal monitoring.
Drew Harris is a product of such ongoing scrutiny.
His personal story is significant. In 1989, the IRA planted a bomb under his parents' car, parked outside their home near Lisburn. The device exploded soon after they left to attend a Harvest Thanksgiving ceremony.
His father, RUC Superintendent Alwyn Harris, was killed by the explosion. His mother overcame the injuries she suffered. At the time, Fr Denis Faul, with his track record of straight talking, praised the murdered officer as a model policeman.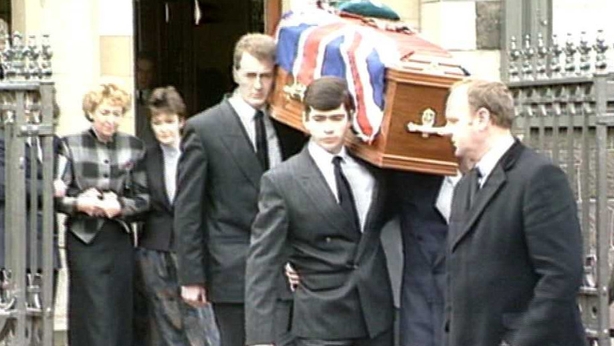 On a number of occasions when attempting to illustrate the scale of challenge in Northern Ireland society, I've used Images of the PSNI's Drew Harris at a Policing Board meeting, working alongside one of its Sinn Féin members, Gerry Kelly, who once blew up the Old Bailey.
In the past, other PSNI officers looked south for a possible change in career. Assistant Chief Constable Peter Sheridan, a highly able Catholic from Co Fermanagh, applied for a senior position but did not even get an interview. He is now the chief executive of the Cooperation Ireland charity.
Another Assistant Chief Constable, Judith Gillespie, the daughter of a Presbyterian Minister, overcame many obstacles, misogyny included, but she opted for a different range of challenges when she retired from the PSNI. So Drew Harris is to be the mould-breaker.
He enjoys rigour and he found the selection process rigorous. A panel of eight people had a major input. Two of the group were from outside police forces; three were women with a track record of achievement - Jane Williams of SIA Partners Management consultants, a former chairperson of the Pensions Authority and former Chief Executive of Fortas; Josephine Feehily, the chairwoman of the Policing Authority and former Chair of the Revenue Commissioners; and the highly successful chief executive of the CPL recruitment company, Anne Heraty.
Three men on the board also have interesting backgrounds. Martin Fraser is the Secretary General to the government and to the Department of An Taoiseach. After retiring as RTE's Director General, Bob Collins survived and thrived as Chief Executive of Northern Ireland's Equality Commission and afterwards as Chair of Northern Ireland's Arts Council.
Kerry-born Joe Brosnan was Secretary General at the Department of Justice when Padraig Flynn was the minister in post. He moved to become his chef de cabinet when the Castlebar man became EU Social Affairs Commissioner. He served on the Independent Monitoring Commission, scrutinising the activities of Northern Ireland's paramilitaries after he returned from Brussels.
Given the individuals involved, this was not a back of the envelope, hit and hope appointment. It would seem that politics, with a small or large 'p', were not a consideration.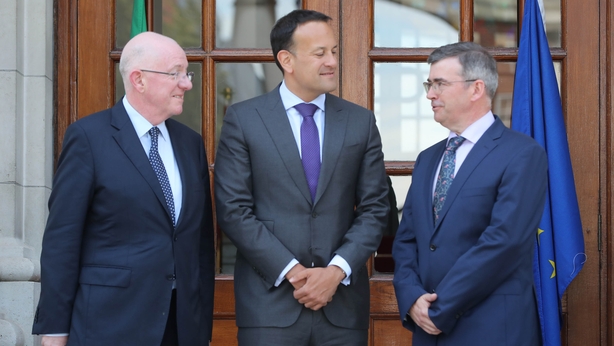 How Ireland's only all-island party deals with the situation will be fascinating. In recent years, some Sinn Féiners north of the border, muttered about 'the dark' and 'old habits', when discussing Drew Harris. That was partly because his responsibilities sometimes involved dealing with "murky stuff".
Mary Lou McDonald's elevation to the role of President has given Sinn Féin a bounce. But the way in which she pursued her misgivings with Garda Commissioner Nóirín O Sullivan made clear she has a very tough side. The chemistry between the party with very definite ambitions, its on-a-roll leader and the new recruit to the Phoenix Park will be worth monitoring.
Drew Harris has a shy side. He doesn't seek the limelight. But he has a stubborn, determined streak too. If he thinks a problem needs addressing, he won't avoid it.
He has been dealing with gardaí for decades. He followed events of recent years south of the border. Back in the days when Belfast-born Cathal Goan was RTÉ's Director General and the organisation had a corporate box at Croke Park, Drew Harris was one of the guests there and found himself sitting alongside a Sinn Féin member he had met in different, non-sporting circumstances.
When the life of Alwyn Harris was ended by a bomb 29 years ago, he was 51. Two weeks after his 53rd birthday, his son is about to embark on a new phase of history, with a heavy quota of pitfalls.