Former US presidential candidate Hillary Clinton has described the world as at "a global tipping point" where "even facts and reason are under assault like never before".
Giving a public lecture at Trinity College in Dublin, she described it as a moment that will determine whether we embrace "free people, human rights and democracy" or "retreat to closed societies, oppression and authoritarianism".
Speaking to a packed to capacity lecture hall, it was speech directed at millennials, whom she said were "proving to be some of the most effective activists".
She described the 25 May abortion referendum as "an inspiring sight".
Mrs Clinton said she had spoken to a lot of young people who were not just "discouraged by the policies of the Trump administration" but were "disgusted with politics and disenchanted with our democratic system".
She said problems were made worse by an administration "set on waging war on the rule of law",
Over the last few weeks she said Americans were heartbroken "as immigrant families were ripped apart and immigrant children were treated cruelly as political pawns".
But she said even in this dark hour it was because of the public outcry that the Trump administration was "finally forced to take a step to end family separation".
---
Read more
Family separation: A rare u-turn for President Trump
A woman's search for baby taken by US immigration
Trump urges Republicans to drop immigration effort
---
Hillary Clinton has accused the Trump Administration of waging war on the rule of law | https://t.co/3XKaK7qsxz pic.twitter.com/zQuC7Fpr63

— RTÉ News (@rtenews) June 22, 2018
The fight, she said, was far from over, and the children are not yet reunited with their families.
Russia was singled out for severe criticism by Mrs Clinton.
She said its interference in the 2016 US Presidential Election was "more than alarming" and threatened every democracy.
Russian President Vladimir Putin was described as the "leader of an authoritarian, white supremacist and xenophobic movement that wants to break up the EU".
Mrs Clinton's visit coincides with a trip to Dublin by former FBI director James Comey, the man she effectively blames for torpedoing her presidential bid.
Mr Comey, who was subsequently fired by President Donald Trump, caused controversy in the final days of the 2016 campaign when he announced he was reopening a probe into Mrs Clinton's emails.
He has denied that his investigation into Mrs Clinton's emails cost her the US presidential election.
Speaking to RTÉ News, he said: "Our whole goal was to try and not to play a role in the elections, so I don't think of it as an intervention in that way.
"I think we did our best to make principled decisions, not in the interest of either side."
Former FBI director James Comey denies his investigation into Hillary Clinton's emails cost her the US presidential election pic.twitter.com/xsNWxIVxFu

— RTÉ News (@rtenews) June 22, 2018
Brexit should not be allowed undermine NI peace process - Clinton
Mrs Clinton said Brexit should not be allowed to undermine the Northern Ireland peace process.
She said the 1998 Good Friday Agreement set an example for the rest of the world of what was possible when citizens came together to demand peace and worked to preserve it.
She added: "As the Brexit debate rages on, I continue to believe in the value of the European Union, and of a Europe that is whole, free and at peace.
"No matter the outcome of these discussions, Brexit should not be allowed to undermine the peace that people voted, fought and even died for."
Mrs Clinton first visited Northern Ireland in 1995 at a crucial time for the peace process.
She accompanied Bill Clinton as he became the first serving US President to visit Northern Ireland and they were greeted by huge crowds of well-wishers.
They switched on the Christmas lights in Belfast during a hugely symbolic visit.
Yesterday, Mrs Clinton met Taoiseach Leo Varadkar at Government Buildings in Dublin to discuss gender equality.
The informal discussion came on the same day European Commission President Jean-Claude Juncker and the EU's chief Brexit negotiator Michel Barnier also held talks with Mr Varadkar.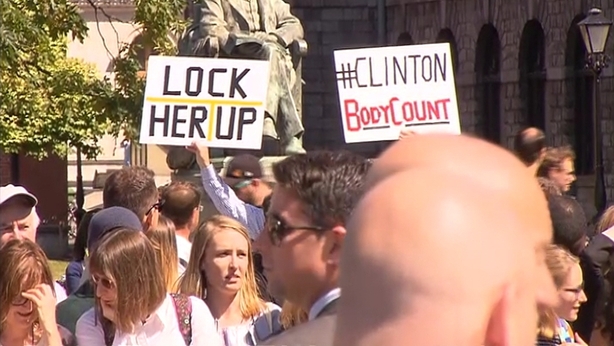 A demonstration was held at Trinity College today as Ms Clinton was awarded an Honorary Degree.
Around 50 protesters held signs that read "Lock her up" and "Clinton #BodyCount".
They said her role in "promoting war" during her time as US Secretary State was reason enough to deny her the honour.
Additional Reporting PA