The Emergency Department Taskforce is to request that public health measures are reconsidered by the Government.
It follows a meeting of the taskforce this afternoon to discuss the pressures on emergency departments in hospitals.
The taskforce includes representatives of hospital groups, the Department of Health, patient advocates, staff bodies and the HSE.
RTÉ News understands a letter will be sent to Minister for Health Stephen Donnelly recommending that he urgently convenes a meeting of public health advisors to consider any and all measures that may now be appropriate to protect the health services.
"There is general concern now about the effect this latest surge of Covid is having," said Phil Ni Sheaghdha, General Secretary of the Irish Nurses and Midwives Organisation, who is co-chair of the taskforce.
"The ICU numbers aren't increasing but we have a high incidence of admission that the hospitals simply can't cope with and that requires public health measures, to ensure those who are so sick, that are being admitted, can actually get treatment."
The taskforce wants specific public health measures to be introduced to deal with the "chaotic situation" in hospitals.
The INMO believes measures that have been relaxed, such as mask wearing, would be "very simple to reintroduce".
The Minister for Health has been urged to respond publicly by tomorrow to the letter.
"The level of concern, based on the information we have requires public health measures," said Ms Ni Sheaghdha.
"We have public health experts and we expect them to ... recommend to Government immediate steps that must be taken right now because this surge is so serious."
Almost 40,000 Covid cases over past three days
The healthcare system is facing "huge stress" as a result of the latest virus surge, according to Health Service Executive Chief Paul Reid.
It comes as the Department of Health confirmed almost 40,000 new Covid-19 infections over the past three days.
Mr Reid told RTÉ's News At One there are 1,625 coronavirus positive patients in hospital at present - a rise of 56 on yesterday - 54 of whom are in ICU.
The highest hospital numbers occurred in January 2021 and the HSE is "getting close to those levels now".
When asked if this Covid-19 wave might be peaking, Mr Reid said there were no indications or modelling to suggest there was a downward trend.
"In fact, all our experience is that it is increasing ... in terms of the scale of transmission in the community, but particularly in terms of the numbers of hospitalisations we're seeing," he added.
Mr Reid said there is evidence in other countries that it would peak in a few weeks, but from a hospital perspective they expect to be dealing with this wave "well throughout April".
---
65% favour reintroduction of mandatory mask-wearing indoors - survey
---
There were 5,263 PCR-confirmed cases of Covid-19 notified by the Department of Health today alongside 6,466 positive antigen tests registered through the HSE portal.
Yesterday, there were 6,940 PCR-confirmed cases and 5,432 positive antigen tests while on Saturday the figures were 7,754 PCR-confirmed cases and 7,706 positive antigen tests.
This brings the total number of confirmed infections over the past three days to 39,561.
Infectious diseases expert Professor Cliona Ní Cheallaigh yesterday warned that the level of Covid-19 in the community is "vastly under-reported" because not all positive antigen tests are uploaded onto the HSE portal.
There were 1,204 positive cases reported in the past 24 hours in Northern Ireland and five further Covid-related deaths.
Paul Reid warned the high incidence of coronavirus was having "very significant impacts for the well over 6,000 staff and clinical teams out [of work] through the impact of Covid".
He said about half of Covid patients in hospital at present came in for other reasons.
"When we look at hospitalisations at the moment, 35% of those who are positive with Covid haven't had a vaccine and 50% of people in ICU haven't had a booster," he revealed.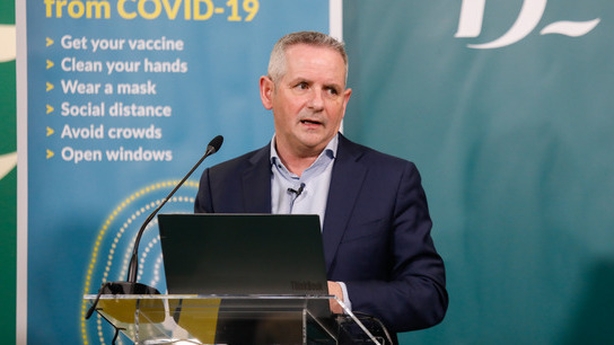 President of the Irish Association of Emergency Medicine Dr Fergal Hickey said the situation in hospitals at the moment is "unrelenting" and is "probably the worst I've ever seen in my career".
Speaking on RTÉ's Today with Claire Byrne, Dr Hickey said there are large numbers of patients on trolleys and hospitals are "teeming with Covid".
He said patients are arriving in greater numbers and there are fewer staff to deal with them.
"That's the reality of it, the elastic band has broken at this stage," he said.
"They're arriving for all kinds of reasons but what we're discovering is that there is a proportion of patients who are not symptomatic and turn out to have Covid.
"We cannot admit them to a bed adjacent to somebody who is vulnerable, so we have to find a means of trying to isolate them and that's really difficult in practice."
---
---
Dr Hickey said it was "very clear" at the beginning of the pandemic who had Covid and there were two pathways for patients - red for those who had Covid and green for those who did not.
He said the reality now is that many patients on the red pathway turn out not to have Covid and many patients on the green pathway do. "So we are not capable of keeping them safely apart," he said.
Dr Hickey said not a day has gone by in the last month when they have not been short-staffed due to Covid.
He said he feels as though the lessons that could have been learned early on - such as the need to create additional capacity - have not been learned, and the sense he has is that people are simply waiting for this phase to pass.
On the issue of face masks, Dr Hickey said he can understand that the Government would not want to be seen to be going backwards, but mask-wearing is "really important" in any congested setting.
We need your consent to load this rte-player contentWe use rte-player to manage extra content that can set cookies on your device and collect data about your activity. Please review their details and accept them to load the content.Manage Preferences
'We've never, ever seen a virus as infectious as this'
Meanwhile, Assistant Professor of Virology at UCD Dr Gerald Barry said that new Covid-19 variants are going to "keep coming for the foreseeable future".
Dr Barry said that there are so many cases of the virus right now because we have lifted all restrictions and the newest variant - BA2 - is so contagious.
Speaking on RTÉ's Morning Ireland, he said: "We have a version of this virus that, you know, to put it simply, we've never, ever seen in our lifetimes a virus as infectious as this.
Dr Barry added that people in future will be getting infected with Covid and will have to spend a few days in bed to recover on a regular basis.
"Unfortunately, we're still at a phase where this virus is learning how to live with us and it's changing constantly to try and perfect how it moves through us," he said.
He said we must prepare for new waves of infection and accept that protective measures, such as mask wearing and improved air filtration, will be a reality for us all in these scenarios.
Dr Barry said that we need to accept that waves are going to come "except that we need to respond to them, rather than doing what we've done in this wave, which is effectively nothing".