Almost two-thirds of Irish people favour the reintroduction of mandatory mask-wearing in indoor settings such as shops and public transport, according to a poll carried out for Claire Byrne Live by Amárach Research.
Some 65% of those polled said that they believed people should be legally required to wear masks in such settings. Some 30% of respondents said they did not think mandatory mask-wearing should be reintroduced, while 5% said they did not know.
Those in older age groups favour mandatory mask-wearing the most, with 82% of those over the age of 55 believing it should be reintroduced, compared to just 47% of those aged under 35.
The poll was carried out on Monday among a sample of 1,000 adults participating on their smartphones for tonight's Claire Byrne Live programme, which will be broadcast at 10:35pm on RTÉ One and RTÉ Player.
The findings come on the same day that the Emergency Department Taskforce decided to request the Government to reconsider public health measures.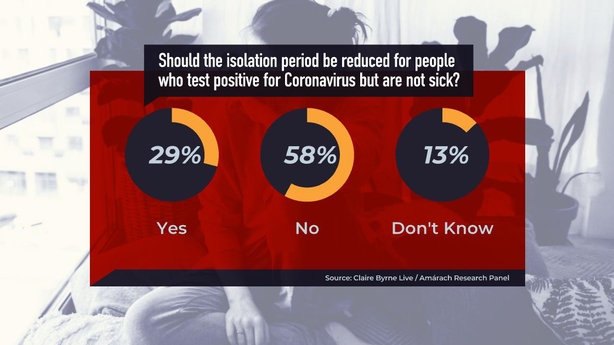 Taskforce co-chair Phil Ni Sheaghdha, head of the Irish Nurses and Midwives Organisation, said new measures are needed because hospitals "simply can't cope" with the high numbers of patients they're currently facing.
Continuing public caution about Covid-19 was also reflected in several of the poll's other findings. Asked whether "the isolation period should be reduced for people who test positive for Coronavirus but are not sick", 58% said it should not, while 29% of respondents said it should. Some 13% didn't know.
Speaking to Claire Byrne Live, Professor Sam McConkey, an infectious disease specialist with the Royal College of Surgeons, said that "people are calling it another wave, it's a new strain and it's very, very infectious".
He added that pursuing a goal of "zero Covid" is impossible with the latest strain, but people should be wearing masks in both indoor and outdoor settings.
"My gut is that this current 'wave' is likely to continue for 4-8 weeks, and by that point we'll all have had this strain," he said.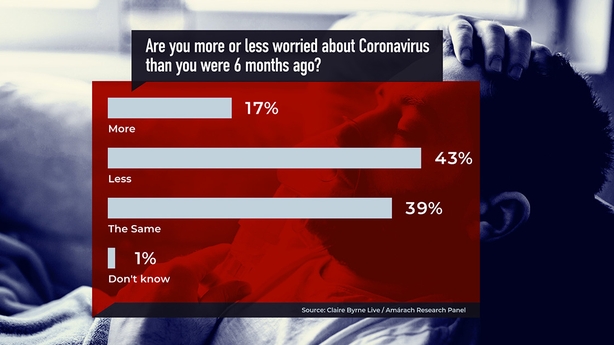 "In terms of hospitals, a lot of scheduled care may have to be postponed, and we're still trying to catch up on previously postponed appointments."
The fact that this current wave is less dangerous, with far fewer patients in intensive care, is nevertheless reflected in the poll's findings.
Some 43% of people said they are less worried about Covid-19 than they were six months ago, with 17% saying they are more worried and 39% saying they're equally worried.
The results once again vary a great deal with age: some 25% of over-55s said they are more worried, compared to just 8% of under 35s.
Prof McConkey pointed to three reasons why the current strain was causing fewer cases of very serious illness: high levels of vaccination, the numbers who have previously been infected through so-called "natural vaccination", and the fact that the current strain is primarily a disease of the upper respiratory system and thus more like pre-Covid-19 coronaviruses.
Watch Claire Byrne Live tonight at 10:35pm on RTÉ One and RTÉ Player.