US President Donald Trump has said Republicans in Congress should drop their efforts to pass comprehensive immigration legislation until after the November elections.
The Republican president, faced with a public outcry over his policy that separated children from their migrant parents at the US border with Mexico, tried to refocus the immigration debate on Congress in a series of early posts on Twitter.
Despite Republican control of both the House of Representatives and the Senate, the party's slim 51-49 majority in the latter chamber makes some Democratic support necessary to pass most legislation.
"Elect more Republicans in November and we will pass the finest, fairest and most comprehensive Immigration Bills anywhere in the world," Mr Trump said on Twitter.
"Republicans should stop wasting their time on Immigration until after we elect more Senators and Congressmen/women in November. Dems are just playing games, have no intention of doing anything to solves (sic) this decades old problem. We can pass great legislation after the Red Wave!" he said.
---
Read More:
Family separation: A rare u-turn for President Trump
Trump signs executive order to end family separations at border
'Are you the mother?' A woman's search for baby taken by US immigration
---
The US House of Representatives yesterday rejected a bill favoured by conservatives that would have halted the practice of splitting up families and addressed a range of other immigration issues.
The bill was defeated in a 231-193 vote, with 41 Republicans joining the opposition. The House also postponed, likely until next week, a vote on a more moderate bill in order to try to drum up more support.
However, Mr Trump's latest tweets could gut that effort.

"Game over," said Representative Mark Sanford, a Republican critic of Mr Trump who came under fire from the president before losing his primary race this month.

"It takes the wind out of the sails in what might have been a fairly productive weekend in terms of looking for a compromise," Mr Sanford told CNN.
"Without the president having legislators' backs, there's no way they're going to take the risks that would be inherent in a major reform bill."
Both bills have received backing from Mr Trump but are opposed by Democrats and immigration advocacy groups.
They would fund a wall Mr Trump has proposed along the border with Mexico and also reduce legal migration.
As Republicans in Congress struggled to reach consensus on immigration legislation, the White House has grappled with fierce criticism in recent weeks over the policy that has separated more than 2,300 children from their families in order to prosecute parents for crossing the border illegally.

Mr Trump backed down on Wednesday, signing an executive order to keep families together in detention during immigration proceedings.

But it remained unclear how and when those children would bereunited with their parents, and where families would be held while the parents face criminal charges.

It was also not clear if the government would keep prosecuting cases against people caught crossing the border illegally.

The US military has been asked to get ready to house up to 20,000 immigrant children, officials said yesterday, amid confusion over Mr Trump's efforts to roll back the policy of separating children from their parents. No decision on this has been made yet.
Detaining children no solution - UN
The United Nations has acknowledged Washington's decision to stop separating migrant families at the US-Mexico border but insisted that detaining children with their parents was not the solution.
"Children should never be detained for reasons related to their or their parents' migration status," UN rights office spokeswoman Ravina Shamdasani told reporters in Geneva.
"It is never in the best interest of the child for them to be detained," she said.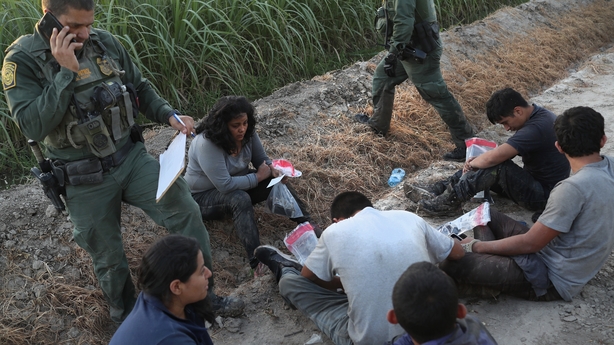 His executive order suggests the government intends to hold families indefinitely by challenging a 1997 court ruling known as the Flores Settlement, which places a 20-day limit on how long children, alone or with their parents, can be detained.
Ms Shamdasani criticised this solution, insisting that Washington "needs to explore non-custodial alternatives to detention, bearing in mind first and foremost the human rights of these migrants, in particular where families and children are involved.
"Irregular migration should not be a criminal offence. These people should not be treated as criminals," she said.
The UN, she said, is calling for the "US to just overhaul its migration policies, urging the country to find "community-based alternatives to detention for children and families."
The UN children's agency UNICEF also vehemently opposes the policy, spokesman Christophe Boulierac said.
"We oppose two things: We oppose separating children from their families for the purposes of migration control but we also oppose to detentions," he said.
He said the United States was among some 100 countries around the world that detain children for the purpose of migration control.
"We are working with governments to change that," he said, insisting that there are "alternatives which are working," including appointing community members who can guarantee that a child will show up in immigration court.
We need your consent to load this rte-player contentWe use rte-player to manage extra content that can set cookies on your device and collect data about your activity. Please review their details and accept them to load the content.Manage Preferences