US President Donald Trump has signed an executive order aimed at putting an end to the controversial separation of immigrant families at the US border with Mexico, reversing a harsh practice that had earned international scorn.
The Trump order, an unusual reversal by him, also moves parents with children to the front of the line for immigration proceedings.
The order does not end a 10-week-old "zero tolerance" policy that calls for criminal prosecution of immigrants crossing the border illegally.
"It's about keeping families together while at the same time making sure that we have a very powerful, very strong border," Mr Trump said as he signed the order in a hastily arranged Oval Office gathering minutes before departing for a campaign event.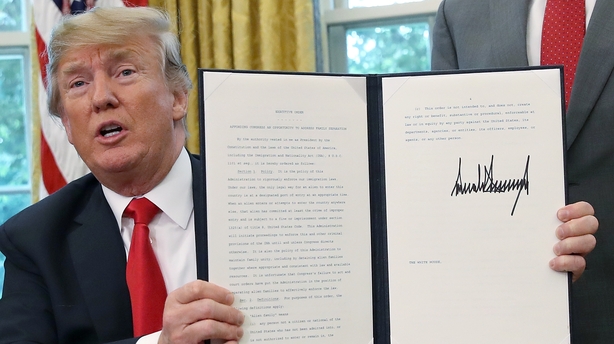 The videos of youngsters sitting in cages and an audiotape of wailing children had sparked anger in the United States from groups ranging from clergy to influential business leaders, as well as condemnation from abroad, including by Pope Francis.
Mr Trump recognised that the family separation issue was a growing political problem, White House sources told Reuters said.
US First Lady Melania Trump, in private conversations with the president, urged him to do something, a White House official said. In the Oval Office, Mr Trump said he had heard from his daughter Ivanka about the policy, too.
"Ivanka feels very strongly. My wife feels very strongly about it. I feel very strongly about it. I think anybody with a heart would feel very strongly about it," he said.
Today's move was the most significant policy reversal by Mr Trump since he took office last year. Instinctively combative and fond of chaos, Trump usually digs in on controversial policies, rather than backing down.
But the volume of condemnation on breaking up families, from inside and outside the White House, finally overwhelmed him.
We need your consent to load this rte-player contentWe use rte-player to manage extra content that can set cookies on your device and collect data about your activity. Please review their details and accept them to load the content.Manage Preferences
The US House of Representatives is due to consider a bill on the issue tomorrow.
Earlier, Mr Trump told Republicans he would back either of the immigration bills making their way through the House of Representatives.
'Daddy': Audio has been published by ProPublica which is claimed was secretly recorded at a US child detention facility (??) https://t.co/npXslO3Mdd pic.twitter.com/S1Q5OawF6x

— RTÉ News (@rtenews) June 19, 2018
A Reuters/Ipsos national opinion poll released yesterday showed fewer than one in three US adults supported the policy.
The 16-19 June poll found that 28% of people polled supported the policy, while 57% opposed it and the remaining 15% said they did not know.
Mr Trump, who has made a tough stance on immigration a centrepiece of his presidency, has strongly defended his administration's actions.
He has cast blame for the family separations on Democrats, although his fellow Republicans control both chambers in Congress and his own administration implemented the current policy of strict adherence to immigration laws.
---
Read More:
To prosecute migrants you have to take children away, says Trump
Why is the Trump administration separating immigrant families?
Donald Trump says US will not be a 'migrant camp'
---
The president has sought to link an end to the family separations to passage of a wider bill on immigration, which would include funding for his long-sought border wall with Mexico, prompting Democrats to accuse him of using children as hostages.
"In his remarks, he endorsed both house immigration bills that build the wall, close legal loopholes, cancel the visa lottery, curb chain migration, and solve the border crisis and family separation issue by allowing for family detention and removal," White House spokesman Raj Shah said of Mr Trump.
After meeting for 45 minutes with fellow Republicans to discuss immigration, Mr Trump exited a meeting room only to be shouted at by a handful of Democrats.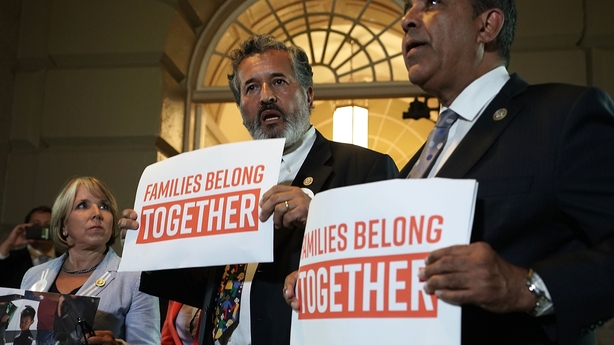 "Quit separating the kids, they're separating the children!" congressman Juan Vargas, a Democrat from southern California, yelled to Mr Trump, as he help up a sign that read "Families belong together".
"Mr President, don't you have kids? Don't you have kids, Mr President?" Mr Vargas continued, as Mr Trump waved and made his exit along with Homeland Security Secretary Kirstjen Nielsen.
"How would you like it if they separated your kids?"
In Washington, activists stood next to a table occupied by Ms Nielsen in a Mexican restaurant, voicing criticism of the administration's policy.
'End family separation': Protesters heckle US Homeland Security Secretary @SecNielsen at a restaurant pic.twitter.com/epOGjKo8be

— RTÉ News (@rtenews) June 20, 2018
Several hundred protesters marched in New York City, chanting "Keep families together!".
US Customs and Border Protection said yesterday that 2,342 children had been separated from their parents at the US-Mexico border between 5 May and 9 June.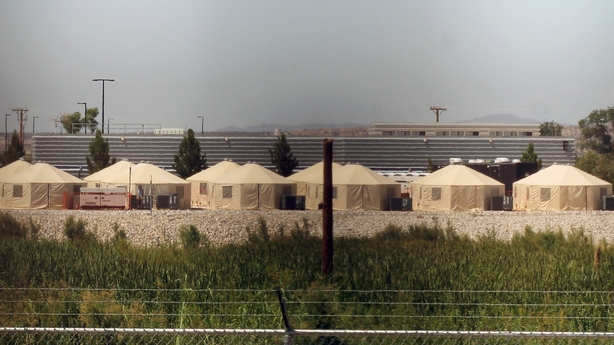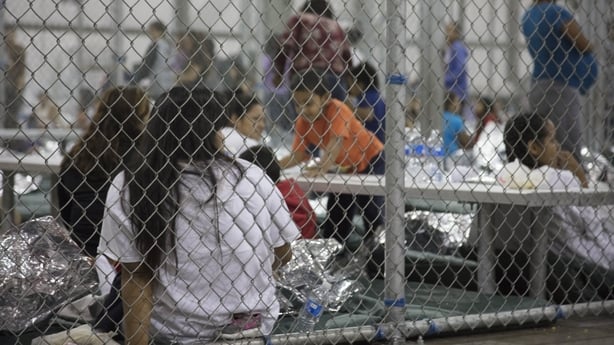 The separations began after Attorney General Jeff Sessions announced in April that all immigrants apprehended while crossing the US-Mexico border illegally should be criminally prosecuted.
Parents who are referred by border agents for prosecution are held in federal jails, while their children are moved into border shelter facilities under the custody of the Office of Refugee Resettlement, a Department of Health and Human Services agency.
A number of Republican senators called on Mr Trump to allow families to stay together if they had crossed the border illegally, and Senate leaders said their chamber could have legislation to address the family separations matter in a matter of days.
Decrying "internment camps," Democrats and their supporters disrupted a US congressional hearing about an FBI probe.
With the sound of a young child crying in the background, the top Democrat on the House of Representatives Judiciary Committee, Jerrold Nadler, broke from traditional protocol and started reading from a statement, saying: "These children are not animals."
Meanwhile, British Prime Minster Theresa May said images from the United States of migrant children being held in cages were "deeply disturbing" and that she would press President Trump on the issue.
"On what we have seen in the United States, pictures of children being held in what appear to be cages are deeply disturbing... this is wrong," she told MPs.