US President Donald Trump has said he would not allow the United States to become a "migrant camp" as his administration faced a barrage of criticism for separating immigrant children from their parents at the US-Mexico border.
Democrats and some in Mr Trump's own Republican Party have criticised the administration for separating nearly 2,000 children from their parents at the border between mid-April and the end of May.
Medical professionals have said the practice could cause lasting trauma to children.
The family separations are the result of the administration's "zero tolerance" policy that arrests all adults who are caught trying to enter the US illegally, including those seeking asylum.
While parents are held in jail, their children are sent to separate detention facilities.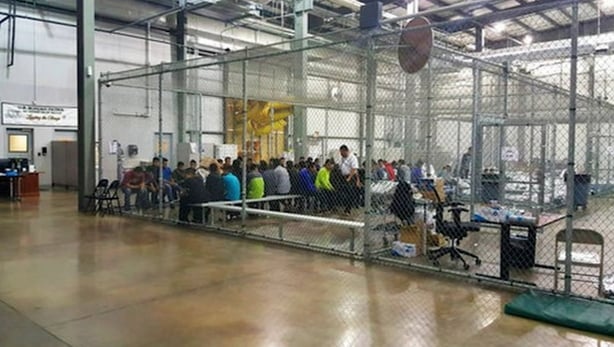 Video footage released by the US government showed migrant children held in wire cages, sitting on concrete floors.
Mr Trump, who has made a tough stance on immigration a major goal of his presidency, has responded sharply to critics.
Speaking at the White House, Mr Trump said: "The United States will not be a migrant camp, and it will not be a refugee holding facility. It won't be. You look at what's happening in Europe, you look at what's happening in other places - we can't allow that to happen to the United States, not on my watch."
Donald Trump says US will not be a 'migrant camp' | https://t.co/0fEPmJXuh3 pic.twitter.com/Acfz5KfVkF

— RTÉ News (@rtenews) June 18, 2018
Mr Trump has sought to use the widespread outrage over the family separations to push through other immigration priorities that have stalled in Congress, such as funding for his long-promised wall along the Mexican border.
He has consistently blamed Democrats for the impasse, even though his fellow Republicans control both chambers in Congress.
Democrats have accused the president of using children as hostages in the political dispute over immigration.
Family separations at US border 'unconscionable' – UN
The UN human rights chief has urged Washington to stop separating migrant children from their parents at the US border, describing the policy as "unconscionable".
"The thought that any state would seek to deter parents by inflicting such abuse on children is unconscionable," Zeid Ra'ad Al Hussein said as he opened a session of the UN Human Rights Council in Geneva.
Mr Zeid quoted the American Association of Pediatrics as describing the practice as "government-sanctioned child abuse" which may cause "irreparable harm," with "lifelong consequences".
"I call on the United States to immediately end the practice of forcible separation of these children," he said, urging Washington to ratify the Convention of the Rights of the Child.
We need your consent to load this rte-player contentWe use rte-player to manage extra content that can set cookies on your device and collect data about your activity. Please review their details and accept them to load the content.Manage Preferences
The US is the only country that has not ratified the convention.
Ratification, Mr Zeid said, would "ensure that the fundamental rights of all children, whatever their administrative status, will be at the centre of all domestic laws and policies."
Mr Zeid's address at the start of the 38th session of the UN Human Rights Council marks his last address to the body before he is due to step down at the end of August.
The session kicked off under a cloud of growing US criticism of the council. Diplomatic sources said there was a risk that Washington may withdraw from the council altogether.
Family separations at US border 'break my heart' - Laura Bush
Former US First Lady Laura Bush has made an outspoken attack on the Trump administration's policy towards immigrants suspected of crossing the border illegally from Mexico.
Her comments in an opinion piece in the Washington Post came after current First Lady Melania Trump made a rare political plea to end the controversial policy.
Democratic and Republican politicians upped the ante over the weekend on the thorny issue of separating migrant children from their parents at the US border.
Mrs Bush, wife of the previous Republican president, George W Bush, said she lived in a border state and appreciated the need to enforce and protect the US borders.
"But this zero-tolerance policy is cruel. It is immoral. And it breaks my heart," Mrs Bush wrote.
She added the images were "eerily reminiscent of the Japanese American internment camps of World War II, now considered to have been one of the most shameful episodes in US history."
Former US First Lady Michelle Obama has also spoken out against the policy.
Sometimes truth transcends party. https://t.co/TeFM7NmNzU

— Michelle Obama (@MichelleObama) June 18, 2018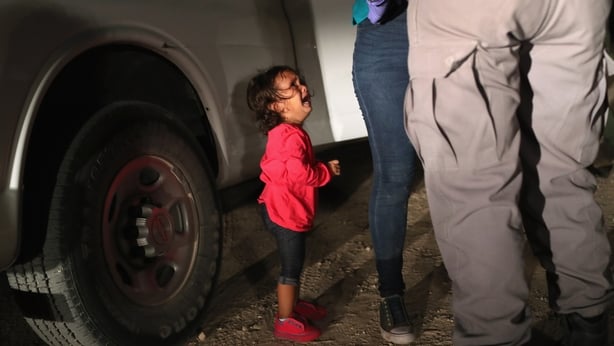 Mr Trump has said he wants the separations to end, but continues to blame opposition Democrats for the crisis, which critics say is one of his own making.
His wife, who does not often wade into the political arena, did not denounce his administration's policy, but instead called for bipartisan immigration reform to fix the issue.
"Mrs Trump hates to see children separated from their families and hopes both sides of the aisle can finally come together to achieve successful immigration reform," her spokeswoman Stephanie Grisham told CNN.
"She believes we need to be a country that follows all laws, but also a country that governs with heart."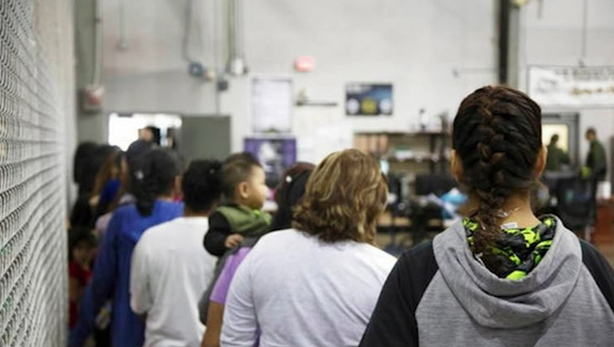 I live in a border state. I appreciate the need to enforce and protect our international boundaries, but this zero-tolerance policy is cruel. It is immoral. And it breaks my heart.https://t.co/he1uw1E96A

— Laura Bush (@laurawbush) June 18, 2018
Immigration is one of the most divisive, hot-button crises plaguing the Trump administration.
Mr Trump was due to meet with Republicans in the House of Representatives tomorrow as they prepared to vote on two immigration bills.
One would end the separation policy, fund the border wall and give legal protections to some immigrants who entered the country as children. Details were still in flux.
The bill faces strong opposition by Democrats, who object to another provision that would cut legal immigration levels, and conservative Republicans who are backing a rival bill that takes a harder line on immigration.