US President Donald Trump has defended the "zero tolerance" policy leading to thousands of migrant families being split on the US border as the only effective way to fight illegal immigration.
"I don't want children taken away from parents," he told a gathering of small business owners, before adding: "When you prosecute the parents for coming in illegally, which should happen, you have to take the children away.
"We don't have to prosecute them, but then we are not prosecuting them for coming in illegally. That's not good."
US officials say more than 2,300 children have been separated from their parents or guardians since early May, when the administration announced its push to arrest and charge anyone illegally crossing the US-Mexico border, regardless of whether they were seeking asylum.
Since children cannot be sent to the facilities where their parents are held, they are separated from them.
A chorus of critics - rights groups, Christian evangelicals, former US first ladies and some within the president's own Republican party - are demanding an immediate end to the family separations.
We need your consent to load this rte-player contentWe use rte-player to manage extra content that can set cookies on your device and collect data about your activity. Please review their details and accept them to load the content.Manage Preferences
---
Read more:
Why is the Trump administration separating immigrant families?
Record 68.5m people forced to flee homes - UN
---
But a defiant Mr Trump has vowed the US will not become a "migrant camp".
"We don't want people pouring into our country," he told the gathering. "We want ultimately a merit-based system where people come in based on merit."
Hammering home the need to combat smugglers who he said "game the system," Mr Trump accused the media of helping human traffickers.
"Those who apply for asylum legally at ports of entry are not prosecuted. The fake news media back there doesn't talk about that," he charged.
"They are fake," he said. "They are helping these smugglers and these traffickers like nobody would believe."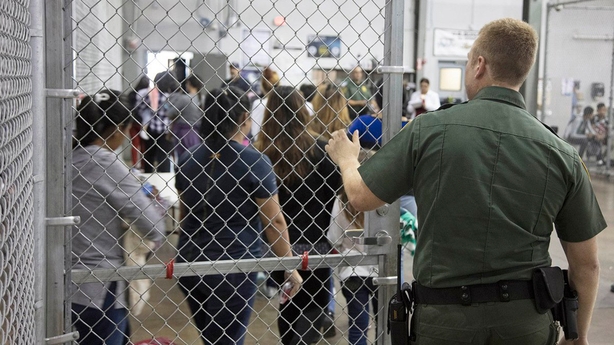 The president has accused Democrats of provoking the crisis by blocking legislation to combat illegal immigration.
"We want to end the border crisis by finally giving us the legal authorities and the resources to detain and remove illegal immigrant families all together and bring them back to their country," he said.
The Republican-controlled House of Representatives is expected to consider two immigration bills.
'Daddy': Audio has been published by ProPublica which is claimed was secretly recorded at a US child detention facility (??) https://t.co/npXslO3Mdd pic.twitter.com/S1Q5OawF6x

— RTÉ News (@rtenews) June 19, 2018
One is a hardline measure favoured by conservatives, and the other a compromise bill - which the White House has signalled has Mr Trump's support - that would end family separations, protect so-called dreamer immigrants brought to the country as children, pay for boosted border security and curtail legal immigration.
Today's Republican meeting will be closely watched, in part to see whether any lawmakers directly confront the president.
Several House Republicans face tough re-election fights in November, and some may worry that public outrage over the family separations could hurt their chances.
Democrats say the crisis is of Mr Trump's own making, and accuse him of using children as pawns.