Taoiseach Leo Varadkar said that Ireland can, and is, willing to act as a bridge between the US and the EU.
Mr Varadkar made the comments in a foreign policy address in Washington.
Speaking at the Brookings Institution, he described Ireland as an island at the centre of the world that believes in free trade and free enterprise.
The Taoiseach warned of challenges including Brexit, changes to international trade and uncontrolled mass migration.
Referring to Northern Ireland, Mr Varadkar said the absence of a power-sharing executive is corrosive and damaging.
Ireland is in the process of establishing new alliances in the EU in order to cope with Brexit, says @campaignforleo. #StPatricksDay pic.twitter.com/ZyPwOocF9Y

— Brookings FP (@BrookingsFP) March 13, 2018
The Taoiseach said US-Irish relations have always been based on shared values of democracy and the rule of law, respect for the freedom and dignity of all, irrespective of origin, religion, sexuality or ethnicity.
For years, he said, this relationship helped provide a bridge between the EU and the United States.
The Taoiseach said however that he feared there is a danger that the EU and the US may drift apart due to growing divisions on trade, tax, climate change and many other areas.
Mr Varadkar said that Ireland can, and is, willing to act as a bridge between the US and the EU.
Later tonight, Mr Varadkar will attend an event in Washington to mark the 20th anniversary of the signing of the Good Friday Agreement.
He will be the keynote speaker at the event along with the former US Special Envoy to Northern Ireland, Senator George Mitchell.
Last night, he was in Dallas for the latest leg of his US visit.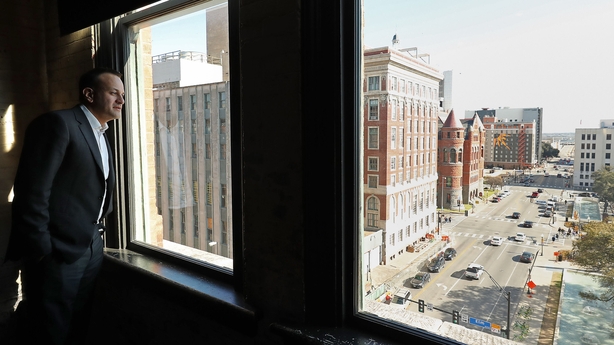 He made an unexpected stop at the Texas School Book Depository Building in Dallas, where the shots were fired that killed President John F Kennedy.
On 22 November 1963, JFK was shot and killed allegedly by Lee Harvey Oswald from the sixth floor of the landmark building in Dealey Plaza.
The sixth and seventh floors of the building are now a museum.
Commenting on the visit, Mr Varadkar said: "It's a bit surreal. It's the kind of a place that you hear about and read about so much."
Tomorrow, the focus will be on trade with Mr Varadkar due to meet with representatives of Irish companies doing business in the US.