The Taoiseach has announced a new scholarship programme that will allow members of the Choctaw Native American community to come to Ireland to study.
Leo Varadkar was speaking at an event in Oklahoma where he thanked members of the Choctaw Nation for the generosity shown by their ancestors to Ireland during the Great Famine.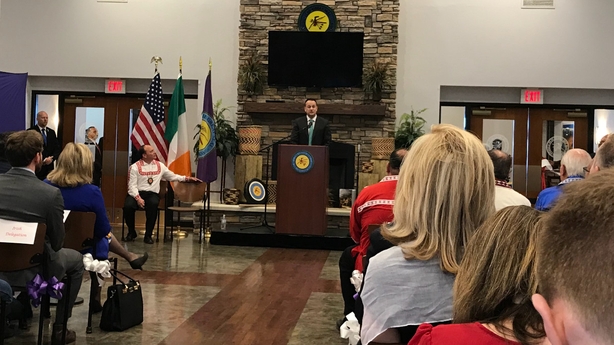 In 1847, the Choctaw people of Oklahoma collected money for famine relief in Ireland despite living in relative poverty themselves.
Today, the Taoiseach met Choctaw leaders and addressed members of the community.
He said that at a time when Irish people were oppressed, abused, neglected and degraded by our colonial master, the Choctaw spirit of generosity was at its highest.
The opening of the Choctaw Native American event in Oklahoma attended by Taoiseach @campaignforleo pic.twitter.com/HH66cxs5KC

— Brian O'Donovan (@BrianOD_News) March 12, 2018
Taoiseach @campaignforleo listening to a traditional Choctaw flute performance. @rtenews pic.twitter.com/ZzfCuclfvq

— Brian O'Donovan (@BrianOD_News) March 12, 2018
The scholarship programme will allow Choctaw students to study in Ireland with the first scholarship commencing in autumn 2019.
Today Mr Varadkar also met Governor of Oklahoma Mary Fallin and tomorrow he will attend events in Washington D.C.
---
Further reporting:
Taoiseach to thank Choctaw Nation for famine assistance
Taoiseach's speech in full
---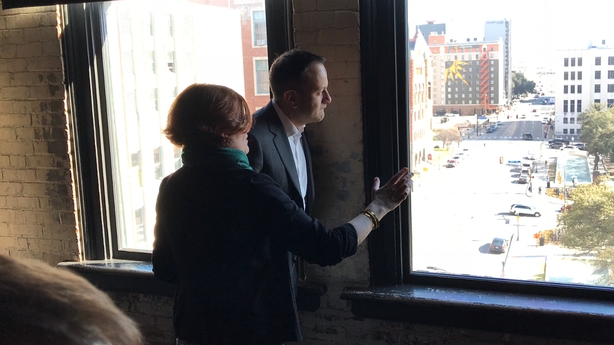 The Taoiseach also visited the spot where former US President John F Kennedy was assassinated.
Leo Varadkar was at the Sixth Floor Museum at Dealey Plaza in the former Texas School Book Depository building in Dallas.
It is the spot from which Lee Harvey Oswald was accused of opening fire on the President in November 1963.
Yesterday, he began his visit in Texas, where he met Governor Greg Abbott in Austin.
Then, it was on to the South by Southwest (SXSW) Festival, where Mr Varadkar spoke about the importance of the tech sector to the Irish economy and met actor and former California governor Arnold Schwarzenegger.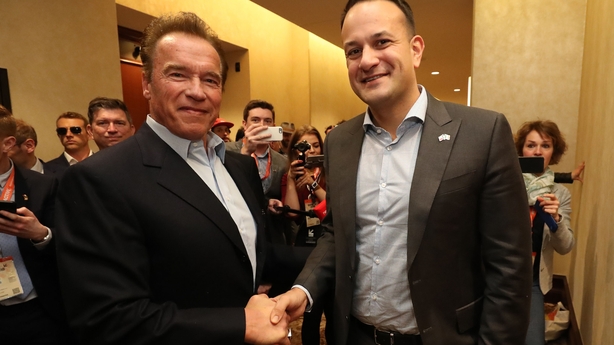 Looking ahead to the rest of his US trip, the Taoiseach vowed to raise issues such as trade tariffs and gay rights when he meets US President Donald Trump and Vice President Mike Pence later this week.
The Taoiseach has announced a new scholarship programme that will allow members of the Choctaw Native American community to come to Ireland to study | Read more: https://t.co/Wm0zvnJind pic.twitter.com/3O3dC30Bam

— RTÉ News (@rtenews) March 12, 2018
Pre-register claims dismissed
Separately, Mr Varadkar dismissed claims that people crossing the Irish border would have to pre-register after Brexit.
Speaking in the US, where he is conducting a series of St Patrick's Day engagements, the Taoiseach said: "No, it is not a solution that we envisage."
Mr Varadkar was responding to questions about a controversial plan reportedly being considered by the British government.
It could mean people crossing the border after Brexit would have to register in advance to avoid checks and delays.
It has been claimed anyone without so-called fast track movement clearance would also have to use approved crossing points or risk being considered to have entered the State irregularly.
The British government has said there would be no hard border and no return to the borders of the past when the UK leaves the European Union.
In December, British Prime Minister Theresa May agreed to regulatory alignment across the UK to avoid border posts and checks.
Mr Varadkar said it might be helpful if senior cabinet officials such as Boris Johnson and David Davis visited the border to see at first hand that it was "invisible".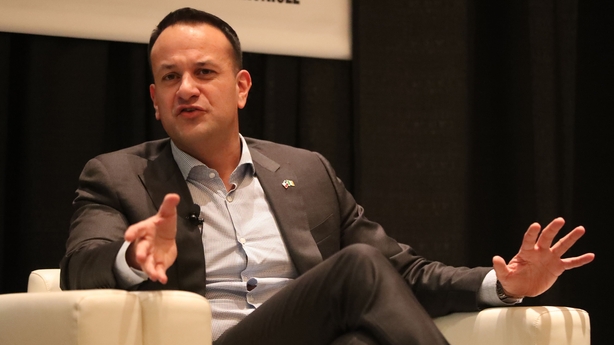 "They would certainly be very welcome to visit the border," he said.
"I know (Northern Ireland Secretary) Karen Bradley has already done that and a delegation of British politicians from the House of Lords and House of Commons have done that too.
"I think it would be a good idea. I can't see anything negative in a British cabinet minister viewing the border, seeing what it looks like.
"As is always the case, and this is true for any politicians or anyone in any walk of life, you can read as many briefing documents as you like, sometimes you need to see things with your own eyes.
"I think for that reason, they would be very welcome to visit the border and see it for themselves. And to see that it is invisible."
Additional reporting: PA