The Minister for Health has asked the doctor leading the inquiry into the CervicalCheck crisis for an independent review of how fifty recommendations he made in a scoping inquiry are being implemented.
Simon Harris met Dr Gabriel Scally this afternoon, after Dr Scally addressed an Oireachtas committee earlier today.
Dr Scally will also carry out further work in relation to the laboratories.
The terms of reference for this second phase of work are due to be submitted by Dr Scally next week.
It comes after members of the Scally Review expressed concern at the Oireachtas Health Committee other women may be affected by the crisis who were not included in the group of 221 identified by the Health Service Executive.
We need your consent to load this rte-player contentWe use rte-player to manage extra content that can set cookies on your device and collect data about your activity. Please review their details and accept them to load the content.Manage Preferences
Dr Scally, who led the review, and Dr Karin Denton, a UK consultant cytopathologist who assisted, told the committee they have been asking the HSE more questions this week about this issue and the protocols used to identify the original group of 221 women.
Dr Scally described that protocol as flawed and said he was not aware of any basis for the way the HSE identified the group of 221 women.
At issue is the cut-off point chosen by the HSE for possible clinical impact on women.
This relates to the time period between the original cervical smear test and the time a woman was diagnosed with cervical cancer.
Cases where more than 18 months had passed before the date of cancer diagnosis, were held to have potentially influenced the management of the women's treatment.
Dr Scally said the decision to view 18 months as the cut-off was flawed.
Dr Denton said she was still seeking explanations from the HSE for this protocol.
He told the committee there will be more women identified as part of the current UK review of smears.
Labour spokesperson on Health Alan Kelly said the issue was of huge importance.
Dr Scally said if slides had been read properly, women may have had a different medical intervention, or an intervention, at an earlier stage.
'Serious gaps' in governance of CervicalCheck screening programme
Earlier, Dr Scally told the committee that there are still serious issues to be examined regarding slides sent by a former CervicalCheck screening provider, CPL, to other laboratories in the US.
CPL sent slides for examination to laboratories in Texas, Hawaii and Florida.
A minute's silence was held for Emma Mhic Mhathúna and other women affected by the cervical controversy who have died.
Dr Scally added his sympathy on the death of Ms Mhic Mhathúna, saying he was "very saddened" by her passing.
He said her death was a timely reminder of the seriousness of the problem of cervical cancer in the country.
"One of the tasks coming out of all this is to make sure this is ensure this is an increasingly rare event over the next decade or two and we will never again see deaths like this in our lifetime". 
Dr Scally told the committee that there are still documents he would like to have access to, around the original tenders for the laboratories.
But he said these were "shredded" as part of a HSE efficiency policy of disposing of material after ten years.
Dr Scally said he will continue to hunt for the original tender documents.
He also said he was not content with the system of accreditation of laboratories, or the multiple laboratories slides were sent to. 
Dr Scally said the manner in which some clinicians disclosed the audits to women was "terrible", but in other cases it was done well.
He said he met some of the women caught up in the controversy last night and they are still very angry.
He said we have come a long way to explain what went wrong, but now the clinicians who failed to disclose information need to say sorry and do this across the table from the women, or families concerned.
Dr Scally said that despite the loss of confidence in CervicalCheck, screening numbers have not fallen.
Dr Denton - who is a member of the inquiry team - told the committee it was not picked up during a quality assurance visit by Cervicalcheck to the US lab that it was further outsourcing tests.
She was responding to Sinn Féin's health spokeperson, Louise O'Reilly, who asked if it was possible to get copies of the contracts from the US laboratories themselves, to examine issues around the further outsourcing.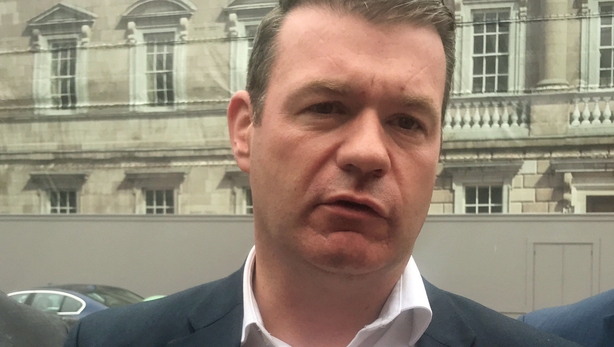 Kelly claims terms of reference were flawed
Earlier, Mr Kelly told the committee the terms of reference given to Dr Scally were flawed, as he was not asked to investigate the 221 cases with regards to the laboratories themselves. 
Dr Scally said that for all the audit was badly done, and there should be a modicum of credit for having decided to look back, even if the look back was done badly. 
Dr Scally also said there should be a national screening committee to give expert advice on screening programmes, to advise on new programmes or modifications to existing ones. 
He told the committee that they should not be satisfied with the screening programme uptake rate of 80%, as this meant 20% were at risk. 
Dr Scally said the acid test of open disclosure, is how it operates in hard cases and with CervicalCheck, these were hard cases and things went badly wrong.
He said open disclosure elsewhere had not worked well either and in particular, in other matters he had investigated in Britain.
Dr Scally said there was collegiality in the medical profession that works for the good and at other times it is not helpful.
Dr Denton said that cervical screening audits are not common around the world and pointed to ones carried out in the UK.
Dr Scally told the committee that if slides had been read properly, women may have had a different medical intervention, or an intervention, at an earlier stage.