France and Italy reached a preliminary agreement today on a proposal on migration that would lead to processing centres in willing European Union states, although the deal lacked support from other EU states, officials said.
French officials announced the initial deal after heated talks on migration at an EU summit in Brussels. But Malta, Spain and the Netherlands, who were initially said to be in favour, later rejected it, according to three diplomats.
An Italian government source said Rome would accept the agreement on migrant centres only if all EU states accepted it and if those centres were set up in several EU states.
Now most migrants coming from Africa arrive in Italy.
Under the preliminary deal, 'controlled centres' would process asylum requests of migrants.
A few minutes after the French diplomats reported the agreement, an Italian government source said Italy would still block an overall deal on migration if it did not include reform of EU asylum rules, known as the Dublin regulation, a sharing of responsibility and costs on rescuing migrants in the Mediterranean and more EU funds for Africa.

The complicated talks exposed deep divisions among EU countries on migration, with Italy's new eurosceptic government threatening to veto agreements on other issues discussed by EU leaders if no progress was made on migration.
Europe's divisions over migration policy have undermined theunity of the European Union, threatened its border-free Schengenarea and plunged German Chancellor Angela Merkel's coalitionin to turmoil.

Italy's prime minister has refused to approve a European Union summit statement on migration.
Giuseppe Conte told fellow leaders they must first meet his demands on migration, in an unusual showdown that underscored deep divisions over the issue.
The move by Mr Conte, who is attending his first EU summit, surprised other leaders and forced summit chairman Donald Tusk and European Commission President Jean-Claude Juncker to cancel a news conference planned for this evening.
"As one member reserved their position on the entire conclusions, no conclusions have been agreed at this stage," a spokesman for Mr Tusk said.
Mr Conte, the head of a new eurosceptic government that includes the anti-establishment 5-Star movement and the far-right League, is demanding that other EU states share the costs and burden of handling migrants that are rescued in the Mediterranean Sea.
His move came after leaders held talks on a range of issues from security and defence, to jobs, growth and competitiveness.
Normally, they would issue pre-prepared conclusions once that discussion was over.
But Mr Conte's intervention, ahead of a dinner where the controversial migration issue is due to be discussed, prevented that.
"We are still hoping that Conte felt compelled to stir up a mess and at the end of the day he will get back in line, but it's far from certain," an EU diplomat said.
---
Read More:
Italy calls for migrant 'protection centres' to relieve overcrowding
Ireland to offer refuge to some Lifeline boat migrants
Lifeline migrant rescue boat docks in Maltese port
---
If unresolved, the row would send a bad signal about the EU's unity at a time when the bloc is being attacked by US President Donald Trump on trade and struggling to deal with the legacy of its 2015 crisis, which saw more than one million refugees and migrants enter Europe.
It is especially dangerous for German Chancellor Angela Merkel, who is under intense pressure from her conservative allies in Bavaria to deliver a deal on migration in Brussels.
If she fails, the Christian Social Union (CSU) has threatened to unilaterally close the border to migrants.
That could trigger the collapse of Mrs Merkel's three-month-old government and cause the Schengen free travel zone to unravel, putting cross-border business, trade and many jobs among the EU's 500m citizens at risk.
"Europe faces many challenges, but that of migration could become the make-or-break one for the EU," Mrs Merkel said in a speech to parliament before travelling to Brussels.
Her 2015 decision to open Germany's borders to over one million refugees has divided Europe and continues to haunt her at home even though arrivals have dropped sharply.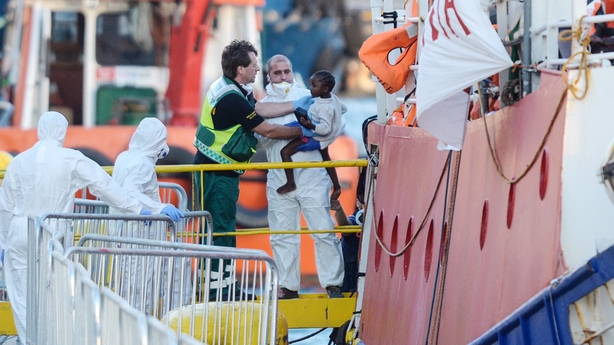 Fewer than 45,000 migrants have made it to the EuropeanUnion this year, according to United Nations data.
1,000 have perished trying to cross the Mediterranean Sea.
According to draft conclusions circulated before the two-day summit, the leaders planned to agree measures to strengthen Europe's external borders, spend more on fighting illegal immigration and step up cooperation to prevent refugees and migrants from moving within the bloc.
They were due to give more money for Syrian refugees in Turkey and migration projects in Africa, as well as look at sealing a deal with Morocco to reverse a recent increase in arrivals in Spain.
But the EU remains deeply divided over how to handle asylum seekers, with countries in eastern Europe led by Poland and Hungary refusing to accept a share of the new arrivals to alleviate the burden on Italy and Greece, which are struggling to cope.
A deal among all 28 EU states is unrealistic, so Mrs Merkel is pushing for a "coalition of the willing" on migration.
She hopes that will appease the CSU, which has hardened its stance before an autumn election in its home region of Bavaria, the main German entry point for migrants.
Convincing Italy to do a deal may be the biggest challenge.
Mr Conte has rejected any moves that would result in it handling even more people.
Currently most of those picked up by rescue boats in the Mediterranean disembark in Italy.
But Rome has in recent days refused to let in two such boats with hundreds of people aboard as Mr Conte wants other coastal countries to take some of them.