The NGO rescue ship Lifeline, which has been stranded for days in the Mediterranean carrying about 230 rescued migrants, has docked in the Maltese port of Valletta this evening.
Maltese Prime Minister Joseph Muscat said seven EU countries had offered to share the burden of the migrants with Malta.
"Lifeline will be granted permission to enter a Maltese port, where procedures for identification, ascertaining their asylum eligibility, and distribution to other member states will start immediately," Mr Muscat told reporters earlier.
The Lifeline ship, operated by German charity Mission Lifeline, arrived at about 6.40pm Irish time.
Maltese authorities said that the ship would be impounded pending an investigation into its legal status and actions on the night of the rescue last Thursday. 
Finally, @MV_LIFELINE arrived in the port! Donate now for our next rescue missions: https://t.co/CWHWb1pTCv pic.twitter.com/h7Ep9OvTg5

— MISSION LIFELINE (@SEENOTRETTUNG) June 27, 2018
Several EU nations, including Ireland, have so far agreed to take a share of the migrants on board.
Italy, Luxembourg, the Netherlands, Portugal, Belgium and France, in addition to Malta, are the other countries who have committed to taking a share.
Minister for Foreign Affairs Simon Coveney said that Ireland had agreed to take 10% of the number of migrants on board the MV Lifeline. 
He said the group would go through an asylum process here and initially be in a reception centre.
"But like the other nearly 1,900 migrants that have come to Ireland predominantly from Greece in the last number of years, the hope is to then of course move them on to proper housing," he said. 
Mr Coveney said nearly 800 of the migrants that came under the scheme are in houses and part of local communities.
He said he did not envisage this group being in direct provision.
"This is a small number so let's not exaggerate the challenge here," he said.
Minister Coveney said that European leaders at the Foreign Affairs Council meeting in Luxembourg this week had a big job to do to reach an overall agreement on migration policy.
Run by the German NGO Mission Lifeline, the boat picked up 234 people, including pregnant women and children, off the Libyan coast last Thursday.
Malta's Prime Minister said they had sought a solution to avoid a "humanitarian crisis", despite having "no legal responsibility" given the events took place in the Libyan search and rescue area.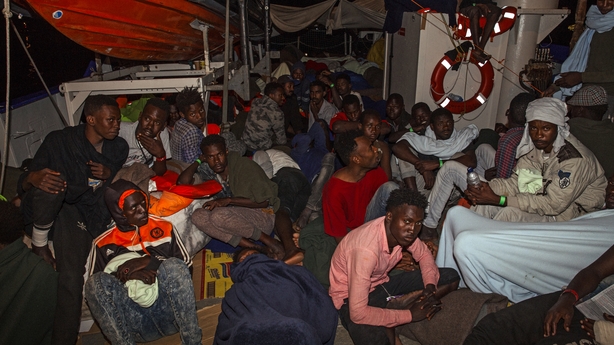 Mission Lifeline has come under fire from EU leaders, who accuse it of contravening international law by rescuing the migrants when the Libyan coastguard was already intervening. 
Mr Muscat also said a full investigation would be launched into the Lifeline's legal status and actions once it arrived.
He added that the ship, which sails under the Dutch flag, had "inadequate registration" and Dutch authorities had denied it had permission to fly the flag. 
He also accused the ship of "switching off its transponder at various times".
Mr Muscat said that the migrants on board would be processed and "genuine asylum seekers will be afforded protection", while "procedures will be started immediately to return those that do not qualify... in accordance with law".
He said he believed more EU members states would offer their assistance, but added that some had refused.
In a statement this afternoon, the Department of Justice said that the mechanics of Ireland's assistance with taking the migrants were being worked out. 
The matter will be discussed at the European Council tomorrow and Taoiseach Leo Varadkar will brief Cabinet on the outcome next week.
In relation to the 4,000 people which the Government committed to taking in 2015, to date 1,022 people have arrived under the Relocation Programme and 820 under the Resettlement Programme.
We need your consent to load this rte-player contentWe use rte-player to manage extra content that can set cookies on your device and collect data about your activity. Please review their details and accept them to load the content.Manage Preferences