Tánaiste Simon Coveney has said that the credibility of Britain's promise to avoid a hard border will be under pressure unless there is real progress on agreeing the Irish backstop by the end of June.
Speaking following a meeting with EU chief Brexit negotiator Michel Barnier, Mr Coveney said that there would be "a difficult summer ahead" if there was not sufficient progress on the backstop issue.
Mr Coveney said nobody expected the border issue to be fully resolved by the end of June, but time would be running out because clear legal texts on the backstop had to be in place in time for the Withdrawal Agreement, the treaty which guides the UK out of the EU, which is due to be concluded by the end of October.
The Tánaiste called for "new thinking" from the British government, which could give rise to what he called "a shared customs territory".
British Prime Minister Theresa May has been struggling to reconcile opposing camps in her cabinet over what kind of customs relationship will exist between the EU and UK in the future.
The Irish Government has signalled that her so-called "customs partnership" idea, in which the UK would collect tariffs on behalf of the EU on goods coming in from outside as a way to avoid a hard border in Ireland, has some merit, but not in its current form.
"We would like to see some new thinking come forward from the British side," Mr Coveney told reporters in Brussels.
"I don't think it's any secret that the Irish side would like to see Britain and the EU sharing the same customs territory in the future.
"It would make a lot of the other problems, that are difficult to solve right now, easier to solve.
"That can't happen unless the British government brings forward a position through negotiation that tries to achieve that outcome."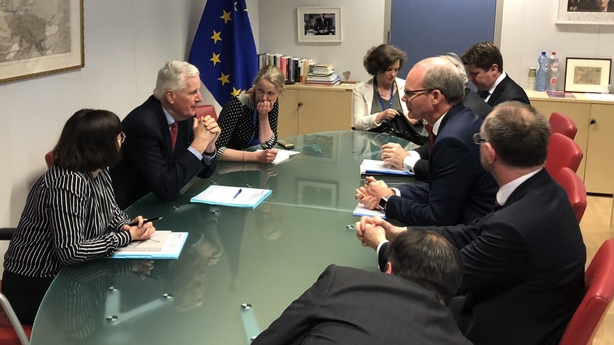 Mr Coveney warned that, notwithstanding any new customs ideas, the UK still had to agree a legal text on a fully operational backstop: Northern Ireland remaining in the EU customs union and significant parts of the single market.
"There needs to be a backstop that deals comprehensively with the Irish border issue. That backstop needs to be in a withdrawal agreement.
"The British PM has agreed to that approach. So we need to find a wording now that is legally acceptable to both sides, and which actually works to deliver the outcome, which has also been committed to by the British government, that there would be no border infrastructure of any kind, and that there would be no checks and controls on the island of Ireland.
"If there's a new approach that can help us get there then we're happy to talk about that, as is the Barnier Task Force.
"It's really important to have substantive progress by the end of June, because I think people will find it difficult to accept that there's credibility in a process that is hoping to conclude by the end of October, if some of the more difficult issues in that process aren't at least taking shape by the end of June.
"If it's not possible to make sufficient progress by the end of June, then I think there is going to be a difficult summer ahead."
The Tánaiste added: "Nobody is saying that everything has to be resolved by the end of June, but I think we certainly need to see a solution on the Irish border backstop issue taking shape by the end of June, whether that's new thinking around a shared customs territory, whether it's some other issues that are linked, not only to the border itself but also to maintaining the integrity of the Good Friday Agreement and the Peace Process."