The consequences for nature and humanity of warming oceans and melting ice are sweeping and severe, according to the Intergovernmental Panel on Climate Change.
In a major new report on how climate change is affecting the ocean and the frozen parts of the earth the IPCC says if greenhouse gas emissions continue to increase strongly, sea levels could rise by over 1m by the end of the century.
It calls for urgent, ambitious and co-ordinated actions to address unprecedented and enduring changes that have occurred.
We need your consent to load this rte-player contentWe use rte-player to manage extra content that can set cookies on your device and collect data about your activity. Please review their details and accept them to load the content.Manage Preferences
Over 1.4 billion people live either in low-lying coastal regions, high mountains, small developing Island states, or in the Arctic. 
However, Chairman of the Intergovernmental Panel on Climate Change Hoesung Lee says everyone on the planet is influenced, directly and indirectly, by what happens in those regions for weather and climate, food and water, energy, trade, transport, recreation and tourism, health and wellbeing, culture and identity.
On that front today's report from the IPCC is screaming alarm bells.
The ocean it says is absorbing 90% of global warming with profound consequences.
The loss of ice has tripled in Antarctica, it has doubled in Greenland, and the rate of sea level rise has doubled. And all that in just a decade.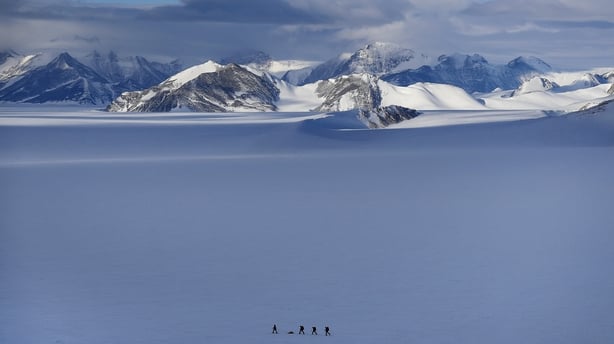 If it is not curtailed the IPCC says the rise in sea levels could exceed a  metre worldwide by the end of this century.
It says extreme sea level events that occurred once every hundred years in the past will occur once every year, such as high tides and intense storms. 
Marine heat waves could occur 50 times more often, and communities that depend highly on seafood may face nutritional health and food security risks.
Oceans have become more acidic, contain less oxygen, and it says the warm Atlantic Ocean currents, so critical to Ireland's mild climate, have weakened.
It says too that 70% of permafrost could be lost if emissions continue at a high rate and that releasing enormous amounts of carbon dioxide and methane into the atmosphere would significantly worsen climate change.
Hoesung Lee said "If we reduce emissions sharply, consequences for people and their livelihoods will still be challenging, but potentially more manageable for those who are most vulnerable." 
Valérie Masson-Delmotte, the Co-Chair of the IPCC working group that produced the report said: "This new assessment has also revised upwards the projected contribution of the Antarctic ice sheet to sea level rise by 2100 in the case of high emissions of greenhouse gases." 
She added that "Various adaptation approaches are already being implemented, often in response to flooding events, and the report highlights the diversity of options available for each context to develop integrated responses anticipating the full scale of future sea level rise." 
Hans-Otto Pörtner, Co -Chair of IPCC Working said "Cutting greenhouse gas emissions will limit impacts on ocean ecosystems that provide us with food, support our health and shape our cultures. Reducing other pressures such as pollution will further help marine life deal with changes in their environment, while enabling a more resilient ocean."
It is the third major report into the latest scientific research about aspects of climate change commissioned since 2016. It involved more than 100 authors from 36 countries. They reviewed and referenced about 7,000 scientific publications.
The authors also took on board more than 31,000 comments from 80 countries and the European Union.  The report has been approved by 195 Governments.