The Environmental Protection Agency has reported that over 94% of identified bathing locations in Ireland have met the EU minimum standard for bathing water quality and that over 100 beaches have been classed as "Excellent".
However, the EPA said five beaches failed to meet minimum water quality standards including three in Dublin, one in Co Galway, and one lakeside beach in Co Westmeath.
The details are contained in the EPA's Bathing Water Quality in Ireland 2018 report.
Last year's long hot summer meant fewer heavy downpours and less pollution washed onto beaches.
The result was better bathing water quality with 103 beaches receiving top marks and deemed excellent places to swim.
Another 34 were classed as good or sufficient.
The locations where the five beaches were classed as poor were Merrion Strand, Sandymount Strand, and the Brook Beach at Portrane in Dublin; Clifden in Co Galway, and Lilliput on Lough Ennel in Co Westmeath.
A poor rating for a bathing water means there is a risk of periodic microbiological pollution that could cause illness such as skin rashes or gastric upset.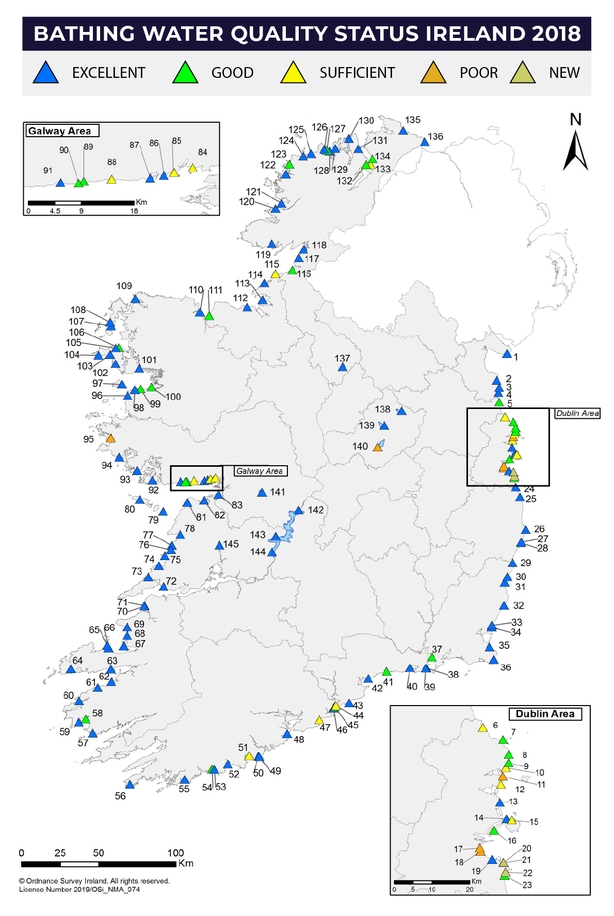 Local authorities are now required to place notifications for the entire bathing season advising the public not to swim at these five locations.
If Merrion Strand in Dublin fails again this year it will be declassified as bathing location as it will have failed five years in row.
Welcoming the report, Minister for Housing, Planning and Local Government Eoghan Murphy said the EPA report "shows that nationally, Ireland has excellent standards of bathing water".
"High-quality bathing waters are a great natural amenity and I would like to acknowledge the work of the many people who contribute to keeping them at such a high standard. We must continue to protect water quality on our beaches," he said.
"I am concerned at the ongoing issues contributing to poor water quality at a small number of our 145 designated bathing waters. Consistently 'poor' designations must be addressed as a matter of priority."
Meanwhile, Andy Fanning, Programme Manager of the EPA's Office of Evidence and Assessment, said more intensive action needs to be taken by local authorities to address the pollution issues and protect bathers.
The designated bathing season in Ireland runs from 1 June to 15 September each year.
Urban wastewater is the most common pressure impacting on bathing water.
The EPA says improvements in wastewater systems should be progressed to limit their impact on bathing waters.
The second most common problem is contamination from animals and birds followed by run-off from urban areas and misconnections where waste pipes from households have been incorrectly connected to surface drains.
Diffuse pollution from agriculture is the main cause of problems in 7% of cases.
The 2018 Bathing Water Quality report also showed improvements in a few locations.
Loughshinny in Fingal, north Co Dublin, went from a "Poor" classification in 2017 to "Good" in 2018.
In addition Rush South Beach, also in Fingal, and Ballyloughane in Galway city both improved from "Poor" to "Sufficient".