Political parties are preparing for a week of exploratory talks in an effort to work out a deal on the formation of a new government.
Fianna Fáil and Fine Gael are due to meet this week to see if there is any basis between the parties for a possible coalition deal.
Sinn Féin has said it will hold a number of rallies across the country over the next two weeks.
Speaking on RTÉ's The Week in Politics, Fine Gael TD Helen McEntee said there should be no link between an army council and a political party.
Ms McEntee said comments by the Garda Commissioner Drew Harris this week, about the provisional army council's continuing influence on Sinn Féin, is something Fine Gael voters cannot accept.
She said people have to respect the fact that Fine Gael will not work with Sinn Féin.
Ms McEntee said the parties who have received the most votes are stepping back and blaming Fine Gael for not going into government - even though they want to get them out.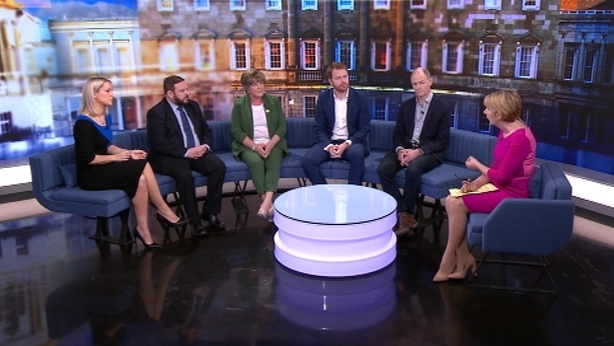 Sinn Féin TD Pádraig Mac Lochlainn said the IRA has gone and is not coming back.
He said more than 700,000 people voted for Sinn Féin in the Westminster and Dáil elections, and he said those voters have a right to be respected.
He said the vote centred around real issues such as positive change in health and housing.
He said the fact that Fianna Fáil and Fine Gael are looking to move towards forming a government together is "laughable".
Mr Mac Lochlainn said Fianna Fáil talk about compromise but there is none when is comes to talking to Sinn Féin.
He said Sinn Féin had organised rallies over the next two weeks in order to update people about where the party is going and to get a sense about where the public mood is at.
---
Read More:
What's in the spotlight and the headlines is only half the story
Murphy rules out Social Democrats coalition with FF and FG
---
Social Democrats TD Gary Gannon said the party has ruled out a coalition government with Fianna Fáil and Fine Gael together, but not individually.
He said the Social Democrats is open to talking to all parties and that he does not believe a minority government will work.
Fianna Fáil's Mary Butler said she also has concerns about the governance of Sinn Féin.
She said the Fianna Fáil mandate is just as important as the Sinn Féin mandate, and all TDs deserve their mandate to be respected.
Ms Butler said there are only three options on the table at the moment, including a left-leading minority government, a coalition or another general election.
She said there must be compromise between parties when talks begin on Tuesday, but she said a coalition with Sinn Féin is a red line for Fianna Fáil.
Green Party TD Ossian Smyth said all parties must negotiate with each other and he said the exclusionary process that Fianna Fáil and Fine Gael engaged in during the election inflated Sinn Féin's popularity.
Meanwhile Fine Gael's Richard Bruton has said that his party does not believe it has received a mandate to form a government and it would be "arrogant" to think it had.
Speaking on RTÉ's This Week, he said Fine Gael going into government is not a foregone conclusion and would only be a last resort.
He said parties are still in campaigning mode and he does not see much compromise at the moment.
He said the result of this election is "different" and politics must change to reflect that result.
Mr Bruton reiterated that Fine Gael would only consider government as a last resort, because he said both Sinn Féin and Fianna Fáil have a responsibility.
He said Sinn Féin leaders have had to check their position with powers outside the political process, which he said raises obvious concerns.
---
Sinn Féin to intensify discussions
Sinn Féin's Vice President Michelle O'Neill has told RTÉ News that the party will be intensifying its discussions with other parties next week in an attempt to form a government.
Speaking in Belfast, Michelle O'Neill said the party needs to build on the vote that Mary Lou McDonald received in the Dáil, where for the first time in the history of the State, someone other than Fianna Fáil and Fine Gael received the most votes for Taoiseach.
She said they have a lot of work to do, but ultimately they want to be in government.
"We have been working very hard with the other parties, with Independents, the Greens, the Soc Dems, to try to develop a programme for government that delivers on what we said we would deliver," she said.
"We have more work to do and this week is going to be an intensification of that work. We will be meeting the Green Party tomorrow and we have other meetings arranged for the rest of the week."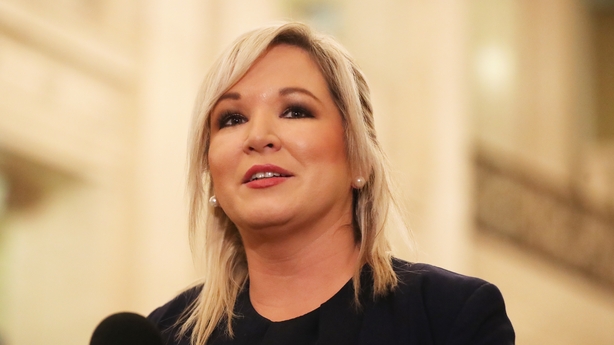 In relation to the five rallies Sinn Féin plans to hold in Cork, Dublin, Galway, Cavan and Newry over the next fortnight, Ms O'Neill said: "I think they will be big public meetings.... We will set out our stall, we will tell people about how we see things and where government formation is at... People will have an opportunity to come along, those who support us and those who don't.
"I think they are a very positive thing."
The first of those rallies is planned for Cork tomorrow night.
Additional reporting Tommie Gorman