So, will it be kingmaker, or mudguard?
The question is no doubt on the minds of Ireland's smaller parties and Independent groups as the post-General Election 2020 stand-off tumbles into another week - and as it remains inevitable no government will be formed without their help.
In the fortnight since the election, all eyes have been on the three-way tussle between Fianna Fáil, Sinn Féin and Fine Gael as Micheál Martin, Mary Lou McDonald and Leo Varadkar have scrambled to influence what happens next.
The focus increased after last Thursday's one-day Dáil return, which saw Seán Ó Fearghaíl's re-election as ceann comhairle reduce Fianna Fáil's seats to 37 - equal with Sinn Féin and just two ahead of Fine Gael.
It intensified further when Ms McDonald gained a psychological advantage as she received more support than her rivals in the first of what are likely to be many taoiseach nomination votes - albeit still far below the number needed to win outright.
And it will become impossible to ignore over the coming days after Mr Varadkar and Mr Martin confirmed they will sit down for initial talks this week at the same time as Ms McDonald announced plans for a series of regional rallies over the next fortnight.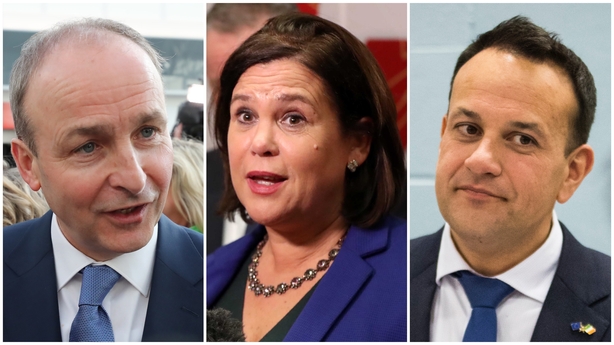 The developments mean that, between now and Thursday 5 March when the Dáil returns for its second attempt to elect a taoiseach, the actions of Fianna Fáil, Sinn Féin and Fine Gael will be to the forefront of people's minds.
But, as ever with politics, what is in the spotlight and the headlines is only half the story.
While the intense interest in the three-horse taoiseach race is inevitable, what should not be ignored are the equally crucial actions of the smaller parties and Independents, all of whom remain vital to the next step in the Dáil dance.
Combined, the Greens (12 seats), Social Democrats (six), Labour (six), Solidarity-People Before Profit (five), the newly formed Independent Regional Group (nine including Aontú TD Peadar Tóibín), the Rural Independents (six) and unaligned Independents (six) hold 50 of the Dáil's 160 seats.
And what this means is that while the spotlight is firmly on Micheál Martin, Mary Lou McDonald and Leo Varadkar for now, what is happening in the political shadows just off centre stage where the smaller parties talks are taking place could be just as important to the General Election 2020 outcome.
Some of these smaller parties appear comfortable on the opposition benches, and are insistent they have ruled themselves out of government talks.
Others are, like the larger parties, trying to put their own frame on the post-election narrative in a bid to shore up their core support.
But for the remainder still contemplating the possibility of government, the only question they have to ask themselves is that, while there are clear benefits to going into government and promoting their own policies, the damage coalition caused to the PDs (1997-2009), Greens (2007-2011), Labour (2011-2016) and Independents (2016-2020) mean there are genuine risks attached to any deal, too.
So, if they choose to ultimately enter government, will it be as kingmaker, or mudguard?
---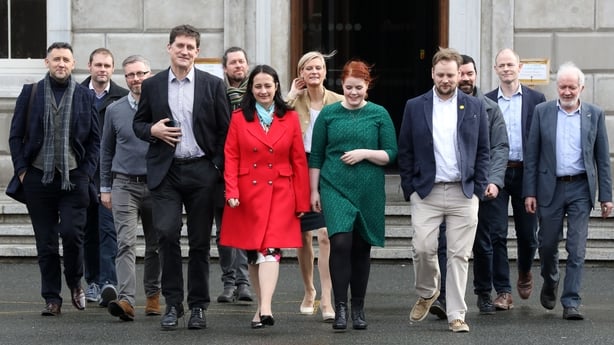 GREENS: (12 TDs)
The Greens are widely seen as the most likely coalition partner for Fianna Fáil (37 seats as Seán Ó Fearghaíl is now Ceann Comhairle), Sinn Féin (37 seats) or Fine Gael (35 seats), and it is easy to see why.
The party's 12 seats means it offers any two-party combination of the three largest parties a comfortable - and, just as importantly, simple - route to forming a new government which will have a concrete 80-plus majority needed to last any length of time.
Greens leader Eamon Ryan has attempted to take advantage of this opportunity ever since the election results day by saying his party will speak to anyone willing to listen - thereby positioning it as the reasonable broker in government formation talks.
After announcing his party's red lines for any deal - namely action on climate change, housing, Sláintecare, Brexit, funding public services and building stronger communities - a week ago, Mr Ryan held initial talks with a number of parties.
Mr Ryan is due to be joined by deputy leader Catherine Martin, newly elected TDs Roderic O'Gorman and Neasa Hourigan, in addition to Greens HQ political manager Anna Conlon for further talks with other parties this week.
They include meetings with Sinn Féin's negotiating team tomorrow and Tuesday, the Social Democrats on Wednesday and Fianna Fáil's six-strong team on Thursday and Friday - in addition to a likely meeting with Fine Gael.
In addition to the policy focused discussions, Mr Ryan also sought to position the party as a calm voice in the Dáil battleground last Thursday, as he called for sensible discussions instead of shouting contests to help find a way out of the political stalemate.
In theory, then, the Greens are in a strong position to help form a government.
This is because of the fact Sinn Féin needs their numbers as it is being ignored by Fine Gael and Fianna Fáil, while both Fine Gael and Fianna Fáil need their "change" image to help convince people any coalition of Mr Varadkar and Mr Martin is not just more of the same.
But in practice, the Greens option could still become a lot more troublesome in the weeks to come than the current political landscape might suggest.
While the Greens appear to be the most stable option for Fianna Fáil, Sinn Féin and Fine Gael, it is by no means certain its grassroots members will back any agreement to go into power unless clear commitments are made on the party's key policies.
Under its own constitution, the Greens cannot enter government unless two thirds of grassroots members support the move once the exact details are known.
And, with the party's 2011 Dáil destruction still etched into many members minds, the situation means that even if Mr Ryan is able to negotiate a deal with other parties, he may immediately face a much trickier negotiation within his own ranks which may be far more difficult to control.
---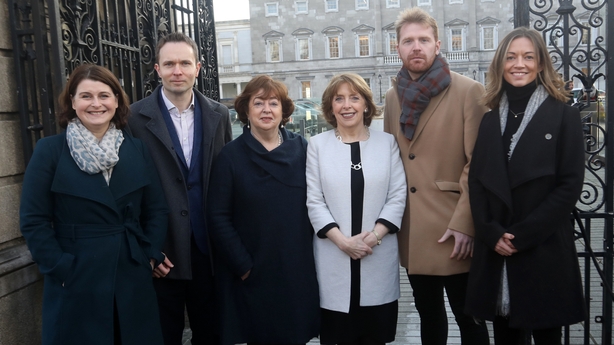 SOCIAL DEMOCRATS: (6 TDs)
The situation surrounding the Social Democrats has, by contrast, become far clearer over the weekend, with the party specifically ruling out any deal with both Fine Gael and Fianna Fáil.
In separate statements on Saturday, new TD Gary Gannon and the party's co-leaders Catherine Murphy and Róisín Shortall all said in no uncertain terms they do not believe putting Mr Varadkar back into power or replacing him with Mr Martin represents change.
Responding to speculation the Social Democrats may be open to a deal with Fine Gael or Fianna Fáil, Ms Murphy said on Twitter "It's a definite no to Fine Gael-Fianna Fáil".
Ms Shortall repeated the view a short time later on RTÉ Radio, saying: "We reject any coalition that involves both Fianna Fáil and Fine Gael because to portray that as something resembling change is utterly ludicrous. We're not interested in providing cover to two civil war parties."
And, in a detailed series of messages on social media site Twitter, Mr Gannon went further still, saying: "We in the Social Democrats won't in any way be involved in a coalition involving a combination of Fine Gael and Fianna Fáil together."
So, that's a no then. And presumably advantage Sinn Féin, right?
Well, not quite.
While the Social Democrats statements ruled out any deal with "both" Fine Gael and Fianna Fáil - thereby nudging Fianna Fáil towards Sinn Féin - the party itself has yet to decide if it will do business with that same party.
In Thursday's taoiseach nomination votes, the six Social Democrats TDs chose to abstain on Sinn Féin's nomination of Ms McDonald, receiving significant criticism online criticism from Sinn Féin supporters in the process.
Hey folks,

A couple of things... Firstly, we in the SocDems won't in any way be involved in a coalition involving a combination of Fine Gael & Fianna Fáil together.

I respect the mandate of all parties, but that coalition won't be one that we will have any part in.

1/

— Gary Gannon TD (@1GaryGannon) February 21, 2020
In a lengthy response to the criticism, Mr Gannon wrote on Twitter that "I'm never going to vote for a person to be taoiseach without first sitting down to discuss and scrutinise an actual programme for government".
He added that he will not swap this stance simply to "show boat" in the Dáil "for a couple of minutes".
The comment is not just a bit of online show-boating itself. In fact, it underlines a very firm stance taken by the Social Democrats.
While the party is open to examining ways to form a left-leaning government with other like-minded parties, it has yet to decide if Sinn Féin fit that definition.
The party will meet with both Sinn Féin and the Greens this coming week as part of exploratory talks.
However, one senior Social Democrats member said these discussions are simply to find out if there is any "common ground" between the parties, saying while a left-leaning government remains an ambition of the party, it has yet to be convinced if one is possible based on the current Dáil numbers.
There is, of course, the added fact that the Social Democrats may simply be trying to protect its own brand by ensuring it remains a separate voice in the coalition crowd and is not shouted over by rival parties.
But, for now, while the Social Democrats have left the door open - or at least not closed it entirely - to a deal with Sinn Féin, it is far from clear if the party is willing to walk through it and into a mooted coalition.
---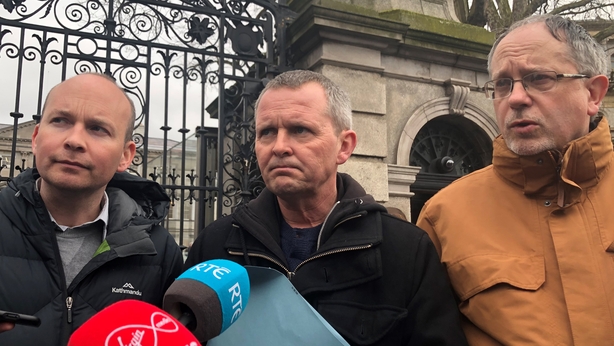 SOLIDARITY-PEOPLE BEFORE PROFIT: (5 TDs)
Although arguably on the other wing of the Sinn Féin left-leaning coalition, the same scenario is largely true for Solidarity-People Before Profit as well.
The five-strong TD group - which comprises Mick Barry of Solidarity, Paul Murphy of RISE, and Richard Boyd Barrett, Bríd Smith and Gino Kenny of People Before Profit - was never going to be a potential coalition partner for Fine Gael or Fianna Fáil.
But it is not exactly making it easy for Sinn Féin, either.
The hard-left group was initially planning to abstain on Mary Lou McDonald's nomination as taoiseach last Thursday as - in its view - Sinn Féin had not done enough to definitively distance itself from any deal with Fine Gael and Fianna Fáil.
It eventually pulled back from this position, choosing after a final meeting hours before the vote itself to support Ms McDonald's first bid for taoiseach as it was important for her to be backed by TDs outside her party if the left-leaning government idea was to be realistically kept alive.
But, far from an indicator Solidarity-People Before Profit has now been won over, several members of the group have said it could still turn out to be a one-off show of support.
While Solidarity-People Before Profit remains open to a left-leaning coalition led by Sinn Féin, it wants to see a clear outline of what policies could be introduced under such an umbrella grouping.
It has also been made clear the qualified support is only on the strict condition Sinn Féin does no deal in any way with either Fine Gael or Fianna Fáil.
These two conditions make it extremely difficult for Ms McDonald to form a coherent government that would out of necessity need to involve itself, Solidarity-People Before Profit, the Social Democrats, Greens and Independents if Fianna Fáil is to be avoided.
That may not sound like the best strategy for Solidarity-People Before Profit if it wants to see a left-wing government come into force.
But it is a useful safety net for the group as it ensures it is allowing a coalition on its terms - and puts its election rival Sinn Féin in an awkward position if the pull of power which involves any watering down of those terms becomes too much to ignore.
---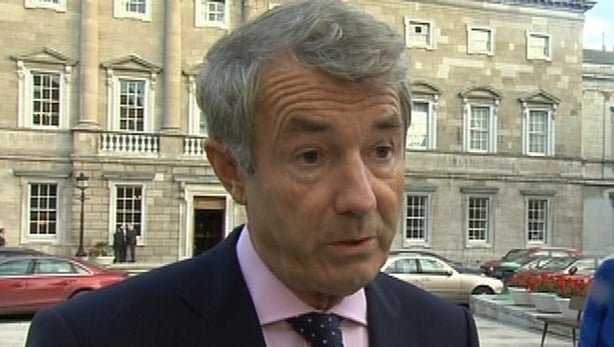 INDEPENDENTS AND TECHNICAL GROUPS: (21)
Given the difficulties in forming a government, then, it has been rather surprising so little attention has been paid to another of the potential options - the Independents.
As the 2016-2020 government showed, Independent TDs can form a key part of any cabinet, and in a changing political environment are now realistic options for a larger party short on numbers, albeit with a price.
And in the shopping aisles of the post-general election 2020 stand-off, there are more than a few ready-made options on the table - most clearly for Fine Gael and Fianna Fáil.
Among the strongest Independent groups of the new Dáil are the nine-strong Independent Regional Group and the six-strong Rural Independents group.
The newly formed Independent Regional Group consists of nine TDs, two of whom served in the last government, four of whom are former Fine Gael members and one of whom is a former Progressive Democrats member.
They are:
Denis Naughten (ex-Fine Gael, served in last government)
Michael Lowry (ex-Fine Gael)
Peter Fitzpatrick (ex-Fine Gael)
Verona Murphy (ex-Fine Gael)
Sean Canney (served in last government)
Noel Grealish (ex-PDs)
Peadar Tóibín (Aontú leader, ex-Sinn Féin)
Cathal Berry (newly elected)
and Matt Shanahan (newly elected)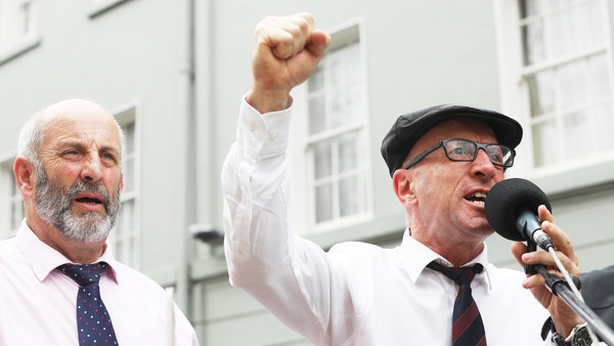 The rival Independents technical group is the six-strong Rural Independents.
This second group consists of:
Michael Healy Rae (son of former Fianna Fáil member and Independent TD Jackie Healy Rae)
Danny Healy Rae (son of former Fianna Fáil member and Independent TD Jackie Healy Rae)
Mattie McGrath (ex-Fianna Fáil)
Michael Collins
Carol Nolan (ex-Sinn Féin)
and Richard O'Donoghue (newly elected)
It doesn't take a lot of work to see the trend.
While Fine Gael and Fianna Fáil may find it next to impossible to sell a deal with Independents who can for the most part not realistically be seen as the "change" voters appear to have called for in general election 2020, tight Dáil situations can do strange things to party leaders.
A number of the TDs in both Independent groups listed above have told RTE News they are available for talks with any party, with the Rural Independents meeting Sinn Féin in two batches last Wednesday - the Healy Rae brothers said they had a scheduling clash so met separately - with talks with other parties rumoured for the coming week.
They may not be the most obvious option, but do not be surprised if some of these Independents start to end up on Leo Varadkar or Micheál Martin's meetings schedules as well in the days, and weeks, to come.
---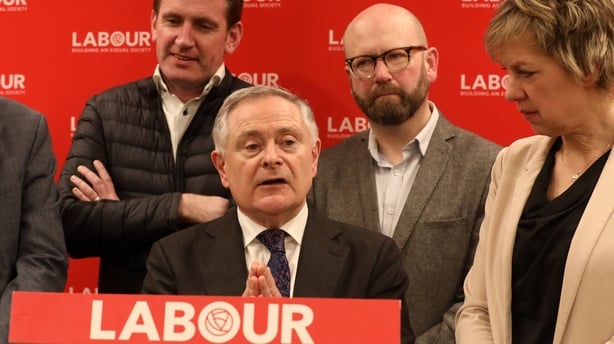 LABOUR: (6 TDs)
One name whose members are insistent will not end up on those same lists is Labour, which ruled itself out of any government formation talks in the immediate aftermath of general election 2020.
Party sources said this will not change when either Alan Kelly or Aodhán Ó Ríordáin take over from outgoing leader Brendan Howlin on 3 April, as the party - not the leader - made the decision not to enter talks.
There has been some speculation in Leinster House this may change if no government has been formed by early April and enough pressure is placed on Labour by whichever of the three largest parties needs numbers most.
However, the clear reluctance of the party to consider government again is a clear sign for those contemplating it now that power can bring with it as many problems as perks.
In 2011, Labour and its then leader Eamon Gilmore were riding high on the crest of a wave, so much so that it won an historic 37 seats and printed "Gilmore for Taoiseach" posters during the election campaign.
Fast-forward one bruising term in office to 2016 and the party was almost wiped out winning just seven seats - a figure it has failed to increase on in 2020 - and is now set to elect its fourth leader in just six years.
The Greens, Social Democrats, Solidarity-People Before Profit and Independents may believe the situation is arguably different in the aftermath of General election 2020, with the tightness of the Dáil numbers meaning smaller groups have a unique opportunity to gain real power.
However, they will also be aware of the lessons learned the hard way by the PDs (1997-2009), Greens (2007-2011), Labour (2011-2016) and Independents (2016-2020) who entered government with the same belief in the mind.
Ultimately, when it comes to the post-election talks, smaller parties and Independents will have to ask themselves if they will become the kingmaker or the mudguard if they become part of the next government.
And, for now, no one quite knows the answer.