With the counting of votes completed, attention will now turn to post-mortems, periods of reflection and more than a little soul-searching.
If Sunday belonged to Sinn Féin, then yesterday belonged to the smaller parties. It's a day the Greens, the Social Democrats and Solidarity-People Before Profit will never forget.
After a record election, the Green Party's successful candidates have plans to meet up in what should be a jubilant occasion. The Greens won 12 seats as the 'Green wave' first detected in last year's local elections is still evident.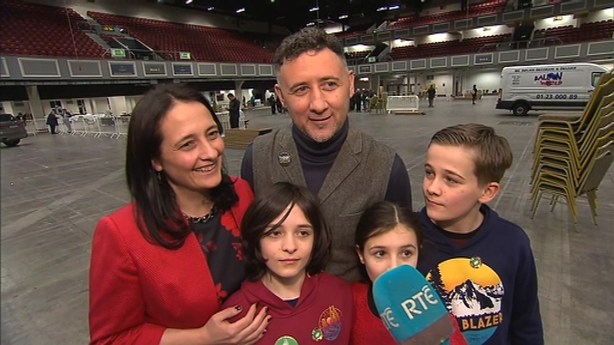 The Social Democrats tripled their seat count from two to six seats. And, helped by Sinn Féin transfers, Solidarity-People Before Profit won five seats.
If the smaller parties had a day to remember, Fianna Fáil and Fine Gael certainly had a day to forget.
Fianna Fáil has had its second worst result in its history - the worst was in 2011. Fine Gael has also had its second worst election result - the worst came in 1948. Party leaders Leo Varadkar and Mícheál Martin are both under pressure now that the votes have been counted.
Defeated Fine Gael candidate James Reilly was the first to question Mr Varadkar's leadership yesterday.
He said there is a precedent there for a party leader to put themselves forward for re-election if they have failed to win a general election. The former deputy leader of Fine Gael said that this would be "reflected on hard".
---
Read more:
Results from every constituency 
Five big election shocks from Monday
---
Mr Reilly's comments came after the party had some high-profile election casualties. Among them were outgoing Social Protection Minister Regina Doherty, Government Chief Whip Seán Kyne, Ministers of State Michael D'Arcy, Pat Breen and Catherine Byrne, and Dublin Bay South TD Kate O'Connell.
One of the good news stories for Fine Gael was the election of Frank Feighan late last night in Sligo-Leitrim. Some politicians are never prophets in their own land. Mr Feighan was originally a TD in his native Roscommon but he moved constituency. Against the odds he won back his Dáil seat. 
Defeated and successful candidates alike will now take some much-needed rest after a gruelling three-week campaign . Do not be surprised if other Fine Gaelers echo James Reilly's criticism.
Fianna Fáil has similar problems. On a positive note, yesterday was a momentous day for Jennifer Murnane O'Connor, Paul McAuliffe, Norma Foley and Joe Flaherty. All of them were elected first-time TDs.
But the party had some unexpected seat losses, with Pat The Cope Gallagher, John Curran, Timmy Dooley, Declan Breathnach, Eugene Murphy and Fiona O'Loughlin losing out.
Relive the highs and highs of an emotional Monday in #GE2020 pic.twitter.com/dV0mfcZi7E

— RTÉ News (@rtenews) February 10, 2020
Fianna Fáil had some success in Longford-Westmeath, where it won two out of four seats. Newcomer Joe Flaherty became the first TD elected in Longford since 2011.
Robert Troy from Westmeath retained his seat, and he has now put pressure on his party leader. He has called on Micheál Martin to convene a meeting of the parliamentary party as early as Thursday to hold an election post-portem.
Looking ahead, the 33rd Dáil is due to convene on 20 February.
Listening to the political dog whistles coming from the two larger parties, it appears that they will leave Mary Lou McDonald to talk to the smaller parties about the possibility of forming a government.
The coalition conundrum certainly will not be easy to crack.