Ireland is today being battered by a severe storm that threatens to whip across the country and lead to recriminations on how prepared those in charge were for what has happened.
Oh, and there is some bad weather outside as well.
While Storm Ciara is whipping up the usual February Irish weather, the General Election 2020 results are threatening to cause just as much havoc to Ireland's political status quo.
Although 2011 which saw Fianna Fáil swept from power was considered an earthquake and 2016 when Fine Gael saw its majority disappear labelled a tsunami, 2020 - when previous political norms appear to have been uprooted and replaced by genuine unknowns - can only be described as a storm of historic proportions.
That is, at least, according to the General Election 2020 exit poll, which - while only an indicator of the predicted result - has thrown up a series of issues for politicians nationwide.
The exit poll - conducted by Ipsos/MRBI on behalf of RTÉ, The Irish Times, TG4 and UCD - is based on the responses of more than 5,000 people at 250 polling stations across the country immediately after they voted on Saturday.
---
Read More:
LIVE: Boxes opened as General Election count gets under way 
Poll indicates FG/FF stance over SF divided voters
Remember 'The Donnelly Rules' during election count 
---
Questions on who someone voted for, their age, gender and what region they are from were asked of all respondents, and have a margin of error of 1.3%.
However, in order to give an insight into the reasons why people voted certain ways, 15 additional questions were also asked of respondents, who were split into five different groups of 1,000 people and asked three questions each.
These 15 questions have a margin of error of 3.1%.
And those questions show that while Storm Ciara will dissipate over the coming days, the same cannot necessarily be said for Storm General Election 2020, which has the potential to batter the country with its conclusions for the weeks and months to come.
Party support
The issue is most apparent for the parties themselves, with the exit poll indicating a three-way dead heat between Fine Gael, Fianna Fáil and Sinn Féin.
According to the exit poll, Fine Gael are on 22.4%, Sinn Féin 22.3% and Fianna Fáil 22.2% - effectively an exit poll three way draw that has never been seen before in Irish history.
Among smaller parties, the percentages are Greens 7.9%, Labour 4.6%, Social Democrats 3.4% Solidarity-People Before Profit 2.8% and Independents 11%.
Should these figures be reflected in the actual Dáil seats results, it is highly likely there will be no clear winner in General Election 2020, causing political confusion over what happens next that has not been seen before in this country.
The exit poll findings appear to show a tightening of the race at the top compared to polls during the campaign itself, which at one point saw Fianna Fáil exceeding 30% and Sinn Féin in the high teens.
And, if it plays out as accurate there will be much focus on why this has happened, with the exit poll prediction that Fine Gael and Fianna Fáil's joint percentage will fall from 49% in 2016 to just over 45% today - its lowest ever if this becomes a reality - expected to form a central part of any debate.
Much of the spotlight is also likely to fall on the campaign performances, with a belief voters will have been influenced by what happened on the campaign trail.
However, the exit poll suggests this may not be the case, with the exit poll suggesting while there has been significant discussion and debate throughout the three and a half weeks general election campaign, the exit poll has also suggested much of this ultimately did not matter to voters.
Asked when they decided how they would vote, 48% of respondents said "before the campaign/always knew", 28% said "during the campaign", 16% said "in the last couple of days" and 8% said "today/when casting my vote".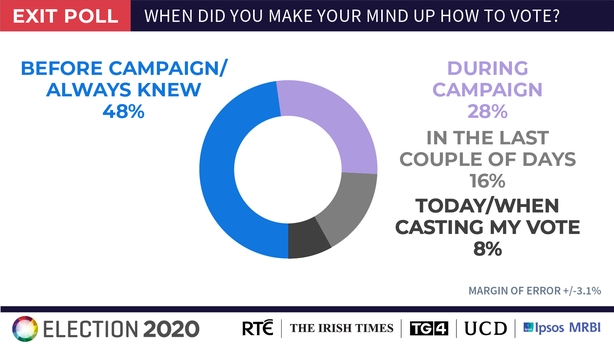 It has been suggested in recent weeks that the reason for this is because key societal and voter issues have become firmly fixed in the electorate's mind over the past decade, with health, housing and the economy overtaking any short-lived political rows.
And, this appears to be reflected in the exit poll, with the issues most apparent in people's lives rather than the issues raised by politicians dominating proceedings.
Deciding factors in how people voted
The reason for the apparent failure of the outgoing government to stay ahead of its rivals is best crystalised in the exit poll by voter intentions, which suggest Taoiseach Leo Varadkar's worst political nightmare has come through.
In the lead up to the General Election and during the campaign itself, Mr Varadkar and senior Fine Gael ministers repeatedly sought to frame the race on the grounds of Brexit and the economy.
However, in both instances, it appears the attempts have had little to no impact on voters - with the government's achilles heel issues instead being to the forefront of voters minds, thereby limiting its own race performance.
Asked to rank their reasons for voting and given 12 different options, respondents said health and housing/homelessness (a combined 58%) were the most important deciding factor, with Brexit languishing last with a near statistically irrelevant 1%.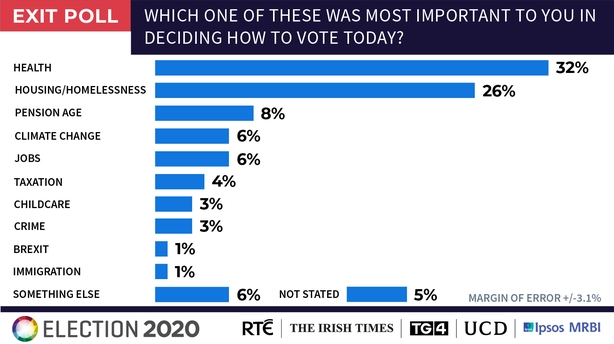 The full breakdown of deciding factors in the exit poll was:
housing/homelessness (26%)
pension age (8%)
jobs (6%)
climate change (6%)
"something else" (6%)
"no response" (5%)
taxation (4%)
crime (3%)
childcare (3%)
immigration (1%)
and Brexit (1%)
In addition, health was the most influential factor across almost all age groups and regions, with 43% of people over the age of 65 in particular saying it decided how they voted.
It was only out-polled in three demographics - among 18-24-year-olds, 25-34 year olds and people living in Dublin.
In these three cases, housing/homelessness (33% compared to 12% among 18-24 year olds; 38% compared to 22% among 25-34 year olds and 36% compared to 25% among people living in Dublin) was the most important factor.
The figures indicate that while Taoiseach Leo Varadkar and Fine Gael repeatedly emphasised the Brexit threat and their work in avoiding a no deal crisis, the issue did not resonate with voters.
Instead, two of the biggest problem areas for the government appear to have been the underlying issues for voters.
And that situation is likely to lead to a period of reflection for Mr Varadkar and his party over whether they should have called the general election last November, as was rumoured at the time, when Brexit was still to the forefront of the public's mind.
The economy
Similarly, on the economy - Mr Varadkar's other key calling card - the exit poll has again appeared to tell the outgoing government what it did not want to hear.
Throughout the campaign and long before it, Fine Gael has wrestled with Fianna Fáil, Sinn Féin and other parties over which of the rivals is best placed to secure the stability of the Irish economy.
Mr Varadkar's argument was that Fine Gael has rescued Ireland from the abyss, while both Micheál Martin and Mary Lou McDonald have singled in on two tier economy concerns, the children's hospital budget and other matters.
And, according to the exit poll at least, the latter argument appears to have gained credence with the public, with voters appearing to simply not buy the economic story the government has been selling.
Asked if they have benefited from an economic recovery and given three options on how to respond, 63% of those who took part in the exit poll said "this does not apply to me personally" while 37% said it did.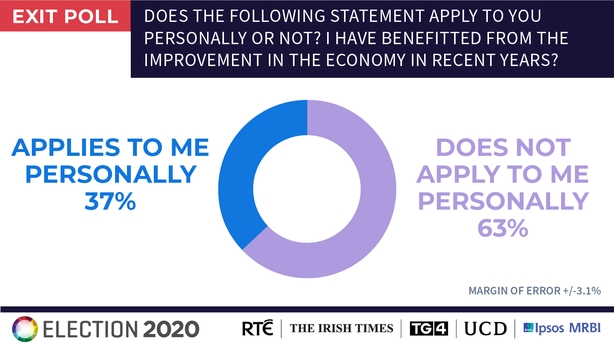 Similarly, two thirds of exit poll respondents (65%) said they were in favour of increasing spending on public services instead of tax cuts, compared to 35% who favoured a reduction in taxes.
With 82% saying a party's ability to manage the economy was crucial to their decision, it cannot be claimed a lack of focus on the economy influenced the exit poll data.
Coalition conundrum
What all of this means is, when the general election storm eventually lifts, the still likely next taoiseach contenders Leo Varadkar and Micheál Martin rather than exit poll respondents will have a key question to answer:
Do they backtrack and consider going into government with Sinn Féin.
The fact both Fine Gael and Fianna Fáil are running more than 80 candidates compared to Sinn Féin's 42 means that, regardless of the 22% dead heat in the exit poll, both parties are likely to be ahead of their new rival in terms of Dáil seats.
However, they are also almost certain to fall far short of what they will need to gain power on their own, leaving them with the choice of either a grand coalition between Fine Gael and Fianna Fáil, a new confidence and supply deal, a rainbow-coalition of other parties, a second election - or talking to Sinn Féin.
During the final days of the campaign, Fine Gael and Fianna Fáil appeared to be in competition with each other in terms of which party could be strongest in ruling out Sinn Féin.
In particular, Fine Gael released a montage video of senior ministers emphatically saying "no" to whether they would go into government with Mary Lou McDonald's party, while Fianna Fáil leader Micheál Martin - if not his entire party - gave a similar response.
Whether these positions hold true in the maelstrom of the post-general election fallout will be a key area to watch.
But, if Fine Gael or Fianna Fáil were hoping for some guidance from voters in the exit poll no definitive message has been forthcoming, with a near 50:50 split on the issue in the exit poll.
Asked if Fine Gael and Fianna Fáil were right or wrong to rule out going into government with Sinn Féin after the general election.
51% of exit poll respondents said both Leo Varadkar and Micheál Martin were wrong out the option.
This compared to 45% of respondents who said the Fine Gael and Fianna Fáil leaders were right to do so.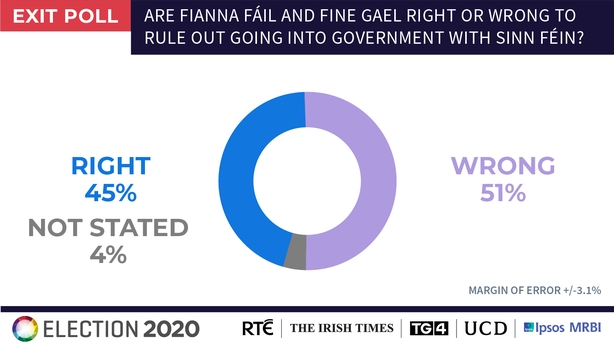 The difference in positions was most apparent among 18-24 year olds when there was a 68% to 30% wrong/right split, and those over the age of 65 where there was a 38% to 58% wrong/right split.
In terms of regions there was:
a 61% to 39% wrong/right split in Connacht/Ulster
55% to 40% wrong/right split in Dublin
49% to 44% wrong/right split in the rest of Leinster
and a 43% to 55% wrong/right split in Munster
No clear answer then, on potentially the biggest political question of General Election 2020.
Other issues
Among the other key issues highlighted by the exit poll are climate change, a border poll, smaller party support and party leader influence.
While this was predicted last year to be Ireland's environmental election given the crisis the world is facing and the local and MEP elections green wave last year, the exit poll suggests this issue has not taken a firm hold on the electorate.
Climate was seen as the deciding factor in how a person voted for just 6% of people, while the Green party's exit poll standing is at a solid if not necessarily spectacular 8%.
On the border poll question, there is continuing division among the electorate, with the exit poll suggesting 57% would like to see this happen within the next five years while 40% said they would not like a poll by 2025.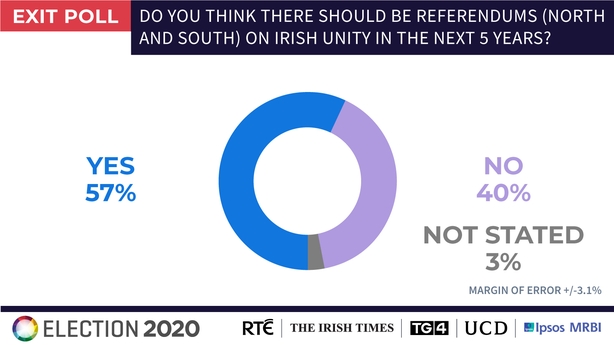 Outside of Sinn Féin's apparent poll surge, there has also been relatively little movement among the smaller parties, meaning how the Greens, Labour, the Social Democrats and Independents perform in terms of actual seats will be watched closely for potential coalition talks.
And on party leaders, there are further questions for the party leaders, with 56% of Fianna Fáil exit poll voters, 53% of Fine Gael, 61% of Sinn Féin, 28% of Green and 33% of Labour supports saying who is in charge was "very important" to their decision.
Percentages, it should be noted, that may change dramatically depending on what decisions the party leaders make when the actual Dáil vote dust settles from Storm General Election 2020 over the coming days.