A new exit poll suggests that Fine Gael, Fianna Fáil and Sinn Féin are tied when it comes to first preference votes, making the result of the General Election too close to call.  
The exit poll, carried out by Ipsos MRBI for RTÉ, The Irish Times, TG4 and UCD, indicates all three parties have 22% of first preference votes. 
The margin of error in this exit poll is plus or minus 1.3% - which means any of the three parties could be as low as 20.7% support or as high as 23.3%.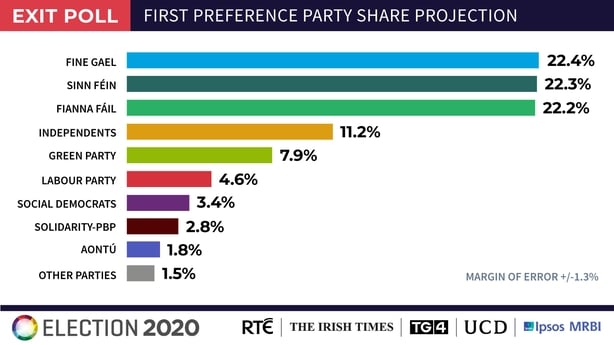 The exit poll is based on 5,376 completed interviews conducted immediately after people voted at 250 polling stations in 39 constituencies across the country.  
It indicates Green Party first preference support stands at 8%; Labour at 4%; the Social Democrats at 3%; Solidarity People Before Profit at 3%; and Independents at 11%. 
---
Read more:
Micheál Lehane's exit poll analysis
Your Politics: Analysis of General Election 2020 exit poll
---
The first preference vote of both Fine Gael and Fianna Fáil is suggested by this poll to stand at 44% - significantly lower than the 49% they polled in the 2016 General Election.  
In previous exit polls, support for Fianna Fáil has been under-stated. However, on this occasion, the number of people interviewed has increased from about 3,000 to more than 5,300 to improve accuracy.  
We need your consent to load this rte-player contentWe use rte-player to manage extra content that can set cookies on your device and collect data about your activity. Please review their details and accept them to load the content.Manage Preferences

In the 2016 general election, Fianna Fáil secured 25.5% of the first preferences. Fine Gael took 24.3%; while Sinn Féin obtained 13.8%.
The poll suggests a move toward Sinn Féin among younger voters, with the party receiving the largest number of first preference votes among 18-24 years olds.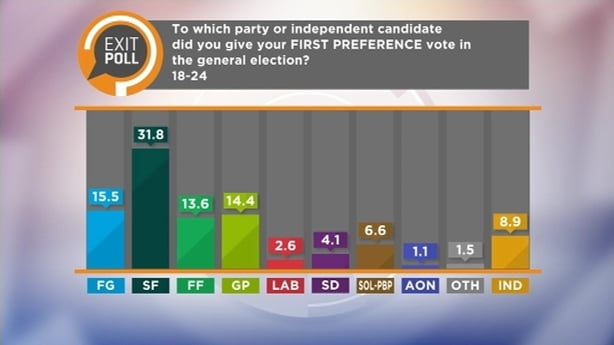 The poll suggests a polar opposite voting pattern between older and younger voters. It indicates that the majority of voters over the age of 65 gave their first preference to Fine Gael or Fianna Fáil.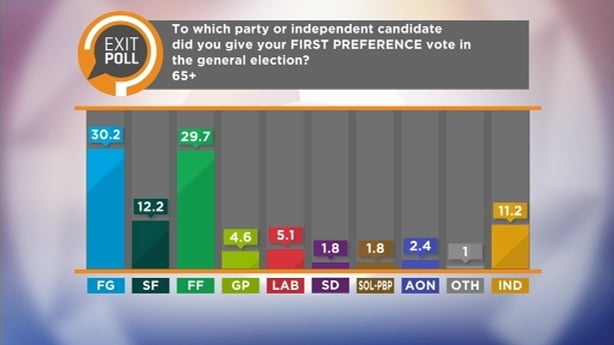 Meanwhile, the exit poll indicates a possible weakness in support for Fianna Fáil in the Dublin Region in comparison to the rest of the country.
It suggests that the party has 14% of the first preference vote in the capital, compared to 21% for Fine Gael, 22% for Sinn Fein and 6% for Independents.
The regional breakdown of the exit poll suggests support for the Green Party is strongest in Dublin where it has 13% of the first preference vote, while its support is considerably weaker outside the capital.
Fianna Fáil's support in the rest of Leinster is 26%, while Fine Gael is on 22%, Sinn Féin is on 24% and Independents are on 8%.
In Munster Fianna Fáil is on 26%, Fine Gael 25%, Sinn Féin 18% and Independents 15%.
In Connacht Ulster the poll suggests support for Fianna Fáil is 22%, Fine Gael is 22%, Sinn Fein 26% and Independents 17%.