Fine Gael and Fianna Fáil's insistence throughout the General Election campaign that they will not go into government with Sinn Féin appeared to have divided voters in a near 50:50 split on the issue in the official exit poll.
The figure is confirmed in the official general election 2020 exit poll, which was conducted by Ipsos/MRBI on behalf of RTÉ, The Irish Times, TG4 and UCD.
The poll is based on the responses of more than 5,000 people at 250 polling stations across the country immediately after they voted yesterday.
Questions on who someone voted for, their age, gender and what region they are from were asked of all respondents, and have a margin of error of 1.3%.
However, in order to give an insight into the reasons why people voted certain ways, 15 additional questions were also asked of respondents, who were split into five different groups of 1,000 people and asked three questions each.
Among these 15 topics was a specific question on whether Fine Gael and Fianna Fáil were right or wrong to rule out going into government with Sinn Fein after the general election.
On this issue, 51% of respondents said both Leo Varadkar and Micheál Martin were wrong to rule out Mary Lou McDonald's party, compared to 45% of respondents who said the Fine Gael and Fianna Fáil leaders were right to do so.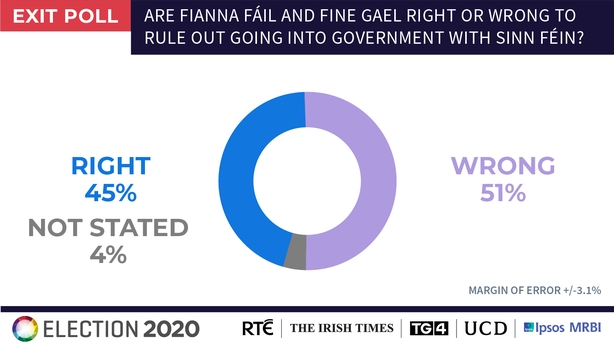 The difference in positions was most apparent among 18-24 year olds when there was a 68% to 30% wrong/right split, and those over the age of 65 where there was a 38% to 58% wrong/right split.
In terms of regions there was:
61% to 39% wrong/right split in Connacht/Ulster
55% to 40% wrong/right split in Dublin
49% to 44% wrong/right split in the rest of Leinster
and a 43% to 55% wrong/right split in Munster
Given the predicted close nature of the general election result, the exit poll indicators are likely to put fresh pressure on Leo Varadkar and Micheál Martin to consider Sinn Féin as a viable coalition option.
---
Read More:
LIVE: Boxes opened as General Election count gets under way 
Just 1% of voters concerned about Brexit, poll suggests  
Remember 'The Donnelly Rules' during election count  
Election results threaten to cause political havoc
---