Sinn Féin leader Mary Lou McDonald has called for a referendum on Irish unity by 2025.
Speaking at the party's candidate launch, she said there should be an all-Ireland forum on unity to plan for all aspects of reunification ahead of a referendum.
Ms McDonald also appealed to voters who have not been convinced of voting Sinn Féin to give the party a chance and to judge them on how they perform and deliver.
She said she believes this election will be where people say "enough to Fine Gael and Fianna Fáil's overbearing dominance of this State", accusing them of having wasted time, money and trust.
Ms McDonald said the establishment is trying to squeeze Sinn Féin out of the election and to portray this contest as a two horse race - what she described as "the Leo and Micheál show".
But, she said, Sinn Féin will not be frozen out of the democratic process.
She said Sinn Féin candidates want to "rock the system, to shake things up and to be the living embodiment of radical change".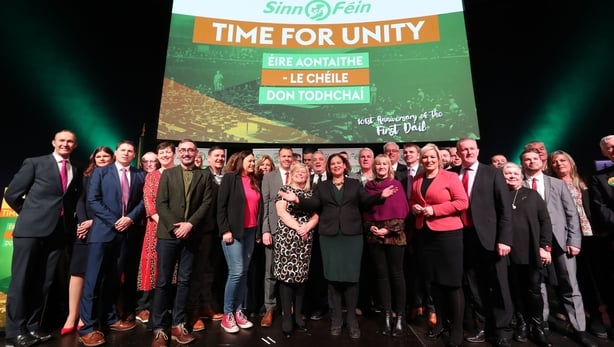 Ms McDonald said Sinn Féin in government would start the process of moving childcare to a public service.
She also said it would create a national health service, return the eligibility age for the State pension to 65 and give gardaí the resources they need to do their jobs.
Sinn Féin is running 42 candidates in 38 constituencies in the General Election.
The party's candidate launch is taking place in Dublin's Mansion House on the 101st anniversary of the first sitting of the Dáil in the same venue.