The Pollagh protest on Achill Island will end in the middle of the Election 2020 campaign.
The three-month "vigil" outside the Achill Head Hotel, has been held in opposition to the establishment of emergency accommodation for asylum seekers.
It all began when members of the small community discovered that contracts had been signed between the Department of Justice and the hotel owner for emergency accommodation.
The initial plan was that 38 men would be accommodated, but following resistance by locals, the Department of Justice suggested that 13 "vulnerable" women would be accommodated instead.
A brief visit by three members of the department did not allay concerns that had been expressed by members of the community. If anything, it heightened them.
It resulted in the compilation of a roster ensuring that members of the community were outside the hotel, 24 hours, seven days a week for the duration of the three-month contract.
It has been an expensive lesson for the Department of Justice and by extension, the taxpayer. By the end of this month, almost €350,000 will have been paid by the department to the Achill Head Hotel.
Achill is just one example of how direct provision and emergency accommodation have come into the spotlight in recent months.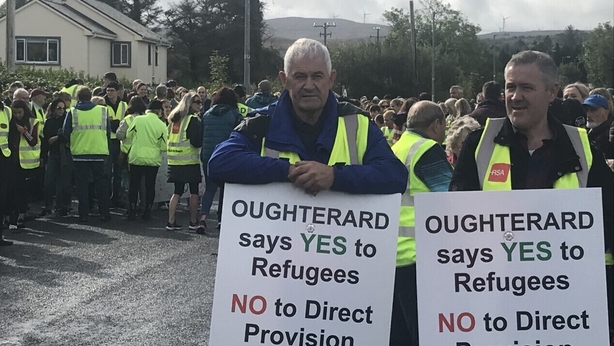 Protests at Oughterard and Ballinamore also made the headlines, as did the proposal to house asylum seekers in Borrisokane.
Concerns were heightened when Sinn Féin's Martin Kenny's car was set on fire outside his home in Ballinamore after he spoke in support of asylum seekers in the Dáil.
This resulted in cross-party condemnation. The Minister for Justice Charlie Flanagan said an attack on a member of the Dáil was an act of violence against democratic institutions of the State.
So, what has led to this increased level of fear and objection to direct provision and emergency centres across the country?
Many are pointing to fear being fueled by the far-right in communities where direct provision centres have been proposed, but towns like Ballinamore and Borrisokane have shown that initial doubt can be overcome - asylum seekers have been accommodated in both communities.
The housing crisis, particularly acute in Dublin, has led to the Department of Justice seeking accommodation outside the capital in order to adhere to its international obligations in giving shelter and food to those seeking asylum.
However, the head of the UNHCR in Ireland has questioned placing centres in "isolated areas".
Ireland isn't alone in experiencing migration; it is something that the European Union has been grappling with for the last decade.
It has also resulted in a rise in nationalism. Where racist sentiments were muttered in the past, they are now uttered more openly.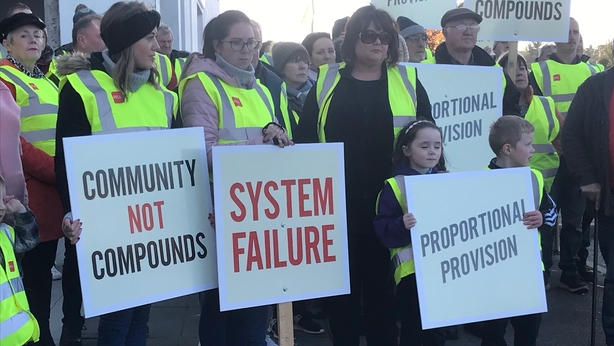 There was an outcry when Verona Murphy stated during the November by-election campaign that she believed some asylum seekers coming to Ireland had to be "deprogrammed" as they "carry angst" from being in conflict zones.
Much of that outcry came from the Fine Gael party for which she was running.
Just a few days before that, tweets by the Fianna Fáil candidate in Dublin-Fingal Senator Lorraine Clifford Lee were criticised by Leo Varadkar.
They were tweeted in 2011 and were derogatory towards Travellers. Ms Clifford Lee apologised for the tweets and claimed a smear campaign against her.
She met the Traveller community to apologise for her comments.
Ms Murphy also apologised but she was subsequently deselected by Fine Gael.
She is now running as an Independent in Election 2020 and has sought to clarify her view - saying she didn't want to reduce immigration but that she wanted to see it stop being done illegally.
Having secured 9,543 first preference votes in the by-election it will be interesting to see if, as an Independent candidate, she can secure support from voters in Wexford, without the constraints of a party line.
---
Read more:
Health always a dominant election issue
Economy most important, yet hardest issue to pin down in election
Housing an issue coming up on doorsteps for at least six years
---
Ms Murphy and Fine Gael may have gone their separate ways, but there's no doubt the debacle wasn't good timing for the governing party. It all happened as the issue of direct provision was in the news.
In the same month as the by-election, Independent Noel Grealish questioned in the Dáil if there were mechanisms to ensure remittances leaving Ireland were fully accounted for and not the proceeds of crime or fraud.
The Immigrant Council described his comments - that €10 billion had been sent abroad over the last eight years - as "shameful".
Independent Mattie McGrath and Solidarity's Ruth Coppinger then clashed about the issue. Mr McGrath said it was "totally untrue" to describe questions about migration, funding and direct provision as racist.
That day, the Green Party Councillor for Pembroke in South Dublin Hazel Chu who is the first Irish-born Chinese person elected to a political office described the growing anti-immigration sentiment as "a play for votes".
Hazel Chu has faced a lot of racism online, particularly on social media.
On 14 January, she pointed out that a false Twitter account had been set up describing her as "Born and bred in Dublin via China | Race Cllr | parody".
She highlighted it on her own verified account which states "I am Irish. Ireland is my home as much as it is yours. Learn to share it."
Ms Chu's party colleague Saoirse McHugh could face difficulties in securing votes on her doorstep for being part of the welcoming group for the proposed arrivals at the aforementioned Achill Head Hotel - given local support for the ongoing "vigil".
Ironically, it was Ms McHugh's challenge of the Independent candidate Peter Casey during the RTÉ Prime Time European Election debate last year on migration that catapulted her on to the national political scene.
Having secured 23% of the vote in the 2018 Presidential election in a campaign dominated by comments he made about the Travelling community - Mr Casey ran in the Europeans last year.
During a Prime Time debate he stated that Ireland had a skills shortage but "we cannot bring in 'welfare tourists' as we cannot afford them".
The Achill-based Green Party candidate challenged Mr Casey and said she had a problem with "incoherent fear monger views".
Ms McHugh secured 10% of the vote; Mr Casey wasn't far behind on 7%. Both are running again in the upcoming election in Mayo and Donegal respectively.
Considering the increased level of discussion, protest and debate over direct provision and immigration, it's likely that candidates in this election will be asked for their views on the issue - if not before it - certainly at the end of the month, when the Pollagh protest wraps up.